Britam completes sale of 10 per cent stake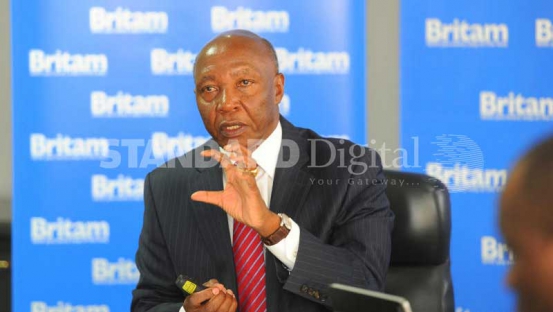 Britam stocks rallied on Monday after the financial services firm announced that the World Bank had paid Sh3.6 billion for a 10 per cent stake, concluding the transaction announced early this year.
The firm's shares closed trading as the top gainer at Sh14.75, up from Sh14 at Friday's close and lifting its total capitalisation to Sh28.5 billion.
The International Finance Corporation (IFC), the World Bank's private sector arm, first announced its intention to acquire 224 million ordinary shares of Britam in January at Sh15.85 per share, which was 59 per cent higher than the prevailing market price at the time.
"Britam is pleased to announce for the benefit of its shareholders and the investing public that all stipulated conditions for the subscription have been fulfilled and accordingly, the company and IFC are proceeding to complete the subscription," said Britam Holdings Group Managing Director Benson Wairegi.
Following the completion of the transaction, IFC will be entitled to appoint one director to the Britam board, in accordance with the company's articles of association.
More offices
Britam says the money will go into consolidating its regional operations, including its recently-opened asset management company in Uganda. It says there are plans to open more offices in other countries in the near future.
The money will also be used to enhance distribution channels, support the rollout of new products, property development, and complete on-going investment in a new IT system.
Britam has seen a rise in its expenses, especially from net insurance claims, which doubled from Sh3.6 billion to Sh6.6 billion as well as operations, which rose by Sh369 million in the first half of this year.
It, however, says it is achieving operational efficiencies through the IT solution Jawabu, including centrally managing all subsidiaries in the region and interfacing 3,800 financial advisers to save on costs. The savings are expected to pan out by 2018 with investment costs still edging up the firm's operating expenses from Sh3.5 billion to Sh3.8 billion in the first half of the year.
The funds also come at a time when the company is implementing its new 2016-2020 strategy dubbed 'Go for Gold'.