Kenyan universities funding shocker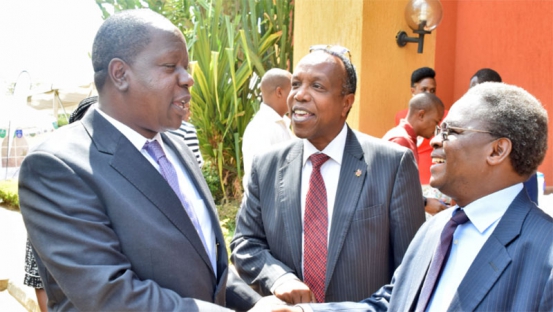 Even with the current funding regime, the universities are already struggling to survive. Already, there is a proposal to increase student fees by about Sh8,000.
The financial crisis has been so dire that some institutions have been declared broke and calls made for the government to increase annual capitation by Sh10 billion.
And the move by the government — through the Universities Funding Board (UFB) — to implement the new financing formula is increasing the level of uncertainty. This has been made worse by revelations that a fresh student enrollment audit has been ordered.
Starting July 1, the UFB will roll out a funding formula that will strictly use students' enrollment numbers and the courses they take to allocate funds.
This will be a marked departure from the current practice where each academic programme is allocated a flat rate of Sh120,000 per year.
Under the current 26-year-old funding formula, the government pays a flat rate of Sh70,000 per academic programme per student.
And students' fees have been fixed at Sh16,000 while the costs of other needs such as books, food and accommodation are paid by the Higher Education Loans Board (Helb).
Sources familiar with the details said that the current system favours the big and older universities that have been getting big allocations annually at the expense of of smaller institutions.
But under the new system known as the Differentiated Unit Cost (DUC), all university academic programmes have been grouped into 14 clusters and the cost of teaching each fixed.
The details are contained in report prepared by the Vice Chancellors Committee of Public Universities in Kenya that also reveals that training dentists will require the highest allocations. To train one dentist, for instance, will require Sh600,000 per academic year. The money will be spent on purchasing all teaching requirements and remunerating the lecturers.
Medicine will require Sh576,000 per year per student while pharmacy will require Sh432,000.
Arts (general) will require the least funding at Sh144,000 per student per year. Applied humanities such as languages and psychology will take up Sh180,000 per student per year.
This means that students' monetary allocations will strictly depend on the programmes they pursue and not a flat rate funding as is the current case.
It also means that institutions that offer arts programmes will get less funding compared to the ones offering technical and science programmes.
If fully implemented, the DUC will cost Sh65 billion. The National Treasury will determine what fraction the government will provide. The Universities Funding Board, universities and sponsors will fund the remaining amount.
Fair distribution
UFB acting CEO Milton Njuki said funding will be fair and transparent.
"The DUC will address all the funding issues because it will be about fairness and putting cash where the mouth is. This will be the best funding regime for higher education," said Njuki.
A comparative look at this year's allocations and the 2017/18 budgetary projections reveals shocking details, with some universities headed for up to Sh1.8 billion funding gaps.
According to the recurrent expenditure summary for 2017/2018, the University of Nairobi that received Sh6.3 billion this year will now receive Sh4.5 billion.
The DUC report says that UoN has a student population of 26,009, translating into a recurrent capitation of Sh242,781 per student.
Egerton University, with 15,223 students, received Sh2.8 billion this year, but is expected to get Sh2.1 billion. This is about Sh700 million less than what it received this year.
Kenyatta University, with a student population of 21,462, received Sh3.1 billion, but is expected to get Sh2.8 billion, some Sh300 million less.
However, Jomo Kenyatta University of Agriculture and Technology (JKUAT), with a student population of 12,029, will get increased funding because of the technical nature of the programmes it offers.
Under the current financial year, JKUAT received Sh1.4 billion but it is set to get Sh1.7 billion, translating into an additional Sh300 million.
The Technical University of Kenya (TUK) and the Technical University of Mombasa (TUM) are also set for increased funding next year. TUK, which has 8,636 students, received Sh1.07 billion this year and will get Sh1.2 billion next year. TUM, with 4,520 students, received Sh770 million this year and is set to get some Sh793 million.
University of Eldoret, with 14,275 students, was allocated Sh1.1 billion and is set to get Sh1.5 billion next year.
Smaller universities, which have always complained of meagre funding because of their small student numbers, are also set to get allocations commensurate with the programmes and their student numbers.
Machakos University College, for instance, which has 5,056 students, received Sh338 million. But in next year's budget, it has been allocated Sh660 million, nearly double what it was allocated this year.
Details of enrollment
Hashtag has established that the government already ordered for fresh disclosure of students' enrollment complete with finer details of enrolment dates and expected time of exit.
"The universities were asked to file fresh enrolment figures to include names of students, programmes they pursue and date of enrolment. This is aimed at updating the numbers from the institutions," said an insider.
The official, who is privy to the details, said: "This caused a lot of jitters among the managements because each institution gives figures based on the need. If it is for purposes of money allocations, they give higher figures. And if it is for purposes of allocating them more module one students, they provide the shortest list," said the official.
In an earlier interview, Prof Francis Aduol, the chairman of the Vice Chancellors Committee of Public Universities in Kenya, admitted universities are facing hard times.
He, however, said the solution to the financial crisis lies in full implementation of the differentiated cost unit report.
Funding these programmes will, however, not be the sole responsibility of the government as some will come from donors and monies generated by universities.