'Kenya won't have herbal medicines in a few years'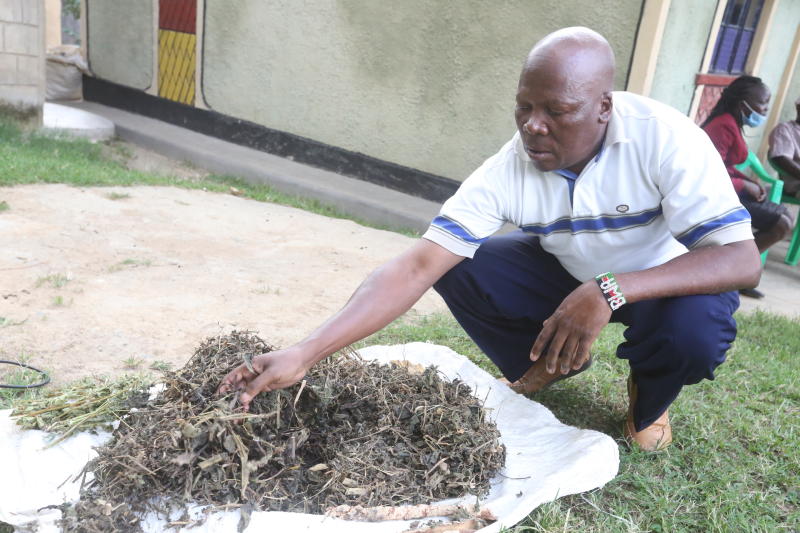 Martin Shikuku's humble home in Mwinaya village, Kakamega County, is clustered with indigenous trees, lending credence to his trade as a respected herbalist with over 20 years in the trade.
"My grandfather introduced me to herbal medicines at a young age, and treating people has been my job since," says Mr Shikuku, 50.
Patients from as far as Nairobi, Mombasa, Kisii, Kisumu, Trans Nzoia, and even Uganda and Tanzania frequent his home in search of herbal treatment. But Shikuku worries that herbal medicines, which were once in plenty, can hardly be found these days.
"The most sought-after herbs are on the brink of extinction. It is not easy to find them in Kakamega Forest any more," Shikuku says.
He blames the decline on rising human population, human activities, logging for charcoal burning and encroachment on forest land.
"Most of our natural forests are not fenced and this exposes them to intruders who destroy indigenous trees and encroach on forest land. In the process, medicinal plants that are rare to find anywhere else are destroyed," says Shikuku.
Like other herbalists from the region, Shikuku has been forced to crisscross other counties in search of herbal medicines.
"Since medical plants have been depleted in Kakamega Forest, I am forced to travel to neighbouring counties of Siaya, Migori, Busia and Bungoma in search of medicinal herbs. Sometimes we are forced to go as far as Uganda, Tanzania or Congo.
"I will do anything to treat my patients. That is why I travel far and wide seeking medicinal plants," he told The Standard.
The herbalist says he has, however, observed in his travels that most forests in Uganda and Tanzania are well protected with medicinal plants intact.
"Citizens there understand the importance of traditional herbal medicines and have been jealously protecting their forests and planting more indigenous trees," he says.
Shikuku notes that many people prefer medicinal herbs and not conventional drugs because they do not have side effects.
"When you know the value of something you tend to guard it jealously and that is what is happening in Uganda and Tanzania. Kenyans ought to borrow a leaf from our neighbours. Trees are not just about firewood and wood products, they also provide medicine and must be protected."
He challenges the government to put in place stringent measures to protect forests to avert the impacts of climate change.
Shikuku leads by example. He has planted more than 60 varieties of indigenous trees on his two-acre parcel of land from which he extracts medicines and also for environmental conservation and aesthetic value.
"I know over 300 varieties of natural trees that are of medicinal value. We must protect our trees or perish," he warns.
He claims to treat a wide range of diseases including arthritis, malaria, ulcers, infertility, sexual transmitted infections and brucellosis, among others.
"Patients seeking my services must visit a hospital for proper examination and diagnosis. I insist on seeing the patient's medical history including examination report before prescribing the herbal medicines. I need to be sure of what he or she is suffering from because I don't wish to cause harm," he says. "
On a good day, he pockets between Sh8000 and Sh12,000.
"I handle at least 20 patients in a day. Savings from the trade enabled me to buy a piece of land," he says.