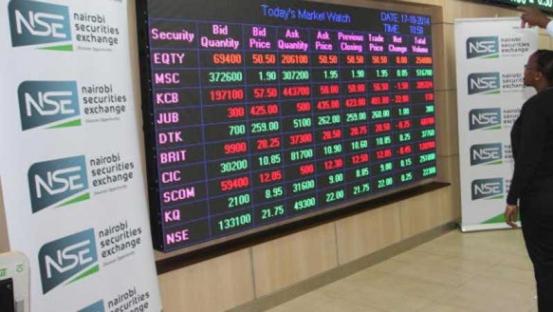 The shilling and the Nairobi Securities Exchange (NSE) are defying the cyclic pre-election decline to post their best performances in months.
The NSE is on a recovery path from a two-year slump due to what analysts said was investors putting their money in the bourse as opposed to other more risky areas, with political temperatures rising ahead of next week's polls.
The shilling, which has come under pressure from increased imports of duty-free sugar and maize to bridge a deficit in the two commodities caused by a prolonged drought, has managed to stay steady, at 103 to the dollar.
This is compared to an all-time low of 104 against the dollar in February, forcing Central Bank of Kenya to dig into its foreign exchange reserves to bolster it.
Bad outcome
Read More
The NSE 20 Share Index, which had dropped to a five-year low of 2,789.64 in February, had by yesterday gained by 36 per cent to stand at 3,797.53 points.
The NSE 20 Share Index is a price weight index calculated as a mean of the shares of 20 public listed companies.
The last time it was this high was in June last year. The All Share Index, on the other hand, yesterday closed on a two-year high of 161 points.
"Fund managers are taking up position due to the uncertainty of the elections as some quarters have been saying that there could be a bad outcome," Sterling Capital Head of Research Eric Munywoki told Standard Business.
"However, it still shows that investors have confidence in the security of the NSE, which is a positive thing about our financial markets."
The bourse's relative bull run is partly been driven by Safaricom, whose share price has gained 36 per cent from the beginning of the year and now controls at least 50 per cent of trading at the NSE.
On Friday, the mobile service provider's valuation hit Sh1 trillion.
Among the other top gainers include WPP Scan Group (44 per cent), Crown paints (42 per cent) and Transcentury (50 per cent).
The resilience of the stock market mirrors that of 2013 when the 20 Share Index gained by 23 per cent to hit 4,713.60 points in the last six months to the general election.
The shilling's performance at that time, however, moved in the opposite direction, tumbling by 4.77 per cent to trade at 87.22 against the dollar.
This time round, the local currency has largely remained steady partly because of Central Bank of Kenya's (CBK) intervention.
The regulator has been pumping dollars into the market to shore up the shilling since May, which has caused foreign exchange reserves to drop to $7.7 billion (Sh770 billion) or 5.1 months of import cover. This is the lowest level since March when the foreign exchange reserves stood at $8.2 billion (Sh880 billion) or 5.5 months of import cover.