It's a good time for artistes as the world craves African music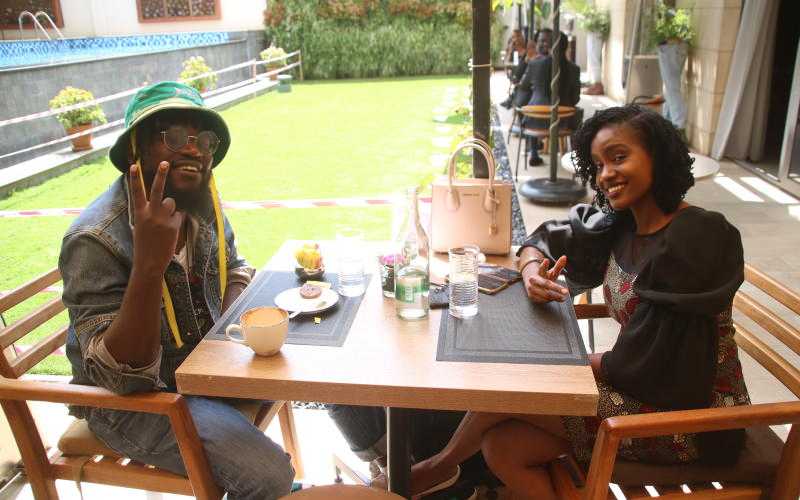 Bill Sellanga aka Blinky Bill is not your ordinary musician. His is a sound of a musical revolution. He is intentional about the new move and in the last 10 years that he has been in the game, he has been clear that giving local sound an African identity is what will open doors for the continent's musicians internationally.
What do you make of a young Kenyan singer thrilling fans in Paris with Swahili lyrical songs such as his now popular Mungu Halali, Kwani Iko Nini and Bado Mapema hits, which have taken the world by storm?
"There is no time I have left Kenya to play a Kenyan sound to, say, Kenyans or Africans abroad. Music is universal. It takes a lot of research to know what works and what gets one cutting his own edge. When I am out there, say, in Europe, I am an artiste on stage delivering something unique to an international audience," say Blinky.
Bill is among young African artistes redefining the African music sound, a fusion of African beats, instruments and local dialects with Western genres such as Hip Hop, Soul and Metal. Call it Afrosoul, Afrofusion, Afrobeat… It is simply a new irresistible African groove.
"When we started doing this kind of music about 10 years ago, we knew it would take persistence for even our own people to embrace it. The concerts we were staging at Alliance Française, Nairobi, were not the most popular. However, the little support we would get from, say, the 500 fans who consistently believed in us gave us courage to have this come to pass. We had to grow communities around us as music can be a very communal affair," he says, recalling the mid-2000s when the new Afro-fusion sound was getting roots with Just a Band and Sauti Soul, among other groups pitching at Nairobi theatre halls to entertain the few who understood the craft back then.
Blinky says it was more of the environment he grew up in and the African cultural value he learned that inspired him to create the new Afrosound that is fast becoming popular across the globe. He says his father used to listen to a lot of the Kenyan Rhumba stars of the day and from this, he drew a lot of interest in music whose thinking is inspired by what goes on around the local environment.
As much as he loved Hip Hop, he did not aspire to do it the Western way, but rather fuse it with other sub-genres that would give his music a unique touch.
"Growing up around an environment where my father loved African music, I decided to embrace it and see how in the future I would connect this with music from all over the world. I created a vision from the reality that existed and begun to combine different sounds to make what we are taking to the world now," says the lyrical genius and producer behind the Everyone's Just Winging It and Other Fly Tales album.
"My music is based on a simplicity approach that is informed by a lot of research. It is music by Africans or say blacks for the world. The best example I can give for a simplicity approach is Bob Marley's music that still remains unique and relevant, years after it was released," says the talented star whose Feeling It and Showdown tracks have won him a lot of following abroad.
Blinky says it is time Africans believed in their artistes and their music, stressing now is the right time for Africa to make a firm impact in the international music world.
"Music streaming platforms such as Spotify as well as social media platforms are helping a lot in getting this new music to the world. When I get to look at who is listening to my music, I find out that most of my music consumers are in the US.
If someone is out there looking for the Grammy award-winning Burna Boy and they find me in his playlist, they get to like my music and that is why these platforms have become key in creating our visibility even as they provide fans with playlists that are centered on geographical settings," says Blinky.
Like many new urban music stars across Africa, Blinky's music is a combination of Funk, Neo soul and Electro. It is laced with African percussion and drums, besides other local instruments.
Moving from what was largely an urban music culture where artistes borrowed so much from Western acts in their videos, his music videos express the African culture, with most of the sets featuring local wears and other aspects that promote African culture.
It has been a well-calculated move that brought together like-minded Kenyan artistes such as Muthoni the Drummer Queen, Sage, Fena, Tetu Shani, Bark Jacuzzi, NuNairobi, Blinky's then Just a Band and Sauti Sol in concerts that mainly aimed at popularising the new Afro-Soul beat.
Muthoni, for example, pioneered Blankets and Wine, the popular outdoor social event where artistes could interact with fans freely in an open setting and promote their music.
The movement captured many other artistes from across Africa, with the likes of Sho Madjozi, Mi Casa, Mafikizolo and AKA from South Africa; Nneka and Niniola from Nigeria as well as Koffee and Kelissa, making their debut appearance in Kenya through the festival.
"Most of the world celebrated African musicians and music groups such as Sauti Sol, Blinky Bill, Tiwa Savage, Burna Boy, Diamond and Sho Madjozi have had to infuse that African element in their art to capture the world attention. And as it seems, the world has its focus on Africa as the future of the music industry, with most international record labels now opening regional offices and signing musicians in major cities across the continent," says popular Kenyan DJ Crème de la Crème.
More so, it is the entry of music streaming platforms such as Spotify, Apple Music and Boomplay in Kenya and across Africa that is giving an accelerated acceptance and growth of the new African sound, with most artistes now relying on the platforms to popularise themselves and make financial gains out of the same.
Last year, streaming services accounted for 62.1 per cent of global music revenue, with performance rights revenues taking the biggest hit as concerts and events were cancelled due to Covid-19 pandemic.
According to the 2020 Global Music Report released by International Federation of the Phonographic Industry (IFPI), the organisation that represents the recorded music industry worldwide, streaming contributed to 71.9 per cent of Africa's music revenue.
We are encouraged that the world is embracing music from Africa as seen in the rising number of nominations for global music awards.
"The fact that this year's report has featured Africa and Middle East is testament to the increasing opportunities that have been accentuated by the recent launch of music streaming platforms," says Angela Ndambuki, Regional Director, IFPI Sub-Saharan Africa.