CA: Safaricom subscribers drop, Airtel gains
NAIROBI, KENYA: Safaricom's market share for mobile subscription dropped between July and September, a new survey by Communications Authority reveals.
The share dropped by 1.2 per centage points during the quarter to stand at 64.2 per cent whereas Airtel Networks Limited gained 0.9 percentage points to post a market share of 22.3 percent.
Telkom Kenya Limited, Finserve Africa Limited and Mobile Pay Limited recorded market shares of 9.0, 4.2 and 0.2 per cent respectively.
The total mobile voice traffic originating from Safaricom network dropped by 2.4 per cent to record 8.9 billion minutes from 9.1 billion minutes reported last quarter.
Communications Authority survey attributes the decline to the expiry of 'Safaricom Tunukiwa Gifting promotion' where customers were presented with two options from which to purchase preferred Tunukiwa voice or SMS bundles for self or/and other users. "As a result, its voice market share dropped to 62.1 per cent from 65.7 per cent reported last quarter," the report says.
Airtel Networks Limited reported an increase of 13.8 per cent in local mobile voice traffic during the period under review to post 4.7 billion minutes from 4.2 billion minutes recorded during the preceding quarter.
Consequently, its voice market share rose by 3.1 percentage points to stand at 33.3 per cent. According to the survey, the increase in voice traffic is attributed to introduction of 'Vuka_2_Tariff' that enabled prepaid customers to call for two shillings per minute across all networks.
Telkom Kenya Limited registered a total of 619.3 million minutes marking a growth of 15.6 per cent when compared to 535.5 million minutes reported in the preceding quarter.
Total mobile voice traffic for Finserve Africa Limited dropped to 38.2 million minutes during the period under review from 38.9 million minutes posted during the previous quarter.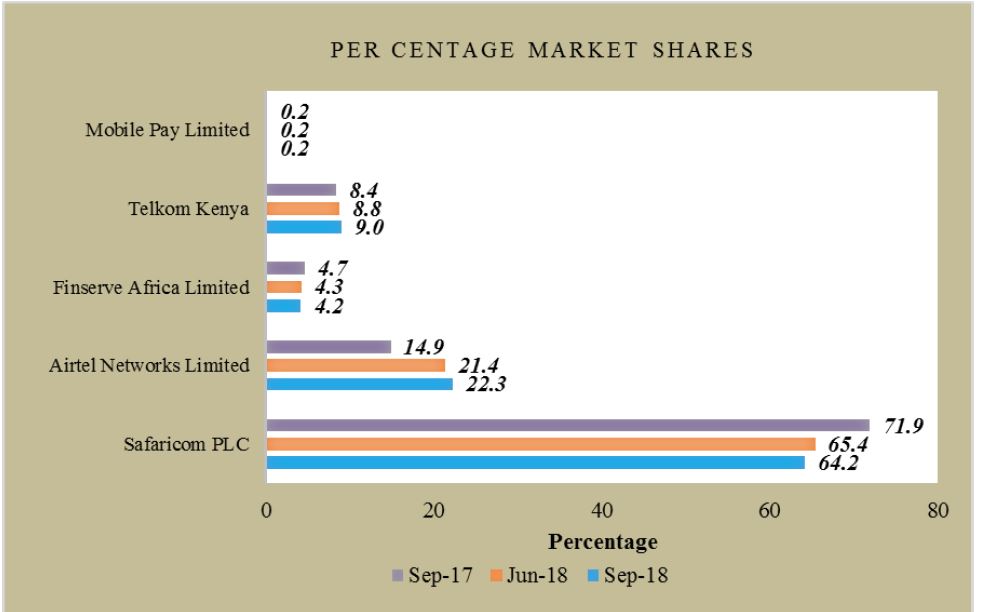 As at the end of the first quarter of the Financial Year 2018/19, the number of active mobile money transfer agents and subscriptions stood at 218,495 and 29.7 million respectively.
This implies that 64 out of 100 inhabitants had access to and used mobile money transfer services during the period.
During the period under review the number of mobile money transfer transactions stood at 730.2 million and valued at Sh2.02 trillion.
Further, the number of mobile commerce transactions was recorded at 526.9 million valued at Sh1.5 trillion. On the other hand, person-to-person transfers were valued at Sh718.2 billion.