Big day for young innovators at rotary fete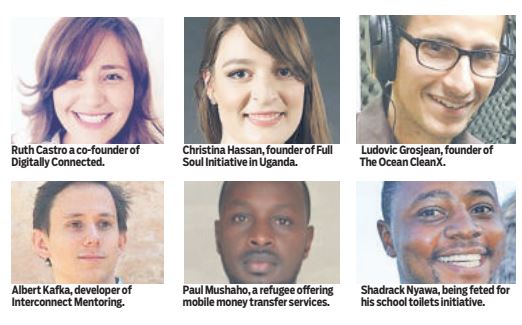 School toilets
Shadrack Nyawa from Kilifi County has been picked for his water and sanitation project. He noticed that children in 76 primary schools across Ganze were always waiting in long queues to use few toilet facilities. This affected their education by consuming their learning time.
In collaboration with Rotary Club in Kilifi, he set out to address this problem.
The club has so far built 11 blocks of six toilets each, with hand-washing stations and water tanks in six different primary schools in the Ganze area.
Mobile money transfer system for refugees
Paul Mushaho, a Democratic Republic of Congo native living in Uganda, will receive an honorary award for his money transfer service, which helps refugees from Congo, Burundi, Somalia, Ethiopia, Eritrea, Rwanda and South Sudan, receive money via mobile phone from family and friends outside Uganda.
The 26-year-old information and technology graduate moved to Uganda in 2016 after fleeing violence in his country. Using a transactions ledger and seven cell phones, he runs the only mobile money transfer service in the refugee camp and also changes currency. Mushaho has taught farming skills, provided sewing machines for women groups, volunteered in maternity wards, organised tree planting and poultry projects, and provided mentoring for young people in the camp.
The Ocean CleanX
Ludovic Grosjean, a 29-year-old engineer, made it to the list after he developed a technology dubbed The Ocean CleanX, which helps to monitor and remove pollution from waterways. The innovation incorporates tools that use artificial intelligence and drones to remove plastics and other pollution from waterways and detect their source.
Interconnect Mentoring and Inter-Generational Projects
Albert from Viena Austria is receiving accolades for his programme which pairs a member of Rotary Club with either a member of Interact, Rotary's programme for young people between 12 and 18, or Rotaract, which covers ages 18 to 30, allowing them to learn from each other, share experiences, and take part in service projects for a year. He has an ongoing project, which aims at building houses for families left homeless by the Bosnian War.
Innovative New Beginnings
Through her programme, 'Innovative new beginnings', Colombian lawyer Ruth Castro is teaching 170 women prisoners vocational and business skills and empowering them to create new opportunities for themselves.
She is also the co-founder of Digitally Connected, a platform which unites 430 Latin American experts studying online challenges facing children and young people.
Full Soul
The sixth innovator, Christina Hassan - a public health specialist from Canada - runs a programme known as 'Full Soul', which addresses lack of facilities for safe and sterile childbirth in Uganda by training midwives and supplying safe, sterile childbirth equipment to local hospitals. Her initiative has ensured an increase in the number of safer births and decreased mother-to-child transmission of HIV.