Konza authority grants four institutions permission to set up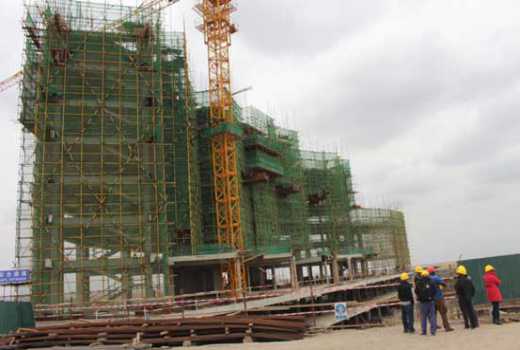 NAIROBI, KENYA: The dream of Konza City in MachakosCounty is slowly becoming a reality with construction of office blocks currently going on in the area.
Since its launch in 2012 by ex-president Mwai Kibaki no much activity has been taking place in the area, however this have started shaping up with the construction of a multistory building to be occupied by Konza Development Authority and other companies planning to start early developments in the city.
"Konza is now at the take-off coming out from the plans to actual implementation, the office block is coming up and our contractors have also settled to offer the required amenities," says Konza Technopolis Development Authority boss John Tanui.
The government has set aside Sh73 billion in the current financial year for the actualization of the project with the agenda of laying the necessary infrastructure before development of the smart city that will occupy 5000 acre of land.
According to ICT Cabinet Secretary Joe Mucheru who visited the project on Wednesday Sh40 billion of the budget will go into the horizontal infrastructure which includes roads, sewerage and water among others.
Konza Technopolis Authority disclosed that Korean University, KETRACO, Craft Silicon, and National Construction Authority are among entities that have been granted permission to set up in the city.
"The ultimate result is the job creation, impact to the economy, and innovation that the investors bring to us," he added.
Earlier reports indicate that at least 250,000 jobs will be created upon completion of the City by 2030. So far 17,000 jobs have been created in the ongoing earthworks on first 400 acres of the 5000 acre project.
Assuring investors that the Vision 2030 flagship project is on course as per the plan, Tanui said so far, they have received some 400 Expression of Interest both solicited and unsolicited from persons who want a share of the Sh600 billion project.