Hotels hit hard by the Easter lockdown rules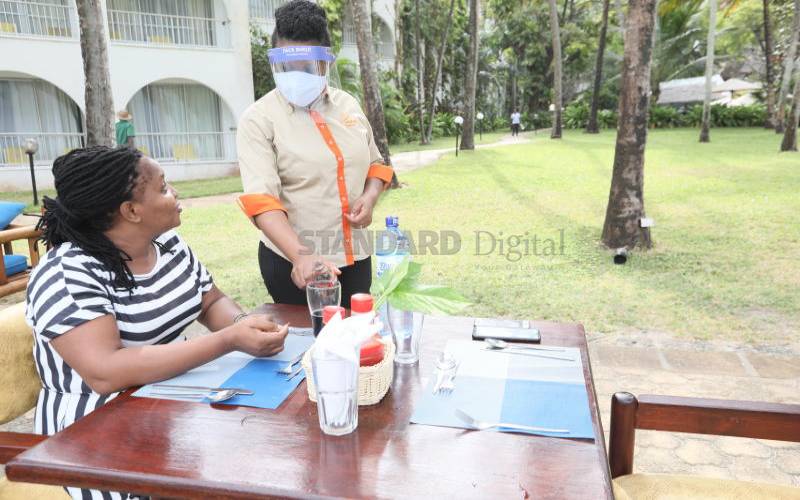 Easter projections at Coast hotels now stand at 10 per cent after the new lockdown measures announced by President Uhuru Kenyatta last Friday to stem the spread of the third wave of Covid-19.
Kenya Association of Hotelkeepers and Caterers (KAHC) Coast branch executive officer Sam Ikwaye said those who had booked for Easter holidays have had to shelve their plans due to the new restrictions.
"It is definitely not business as usual. It is a low key affair as many potential guests have rescinded their holiday plans," Ikwaye said
He said while many hoteliers were upbeat over Easter and April holiday season, it has dawned on them that there will be no guests to attend to.
"After April, we are entering the low season with a very depressing business situation. However, we all need to work hard and ensure we flatten the curve to make sure there are no more lockdowns," Ikwaye said.
Denis Gwaro, the general manager at Plaza Beach Hotel in Mombasa's North Coast, said they are staring at huge losses after stocking up on hotel supplies ahead of the Easter holiday. The hotel had also recalled all staff members to work as bookings had started going up.
He said hotels have now been forced to entice locals with great offers to salvage the situation.
"We are compelled to offer very low rates to entice the local population to spend the Easter weekend in our facility," Gwaro said.
In Malindi, the situation is not different. Ocean Beach Resort general manager Maureen Awuor said so far the facility only has three families as guests, which is usually not the case during this season.
Awuor, who is also the KAHC chairperson in Malindi and Watamu sub-region, said she had received reports of massive cancellations from other hotels and registered holiday villas and apartments in the region.
Following President Uhuru Kenyatta's directive recently, she said the hotel was forced to send 60 per cent of the workers home.
In Naivasha, hoteliers are also counting losses after many guests cancelled their Easter weekend bookings while companies that had made reservations for workshops and seminars put their plans on hold.
Bookings in a few of the lucky facilities stand at 20 per cent with some of the facilities recording zero reservations.
According to Timothy Njuguna, the operations manager at The Nest Boutique in Naivasha, less than 10 visitors had confirmed their reservations for the Easter weekend.
"We were almost fully booked for the Easter weekend but many of our guests have cancelled due to the movement restrictions by the government," he said.
Njuguna termed the current situation as the darkest for the industry, adding that it will take a while to recover.
"We fully support the government but the lockdown will once again render many jobless," he said.
The chairman of South Lake Hoteliers in Naivasha Peter Mehta admitted that some of their members had already sent their workers home due to cancellations ahead of Easter.
He admitted that the hotels were between a rock and a hard place as they had to adhere to the government directives.
"Since the year began, the conference sector had picked up with nearly all hotels back in operation but the third wave is with us and we have to close again," he said.
Event organiser Billy Muturi said he is optimistic the country will beat the third wave soon so that affected businesses can start operating again.
"We have been rendered jobless by the new directive but I believe we have the experience to manage this pandemic and it's just a matter of time before workshops start once again," he said.
Last weekend, the Kenya Tourism Federation (KTF) warned that about 1.3 million jobs in the hotel industry are at stake following the lockdowns.
KTF chairman Mohammed Hersi asked the government to ease the restrictions for industry players to ensure tourism businesses' survival.
"Our outlook is that with the third wave of the Covid-19 pandemic, a major lockdown will have a catastrophic impact on the tourism, travel, and hospitality businesses. Massive job losses will be triggered and the industry together with its value chain will incur financial losses that will lead to insolvency and a negative impact on Kenya's GDP," he warned.
He said the recovery of the sector will be heavily impacted along with negative global perception and confidence in the destination.