Designing for privacy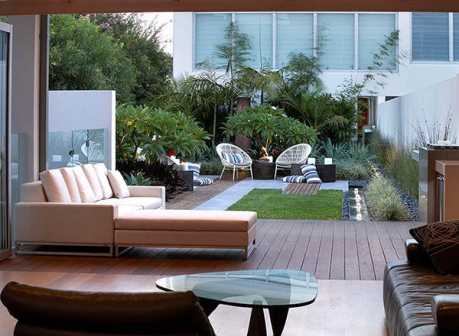 Modern lifestyles have elevated our gardens from a space for lawns and flowers to an outdoor living space for family and visitors. Today we design and furnish the garden space for sitting, cooking, dining and playing.
Designing for privacy has therefore become essential to enable us to enjoy these outdoor amenities away from the ogling eyes of neighbours and passers-by. The ever increasing densities in our neighbourhoods has not made matters any easier.
Many people have resorted to putting up high masonry walls in an attempt to secure their homes and provide privacy. But this approach often looks unfriendly and uninviting.
It all starts with planning. Your first step should be to figure out where you need privacy and what visual intrusions you need to block. Usually, that means the areas of your backyard where you will relax and entertain. Your property may also dictate the need for blocking views into front or side windows.
All these factors will affect the placement of your screens as well as the method you use to screen. You will also find that the location of your outdoor amenities and structures can be done to enhance privacy by orienting them so that they turn their backs to the source of visual intrusion.
Methods
Explore alternative ways to screen. The traditional hedges, walls and fences will work but are rather too obvious and intrusive. It is possible to integrate these traditional screens with ornamental landscape features so that they are less obvious and more subtle. You can, for instance, integrate planters, wall fountains or seating with masonry walls or hedges with flower beds.
Whichever way you choose to go, a privacy screen must be above the eye level, typically about a hundred and eighty centimetres or more. If the concern is privacy only when sitting, say for patio dining, ninety to one hundred and twenty centimetre high plants or structures will suffice.
Live screens
Shrub borders can be formal and clipped or informal and mixed. The first has the advantage of being narrow, but requires trimming, a time consuming and often repeated task. Formal hedges usually offer only a foliage background.
Untrimmed shrub borders, on the other hand, can spread to two metres or more. They will need less maintenance at longer intervals and can offer flowers, fruit, and fall colour, as well as a variety of forms. Choose shrubs carefully, paying particular attention to ease of maintenance. Make sure, too, that the mature size of plants will not overpower your house or landscape.
Hardscape screens
Unlike plants fences, walls and other hardscape screens give instant privacy, and they can offer great architectural interest.
Select from a wide variety of ready-made panels or design your own. When planning a hardscape screen, you will want to keep a number of considerations in mind. Solid screens yield the most privacy, but they also cuts off light and breezes.
Slightly open barriers, such as those with louvers, latticework or grills can let in the sun and the wind, yet still screen views into a yard. The slight openness also can provide an inviting transition from street to garden.