MPs hail Kibaki as a giant of history who steered economic liberation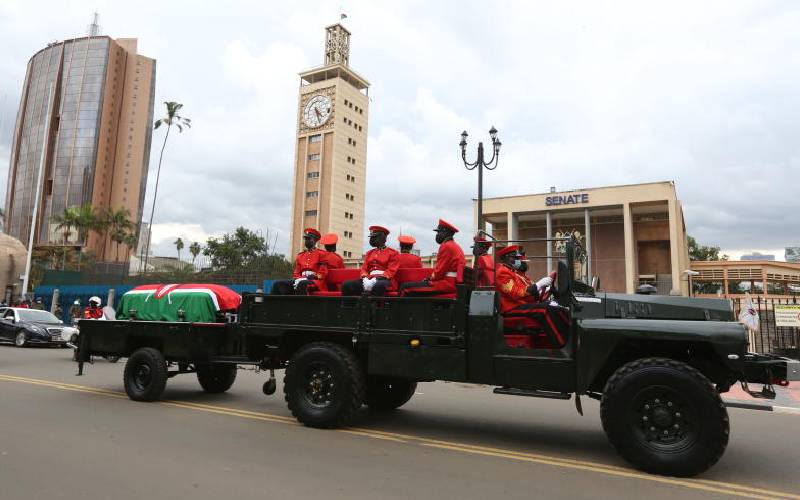 Members of Parliament on Wednesday took time to eulogise Kenya's third President Mwai Kibaki as a giant of history whose economic impact was rivalled by none.
As the former Commander-in-Chief's body lay in state at the Parliament Buildings, his name swam in the adulation of the legislators who had convened a special sitting in his honour.
In the two-and-a-half-hour session, they told of their regales with Mr Kibaki, inspirations drawn from him and the lessons learnt.
They painted the picture of a humble yet virtuous man in the mould of the greats that preceded him and one who left a nation reeling from his ingenuity.
The legislators enumerated Mr Kibaki's flagship infrastructure projects such as the Thika Super Highway and various bypasses around Nairobi, the Lamu Port-South Sudan-Ethiopia-Transport Corridor Project and the Standard Gauge Railway (SGR) which were successfully implemented by President Uhuru Kenyatta's Government.
The former president was also remembered for his progressive economic policies that led to an exponential rise in micro-finance institutions and access to financing, which spurred economic development not forgetting the introduction of the Constituencies Development Fund (CDF) and the boom in the telecommunications sector.
National Assembly Speaker Justin Muturi credited Mr Kibaki for entrenching ideals of accountability and transparency that led to the creation of the Kenya Anti-Corruption Commission, the precursor to the Kenya Anti-Corruption Authority (KACA), (and now the Ethics and Anti-Corruption Commission) to enforce transparency and accountability in Government.
"President Kibaki understood that leadership is a privilege to better the lives of others and not an opportunity to satisfy personal greed," said Muturi.
Liberator
Majority leader Amos Kimunya extolled Mr Kibaki as a giant of history whose legacy is not only our cherished constitutional democracy but also a liberator from the social and economic struggles the country faced during his tenure.
"I would like to urge the electorate that ahead of the August elections, to honour mzee Kibaki by looking for the characteristics he possessed in all those aspirants in all levels," said Mr Kimunya.
Minority Whip David Eseli gave anecdotes of the former president's sober leadership, describing him as a witty but performing leader who listened more than he spoke.
"I don't know whether we can actually produce another to Kibaki; someone who had such an impact on the economy of this country thanks to the devolution that he started implementing since he became President," Dr Eseli said.
Nominated MP David Ole Sankok attributed his capability to complete his studies at the University of Nairobi to Kibaki who at one point, he said, was the source of their acrimonious relationship.
"Kibaki left us when every Kenyan could afford three meals a day but currently it's hard for many to afford a single meal a day, not because they are suffering from typhoid or illness but because the economy is that bad," he said.
Garissa Township MP Aden Duale, while remembering Kibaki's political mentorship, chided opposition leader Raila Odinga and his allies for "praising Kibaki after his demise yet they were responsible for his problems while he was alive."
"Don't praise Kibaki if you know you made his life difficult during his time. We know those who made his life difficult were in the grand coalition government," stated Mr Duale.
Kieni MP Kanini Kega urged Kenyans to follow in the footsteps of Mzee Kibaki and detest laziness and corruption.
"Humility was his biggest virtue. Even after being demoted from a Vice President to a health minister, he never absconded duty," said Mr Kega.
The former President will be buried on Saturday in Othaya.