Raila Odinga: I bear my physical and psychological scars with pride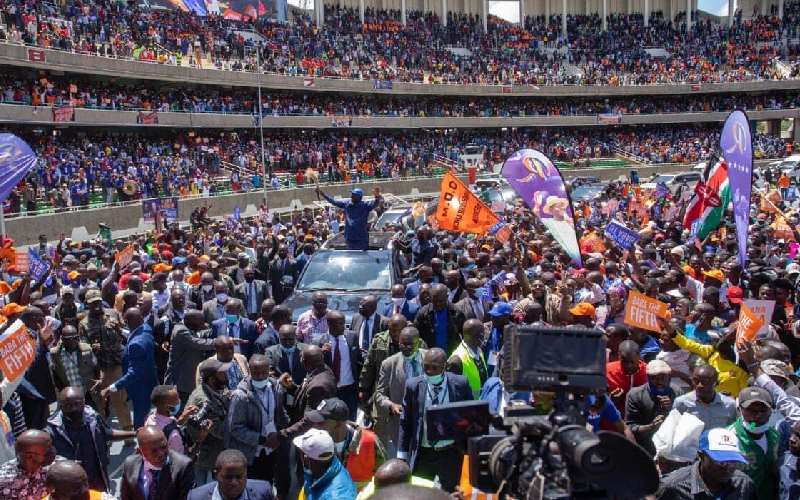 I'm proud of my scars and my fifth bid for State House proposes better policies and seeks to unite Kenyans
Today, I boldly declare that I am neither repentant nor regretful of my own experience in the fight for a liberated Kenya. I bear my physical and psychological scars with pride. I would not wish this torment upon anyone, not even my worst enemy. Together with my comrades who endured torture and survived those dark days of despair, we would never let Kenya degenerate down the road of terror.
But there was a positive side to my story. In those hard times of long and uncertain incarceration, if I was not reading the Holy Bible, I found deep solace in Mama Ida's love and support.
She became a constant guest of the police cells through constant arrests and harassment. I can't thank her enough.

Fellow citizens, what makes a great nation is not the men it produces, but the men it honours. That's why I would be remiss if I do not pay homage to those that gave us the sacred licence to stand tall, to speak free and think big on this very day.
Ups and downs
And here I am talking about my comrades in arms, both alive and those who have fallen.
In the course of this struggle, there have been ups and downs, advances and retreats, but we have never lost our direction.
At this point I must pay homage to my brother His Excellency President Uhuru Kenyatta for the foresight and sense of patriotism in initiating the dialogue that led to the handshake. It takes a seasoned statesman to shake the hand of his rival. I thank him. In the course of our discussions, we agreed that Kenya is greater than the two of us.
We agreed that despite years of effort, Project Kenya has not quite taken off the way our founders envisaged. Where our founders envisaged unity, we have been held back by divisions; tribe against tribe, region against region, men against women, leader against leader. As if these divisions have not been costly enough, there are still massive efforts by some to divide us further, as rich and poor, young and old. In this reconciliation, I asked for nothing, and I will never ask for anything except the opportunity to serve. Peace making is not a self-enriching enterprise. It is a calling from God.
The first liberation brought us independence in 1963.The second liberation brought us the people-driven constitution of 2010.
Ten-Point Programme
The Third Liberation is for the economic revolution in our nation that must see us emerge as a modern and industrial nation that will consign poverty, ignorance and disease to the dustbin of forgettable history. It must put us on the driving seat of the Fourth Industrial Revolution in Africa.
Following the listening tours, and to address the concerns that emerged, we came up with a Ten-Point People's Programmes.
One, the Inua Jamii, Pesa Mfukoni. A nation's greatness is judged by how it treats its poor and vulnerable. Pesa Mfukoni is a social protection programme that will deliver Sh6,000 per month to two million of most needy families. It is not a handout but an investment and a foundation for a new transformational value chain that will also trigger massive economic activity and create thousands of localised small scale businesses and enterprises across the country.
Two, 'BabaCare'. Each of us has experienced the all-consuming strain that accompanies the ill-health of a family member. BabaCare will scale up the Universal Health Care pilot programmes to the rest of the country.
Three, Kazi Kwa Wote. This is about securing the welfare of the people by generating avenues for productivity, through job creation programs, investing in the critical jua kali sector and other macro and micro economic stimulation schemes.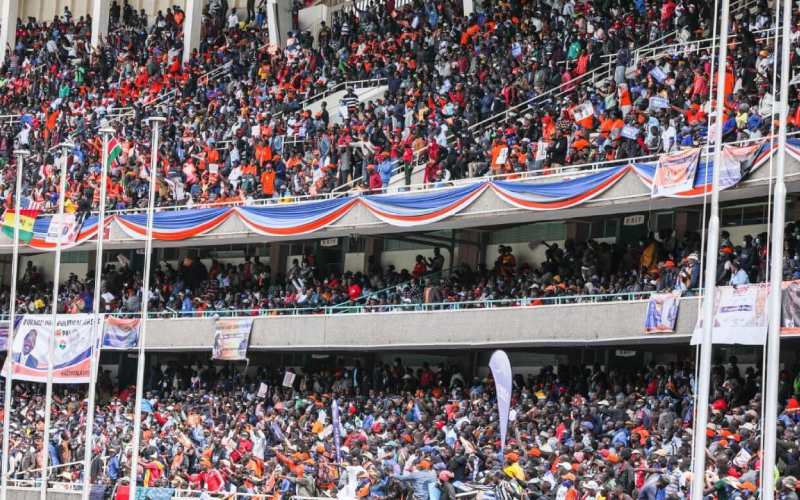 Four, Uchumi Kwa Akina Mama. This will focus on the true multipliers of wealth in our community; our women.
The programme will unlock access to financing for women-led businesses and provide support for women on other enabling factors such as access to assets for production, land tenure and proportional representation in all Government levels.
Affirmative action
Five, "Hashtag Inawezekana." Our youth are closer to the future than we are, but are exploited as cannon fodder for bad politics. Now more than ever, we need to invest in preparing our youth for that future. The program will equip our youth with the mindset, skills, funds and technology to enable them innovate at par, and even surpass their global counterparts.
Six, "Waste not a Single Child". Education is a non-negotiable. This programme will be an aggressive scheme to ensure that all, not some of our children, get a rightful access to quality education. We will deploy a new army of teachers to deliver to our children. For northern Kenya, we will pursue a special affirmative action program.
Seven, Fukuza Njaa. The aim here is not to merely feed, but to generate the agricultural bounty that Kenya has the potential to produce. We will factor in climate change adaptation and mitigation to support and help realise high agricultural productivity across the nation.
Eight, Maji Kwa Kila Boma. The program will radically reverse the artificial shortages and high cost of water, particularly for the poor. We shall not allow water scarcity to be an issue in a country like ours where lakes and rivers burst their banks, yet desert nations have found ways to direct every drop to its people for consumption and production.
Nine, One County, One Product. I firmly believe that the idea of devolution in Kenya has the transformative potential of rich mineral mines, abundant oilfields and other traditional markers of a nation's affluence. This programme is a launch pad to a Kenya which consumes its products, exports excesses and registers surpluses, not deficits.
Retrogressive mindset
Ten, the Principle of Administrative Continuity. By continuity, I mean building and improving on the gains that have been made by the administrations that came before. Africa suffers from a retrogressive mindset of starting afresh, instead of advancing existing accomplishments. When one administration sets something up, the next knocks it down. This makes many countries in the continent stuck in a constant state of ignition, never making it to acceleration and takeoff.
Kenya must not be a 'start-stop' nation. This is a waste of time and resources that SHOULD NOT be entrenched in Kenyan political culture.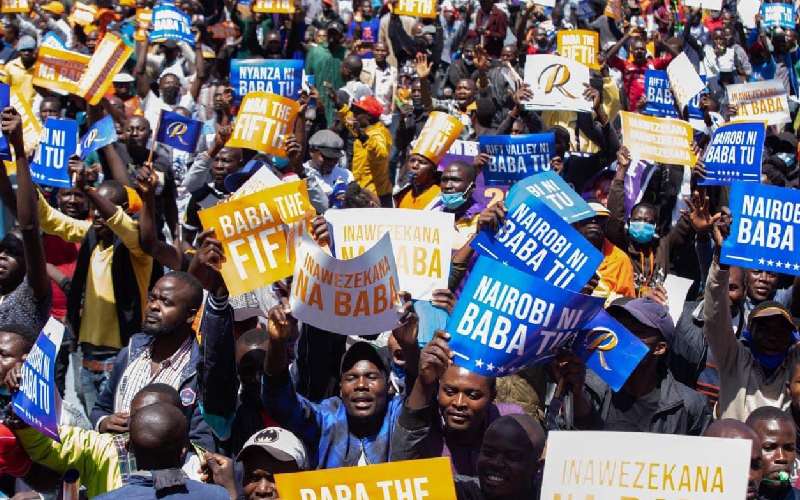 For example, President Kenyatta's Linda Mama programme could not have worked without the construction of health facilities and upgrading of transport networks that we undertook during the Grand Coalition Government. The plans for the Rapid Bus and Transit System could not have been operationalised without the construction of Thika and Mbagathi Roads.
The plan the Lamu Port dates back to 1972 when President Mwai Kibaki was finance minister. It took almost 50 years for it to be launched by Kibaki as President in 2012 as he was leaving office. President Uhuru Kenyatta took it up in 2013, ran with it and has implemented it in 8 years. The Lamu Project is one whose ultimate vision I see clearly.
Ignoring it squanders the opportunity, by another 50 years, to have a world-class transhipment hub that will reap exponential economic benefits for our country.
My manifesto will bear a crystallized description of the Ten Point Peoples' Programme, delving into the workings and plans that will actualize it for the People.
Detailed manifesto
These are just but highlights of new programs that we shall roll out to respond to needs expressed at Azimio la Umoja events. Very soon, I will unveil a detailed manifesto addressing other critical concerns like corruption, public debt, industrialisation, digital economy and promotion and protection of businesses and, particularly, protection of private property.
Our business community deserve protection and they will get it.
At the top of our national government where leadership is exercised to the maximum in governing and changing our nation is the presidency.
A president makes a difference in the life of this nation.
Having listened to your calls during our conventions, given my credentials to this congregation and the nation at large; and having spelt out the peoples' aspirations as I understand them under Azimio La Umoja; and having given my 10-point vision for Kenya:
On this tenth day of December 2021, I Raila Amolo Odinga, having been faithful and committed to building a national, democratic and progressive Kenya in our lifetime, having worked with many patriotic Kenyans to achieve this goal.
Present my self
I do hereby accept to present myself as a presidential candidate on 9th, August 2022 following the request and unanimous decision by this AZIMIO LA UMOJA.
I am not running for president to oppose anyone but to propose better policies. I am in this race to mold one indivisible nation. I am not at war with personalities, I am at war with ideologies that would lead this nation in the wrong direction, ideologies that divide us instead of uniting us. Ideologies that put the personal above the national good.
To put our country on the path of lasting unity, stability and prosperity, I hereby announce the launch of a movement anchored on the pillars of Utu, Undugu, Umoja, Usawa na Usalizaji (humility, brotherliness, unity, equality and productivity), AZIMIO LA UMOJA MOVEMENT.
God BLESS you all and God Bless this our LAND and NATION.
Merry Christmas and a Happy New Year. ?