Kiraitu and Munya renew their battle for political supremacy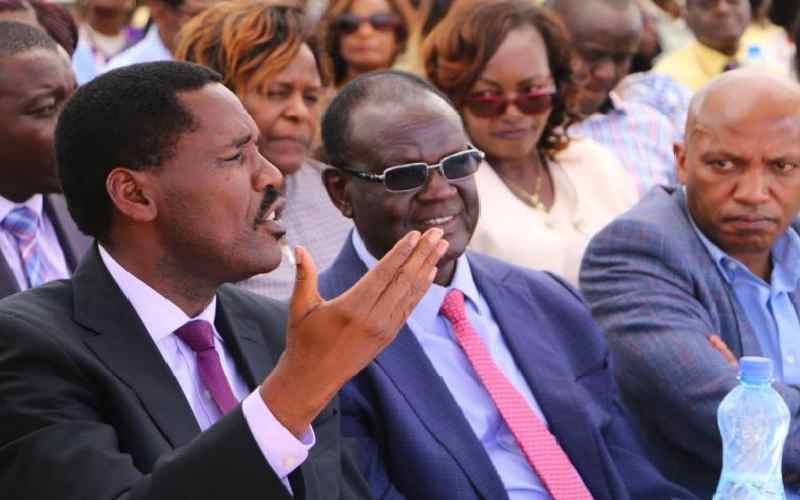 Fight for political supremacy between Meru Governor Kiraitu Murungi and Agriculture Cabinet Secretary Peter Munya has gone full throttle, with battle lines drawn in the County Assembly.
Kiraitu is leaving nothing to chance, and last week's formation of the Meru Inter-Party Caucus is interpreted as a move to consolidate his support among the 68-member County Assembly, a crucial group linking the executive with the electorate in wards.
Munya has, in past visits to the county, indicated his wish to gun for the governor seat again, saying he was currently on a (political) vacation and was focusing on implementing President Uhuru Kenyatta's development agenda.
CS message
It is the message he carried last year during a visit in Buuri sub-county.
Then, Munya said though he was concentrating on delivering President Kenyatta's development agenda, he will consider a run for the governorship.
"I am on a short break. I will be coming back," Munya said, to applause by the crowd.
But he said elected leaders should not waste time politicking, because it was time for them to fulfil pledges to residents.
When contacted yesterday, the minister kept his response brief, saying he did not have any battle with anybody and was concentrating on his Agriculture docket.
Save for Eala MP Mpuru Aburi, who yesterday expressed his support for Munya to regain the seat, other MPs are publicly silent on where their support lie.
"They (Kiraitu and allied MCAs) are going home. Munya is coming back," said Mr Mpuru, adding he had formed a political party, National Ordinary People's Empowerment Union, whose vision is to empower the common mwananchi.
Speaking during the launch of the Inter-party Caucus at a local hotel, Kiraitu said they will use the forum to support development agenda in the county.
Half of Party of National Unity (PNU), which is associated with Mr Munya, are said to have embraced formation of the caucus.
Consequently, PNU has kicked out MCAs Kimathi Ithibua, Romano Mwito and Gabriel Chokera, who it accused of being disloyal to the party leadership and gravitating towards Kiraitu's side.
Ithibua was among MCAs who gave a meeting called by Munya at his home in Muthara on June 13 a wide berth, claiming Munya had not consulted Kiraitu about it.
The CS cancelled the meeting at the eleventh hour after he learned that Kiraitu had also called a parallel meeting with the MCAs.
The source of the new friction between the two supremos is traced to the abortive meeting, and the battle has shifted to assembly, where loyalty is now divided.
PNU Chief Whip Kithinji Ethaiba said as a civil servant, Munya did not want to be seen as being involved in politics, and so had to cancel his meeting.
"One Jubilee leader in assembly was bragging that he would ensure Munya's meeting lacked numbers," said Mr Ethaiba (Nkomo ward).
The snub angered Munya allies, with disciplinary action targeting PNU MCAs deemed no longer supportive of Munya soon following.
Two of them were sacked as committee chairmen, and another as member.
But it is the formation of the Inter-party Caucus in the assembly that has brought to the fore the battle between the two kingpins.
Majority Leader Victor Kariithi (Jubilee) is coordinating activities of the caucus, with elections to pick other officials from other parties and independents planned.
Political caucus
Mr Kariithi said theirs is a political grouping to spearhead development issues in the county, but a section of MCAs and residents claimed it is meant to neutralise Munya's reach in the grassroots.
A PNU rep who requested anonymity said: "As reps, we are caught between a rock and a hard place. On one hand, we have to toe the governor's line because we need to work with them in developing our wards. But our political loyalty is not in question."
Kiraitu did not answer our calls nor respond to text messages by the time of going to press.
But County Chief of Staff Gideon Kimathi, a confidant of the governor, said the electorate had, in voting for Kiraitu, loudly stated who they wanted for governor hence he was in no supremacy battle.