Farmers turn 'mukombero' wild plant into a cash crop
Lush green mukombero (White's ginger) plantation welcomes you to Alfred Mukhwana's farm in Lukume, Kakamega County.
The domesticated wild vine plant is said to have medicinal value and an aphrodisiac.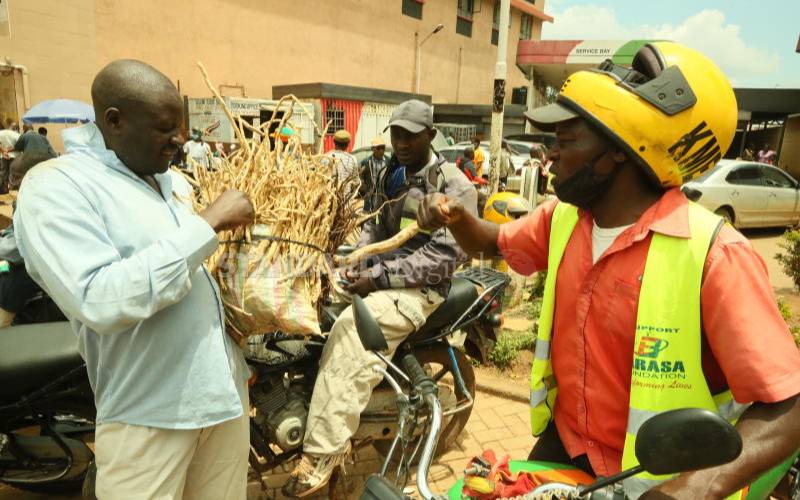 "In two weeks, we will be moving the seedlings from the nursery to the main field," says Mukhwana, 67, pointing at a well-nurtured nursery with thousands of mukombero seedlings.
Apart from the seedlings, he has mature plants on at least two acres of his farm, but Mukhwana says he is not in a hurry to harvest.
Like other mukombero farmers in the county, Mukhwana has huge expectations of reaping millions of shillings from the produce, following a deal signed between them and a French firm that will see them export 100 tonnes of the roots abroad.
Signed deal
Man Fields Company signed the deal with the farmers' umbrella group Kakamega Natural Forest Catchment Conservation Organisation (KANFCCO) in 2019 to supply the firm with mukombero every year.
Mukombero root has a fruity scent and a sweet taste. Its lovers come from Nyanza, Bungoma, Busia, Vihiga, Trans Nzoia and Uasin Gishu, according to Mukhwana.
Initially, the vine was found in large quantities in Kakamega Forest, but there have been concerns over its imminent extinction, following a huge demand that has seen the plant depleted in the forest.
Earlier, researchers raised the red flag over unsustainable harvesting of the perennial herbaceous climber by communities living around the Kakamega Forest and visitors.
"The good thing is that many people have realised the benefits of mukombero and have embraced its domestication to rescue the crop from extinction. Many farmers have been visiting to buy the seedlings, which I sell at Sh50 per stem," says Mukhwana.
On a good day, Mukhwana says, he makes at least Sh4,000 from selling the seedlings.
"At first I was not sure whether to plant mukombero because I did not understand the dynamics involved. I used my experience as a conservationist at the Kenya Forest Service to monitor the plant until maturity. It is the easiest plant to manage as it only requires weeding once," he says.
Mukombero takes two to three years to mature and thereafter, harvesting is a continuous process that may run for up to 15 years, according to earlier research done by the International Centre for Insect Physiology and Ecology (Icipe).
Asked how mukombero has been beneficial to him, Mukhwana smiles timidly and says the vine has helped him have a healthy relationship with his wife.
"This thing has a lot of benefits and this is why we are encouraging farmers to set aside some parcels for planting it. It has been proven that mukombero cleans the blood system and boosts blood circulation in the body," he says.
KANFCCO Chairman Paul Lumadi says with a guaranteed European market, the organisation will recruit more farmers to ensure they have surplus Mukombero in their stores.
In the deal, Man Fields Company committed to pay farmers Sh500 per kilogramme of raw mukombero.
Informed consent
In 2019, the group was forced to go back to the drawing board because it needed at least 100,000 mature stems of the vine to produce the required 100 tonnes.
"We entered a prior informed consent with the investor and we had to think of a way of producing the required quantity of mukombera for the export market. It involved recruiting and sensitising farmers," says Lumadi.
Many people prefer mukombero from Kakamega Forest due to its aroma and unique taste.
Herbalists and researchers agree that mukombero is a good energiser and increases milk production in breastfeeding mothers and even dairy animals. The vine, it is believed, also enhances memory and relieves stress.
Icipe, Kenya Wild Services (KWS), Kenya Forestry Research Institute (Kefri), Kenya Plant Health Inspectorate Service (Kephis), Kenya Agricultural and Livestock Research Organisation (Kalro) and the Kenya Bureau of Standards (Kebs) are among organisations involved on mukombera research since 2011.
The research involved exploring knowledge about the vine, including indigenous, documented and scientific knowledge that defines mukombero. It is the research that found domestication and propagation of the vine practical and viable.
Daniel Muchesia, KANFCCO Treasurer and James Ligare (secretary), say the organisation had embraced value addition to keep the farmers motivated as they work towards meeting their part of the bargain in the deal with the French company.
"Currently we are able to raise just half of the quantity required for export, but we have recruited farmers all over and by 2022, we shall have enough to make our first shipment to the European market," says Muchesia.
He says the French firm was categorical it would use mukombero in manufacturing fragrance.
Farmers under KANFCCO have been making sweet wine christened 'pure mukombera' from the plant and Mondia tonic, powder which can be used as a beverage.
"We buy raw mukombero from our members for making the products so that farmers can have money in their pockets and get encouraged to expand acreage under the plant," says Ligare.
According to the duo, it has been an uphill task explaining more about mukombero "because people have a preconceived opinion that it is a sex enhancer. The plant makes the body to relax and the veins to open up and function well, hence making men lively in bed," says Lumadi.
Affordable prices
The group has registered farmers across Kakamega County and has been giving out inputs, including seeds and seedlings at affordable prices to willing farmers.
"There are farmers who have planted well over 5,000 stems, which could cover at least five acres," said Ligare.
"We are not just looking at the profits from mukombero but also determined to conserve and expand the forest cover so that people don't over-rely on the genetic resources within the forest," says Muchesia.
One of the biggest challenges has been brokers who buy the plant from farmers at throw-away prices.
"Sometimes, the brokers pay Sh500 for a 50kg bag, which is a big loss to the farmer and our group," said Muchesia.
Mukombero hawkers in Western sell a kilo at Sh150, and on average, a farmer rakes in anything between Sh5,000 and Sh30,000 a month depending on the acreage under the crop.