Hotels assume new service look in readiness for guests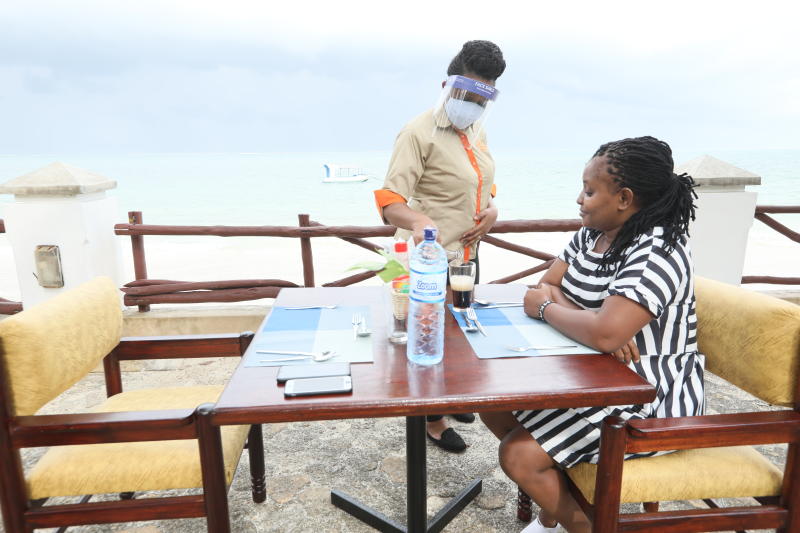 Tourist hotels have started operations albeit with scaled down services in the new normal owing to the Covid-19 pandemic.
At the Kenyan Coast, several of the star-rated establishments have started welcoming guests back after the government eased measures it had imposed back in March to contain the spread of the novel coronavirus.
Swahili Beach Resort, a five-star hotel in Diani, Kwale County, has reopened after the resumption of air services a fortnight ago.
General Manager Jeff Mukolwe told Weekend Business that over the past few weeks they had prepared adequately to resume operations, with detailed protocol training for all its management and staff, and rearranging of rooms and public areas to meet strict guidelines.
"We have several innovation 'staycation' packages for one to select from when choosing to stay with us," he said.
A statement from the Gelian Hotel, a four-star resort in Machakos town - which did not close down its operations throughout the period - said the facility had continued to adhere to all the standard operating procedures as stipulated by the Health ministry.
"We are excited at the government gesture that includes the tourism stimulus package and the directive that (State) agencies be allowed to hold meetings in hotels once things normalise," said Chief Executive Anthony Makau.
In Mombasa County, Cyrus Chamia, the Operations Manager for Jacyjoka Apartments, a three-star establishment in the leafy Nyali suburb, said the new procedures would pave way for lesser interaction between hotel guests and staff.
"We have fine-tuned everything and got certified by Health authorities to re-open to the public. There is even an isolation room in place in the event any of our guests or staff develops Covid-19 symptoms," he said.
Reef Hotels Managing Director Ranjit Sondhi said they had done a lot of training with their hotel staff, including having all those who are assigned duties tested for Covid-19.
"Sanitisation procedures remain key for staff interacting with clients. We encourage that all those accessing our facility wear face masks and clean hands with soap at several designated points," he said.
In conformity with the new normal procedures, Mr Sondhi said, the hotel has replaced clothing on food tables with washable surfaces and there is no cutlery on the tables.
"In the accommodation rooms, after a guest checks out, the room is kept vacant for a day to allow for complete deep cleaning before the next guest is allowed to use the room. Since we are not so busy at the moment, this procedure is fine with us," Sondhi said.
He said they had done away with buffet dining and all meals served would have to be ala-carte. "We have instituted basic protocols with chairs and tables spaced out. At the Reef Hotels, we have ample space even for outside dining in our lawn gardens," he said.
Hoteliers in Malindi and the larger North Coast region, however, have decried lack of Covid-19 test kits, adding that it is hampering their plans to reopen.
Kenya Association of Hotelkeepers and Caterers, North Coast Chairperson Maureen Obunga said hotels and holiday homes had adhered to all the measures put in place by the government to enable them to reopen for business, but lack of testing kits for hotel staff was a big concern.