Banks to pump over Sh300b into housing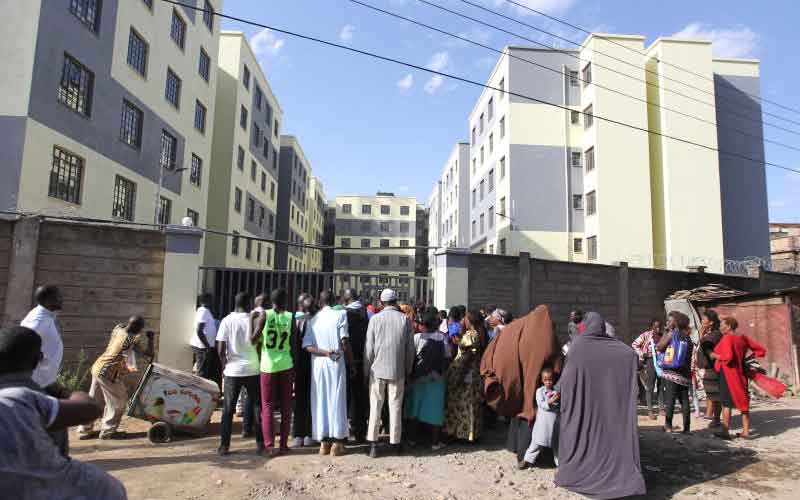 Six Kenyan banks have joined the Affordable Housing Programme (AHP) as strategic partners, committing Sh335 billion for end-user financing backed by a partial credit guarantee.
The six banks are Equity Bank, KCB Bank Kenya, NCBA, Stanbic Bank, Absa and Housing Finance.
The banks will finance potential home-owners to purchase houses under the government-driven AHP — both governments built houses and housing units delivered by the private developers registered on the Boma Yangu Portal.
Private sector
AHP is the first comprehensive programme in which the State seeks to use private sector funding to facilitate provision of homes to its citizens.
The State Department for Housing and Urban Development Principal Secretary (PS) Charles Hinga said the partnership demonstrates a commitment to the public-private partnership model that is crucial in helping promote home-ownership.
"This partnership represents significant progress and will help potential homeowners, especially in low and middle-income segments to overcome the financial hurdles to home-ownership," Hinga said yesterday in Nairobi.
Over 300,000 Kenyans have registered for the AHP on the Boma Yangu Portal with over 25,000 active contributors. Registered members who have contributed the minimum 10 per cent of the value of the houses they are interested in, qualify for the allocation of houses.
These members will directly benefit from the partial credit guarantee to access mortgage finance from the six banks subject to the respective bank credit approval processes.
The PS said the government will offer the partial credit guarantee for the potential home buyers, where the government guarantees up to 20 per cent of approved loans.
"The partial credit guarantee will derisk potential home buyers and enable the self-employed and especially informal business owners to access bank mortgages, that they typically wouldn't access," Hinga noted.
First-time homeowners will not be required to pay stamp duty and will benefit from an affordable housing tax relief of up to Sh9,000 per month. This means that what would have gone to taxes as Pay As You Earn could go towards savings to buy an affordable home.
The tenant purchase scheme arrangement would also allow for multi-generational payment plans, and years to retirement are not considered as would be the case when applying for a traditional mortgage.
Access to appropriate affordable housing remains a challenge for the majority of urban dwellers, particularly in the middle and low-income brackets. Central to the struggle has been the high, and rising cost of houses and land, and challenges with accessing affordable financing options.