Bad debt jitters trim Equity profit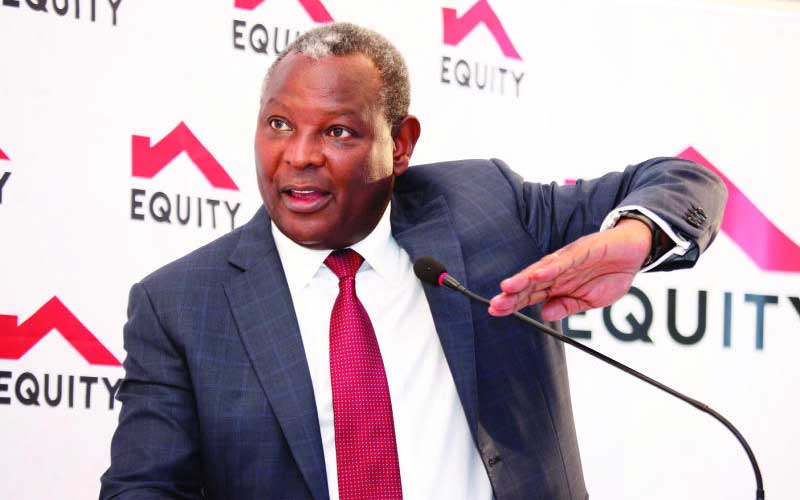 Equity Bank's net profits dipped by 14 per cent to Sh5.3 billion in the first three months of this year as the lender significantly shored up the buffer against loan defaults.
Equity had reported a Sh6.15 billion after-tax profit in a corresponding period last year.
But owing to the adverse effects of Covid-19, the lender put aside Sh3.1 billion as insurance against potential loan defaults between January and March this year, eating into its revenues.
This is compared to Sh409 million it had provisioned for in the same period last year, representing a more than seven-fold increase in loan-loss provisioning. The move saw its total operating costs increase by nearly 50 per cent to Sh12.8 billion from Sh8.78 billion.
However, its total income did not increase as fast, leading to reduced profitability.
Income went up by a slower rate of 14.3 per cent, with the bank earning Sh8.3 billion mainly from interest on loans as well as fees and commissions.
Group Chief Executive James Mwangi noted yesterday the Covid-19 pandemic has mutated into a global economic crisis, occasioned by a sudden standstill of economic activity as a result of lockdowns to curb the spread of the deadly disease.
"This has introduced unprecedented uncertainty within the global financial systems prompting us to adopt a conservative approach, fortifying our balance sheet and assuring ample liquidity to support our customers," said Mr Mwangi.
As a result, Equity was forced to recall a Sh9.5 billion dividend payout the board had proposed to be paid to shareholders.
Equity was to pay a final dividend of Sh2.50 for every ordinary share for the year ending December 31, 2019.
However, following the adverse economic effects of the novel coronavirus, the second-largest bank in the country decided to withdraw the plan.
"The Equity Group Holdings Board took a conservative approach that recognises the emerging unquantified risk of the pandemic and opted to preserve capital in the face of the prevailing uncertainty," said Mwangi.
"A strong capital and liquidity position gives us the strength and capacity to cushion our business and accommodate and walk with our customers during these challenging times."
Standard Chartered Bank and NCBA have also recalled their dividend payouts as banks seek to hold on to as much liquidity as they can in preparation for a wave of loan defaults.
KCB Group, Co-operative Bank and Family Bank have also seen their loan-loss provisions surge.
KCB Bank, the country's largest bank by asset size, put aside Sh2.9 billion to guard against possible loan defaults in the first quarter of this year.