Counties paid Sh162b wages but avoided development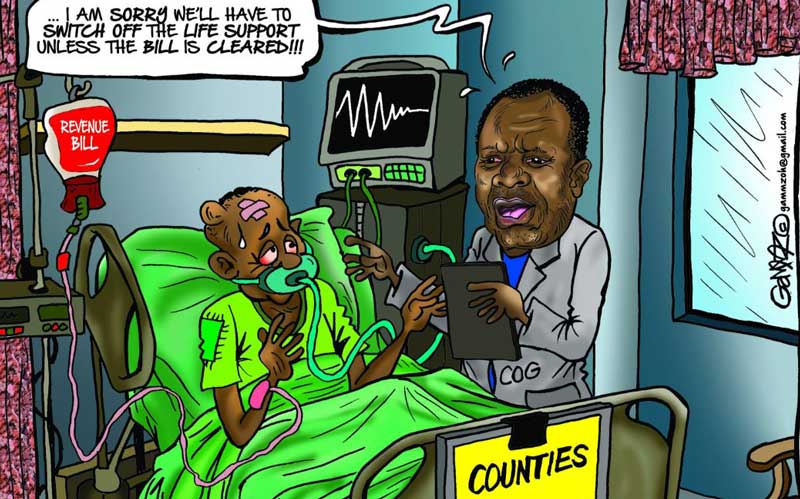 A huge chunk of counties' money went towards lining ward reps and other staff pockets, as development projects were starved of cash, a report by the Controller of Budget has shown.
The devolved units spent Sh162.77 billion on salaries and wages, with MCAs pocketing another Sh2.2 billion in allowances in the 2018/19 financial year. This was 85 per cent of approved Sh2.58 billion allocation. Ward reps spent Sh1.46 billion in allowances the previous financial year.
"In the period... county governments spent Sh162.77 billion on personnel emoluments, representing 60.5 per cent of the total recurrent expenditure and 43.2 per cent of total expenditure. This was an increase from Sh151.09 billion spent in 2017/18 when personnel expenditure translated to 49.7 per cent of total expenditure," read the report by acting CoB Stephen Marsha.
The CoB said four county assemblies reported higher expenditure on sitting allowance than Salaries and Remuneration Commission (SRC) recommended monthly ceiling of Sh124,800. They are Busia (Sh146,149), Homa Bay (Sh148,214), Nyamira (Sh150,097) and Tana River (Sh138,706).
Budget allocation
The report cites Migori County Assembly for reporting an expenditure of Sh69.11 million without a budget allocation for MCAs sitting allowance in the approved Budget.
In the last two financial years, MCAs have spent a cumulative Sh3.6 billion in sitting allowances.
The county staff and MCAs also travelled round the world at taxpayer's expense, incurring Sh11.36 billion on domestic and foreign trips during the reporting period. This amount comprised Sh9.86 billion on domestic travel and Sh1.5 billion on foreign travel. "This was a decrease of 6.5 per cent compared to Sh12.15 billion incurred in 2016/17 financial period," stated the report.
The CoB revealed that in absolute terms, Machakos County had the highest expenditure of domestic and foreign travel at Sh642.93 million, followed by Nairobi and Kisii at Sh641.11 million and Sh597.73 million respectively.
The counties that had the least absolute expenditure were Kirinyaga, Samburu, and Elgeyo Marakwet at Sh167.21 million, Sh116.93 million and Sh110.65 million respectively.
As MCAs and other staff laughed all the way to the bank and toured the world, billions in development funds remained unspent.
The CoB found that counties absorbed only 57.8 per cent of the annual development budget, which translates to Sh107.44 billion.
Mr Masha urged county governments to establish optimal staffing levels to ensure expenditures on salaries and wages remained within set limit of 35 per cent of their total expenditures. "The expenditure on non-core activities such as travelling should be rationalised to free funds for implementation of key development programmes," he wrote in the report.
At least 13 counties exceeded their annual targets for revenue collection from own sources. They are Lamu, Vihiga, Taita Taveta, Narok, Elgeyo Marakwet, Isiolo, Nakuru, Bungoma, Tana River, Kwale, Laikipia, Kirinyaga and Kiambu. The total own resource revenue raised by the counties was Sh40.30 billion, a 74.8 per cent of the annual Sh53.86 billion target.
The report shows performance on local revenue collection significantly improved from last Financial Year's Sh32.49 billion.
Masha urged county treasuries to develop and implement strategies to enhance own source revenue collection and ensure compliance with Public Finance Management Act, 2012 on submission of financial and non-financial expenditure returns.
By Wilfred Ayaga, Stephen Mkawale and Rawlings Otieno