Kisumu hawkers' shops face demolition threat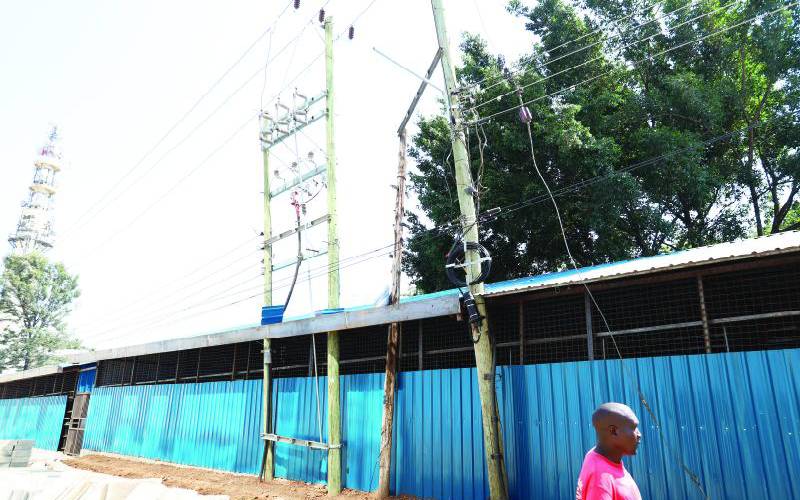 A Sh15 million World Bank-funded project to resettle hawkers is threatened following a dispute between Kenya Power and the county government.
This after the power transmission company warned that it will demolish 500 shops being constructed under high voltage electricity lines.
Kenya Power Western Kenya Regional Manager Dan Obiero yesterday said they have already served the county government with a 30-day notice to pay for the relocation of the power lines.
"They began the works without consulting us to advise them on the distance the structures need to be from the line. We had given them a quotation in the hope they would pay so that we start the process of relocating the lines. But it appears they are taking too long or they might not even want to pay," said Eng Obiero.
The shops, which are located behind University of Nairobi's Kisumu City Campus, and adjacent to Jomo Kenyatta Sports Ground, are intended to host the hawkers who were recently evicted from the streets.
Oblivious of danger
When The Standard visited the site, work was ongoing with the workers oblivious of the dangers posed by the electricity lines. A few electric poles were erected inside the shops. The workers said they were about 80 per cent done with the project and denied any knowledge of Kenya Power's demolition threat.
"We have clear laws on putting up structures near power lines. We have the authority to bring down the structures if we do not reach an agreement, given that they came up after the power line had been established," said Obiero.
Obiero revealed that the county government was yet to respond to their quotation for the cost of relocating the lines, which had accompanied the encroachment notice in what he termed as a proposal to reach a 'gentleman's agreement'.
He, however, declined to disclose how much they are seeking from Governor Anyang' Nyong'o's administration, terming it a 'client confidentiality matter'.
County Director of Communication Aloice Ager told The Standard his bosses had not received any notice from Kenya Power.
"What I know is that should there be any need to relocate the power line, then it is Kenya Power to do it, not us," said Mr Ager.
He said Kenya Power was fully involved in the ongoing project and had even connected three power lines in the market, which were being used in the welding works.