Sh100m electric fence for Kajiado County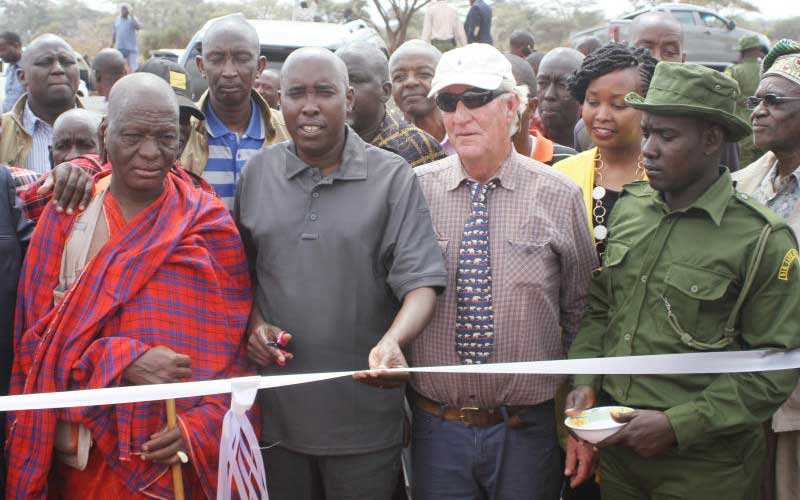 A non-governmental organisation has offered to build a 75-kilometre electric fence around the forestland along the Kenya-Tanzania border.
The NGO, Big Life Foundation, has already started the project that is expected to cost Sh100 million and ease cases of human-wildlife conflict in the area.
Farmers in Kajiado have had their crops destroyed by elephants, among other animals.
Speaking at the site yesterday in Oloitokitok sub-county where construction has started, Big Life Foundation founder Richard Bonham said conflicts between people and wildlife currently rank top among threats to conservation in Africa.
He said in Kenya, with most of the wildlife living outside protected areas, one of the challenges to conservation is how to sustain co-existence between people and wildlife.
Wildlife habitats
"It is evident that expansion of the human society has forced people to infringe on wildlife habitats and convert them to private land," said Mr Bonham.
"Human-wildlife conflicts negatively impact on people and animals alike. An understanding of how people can handle wild animals is critical to establishing sustainable conservation systems."
Speaking at the function, Kajiado Governor Joseph Ole Lenku said many people have been killed or injured, while crops worth millions of shillings have been destroyed by wild animals.
"We hope with this project, things are going to change for the better.''
Mr Lenku had recently threatened to mobilise the Maa community to kill stray wild animals that invaded their farms.
The governor said if the Kenya Wildlife Service does not compensate herders for the deaths of their livestock at the hands of wildlife, then the herders would kill the animals.
He claimed that the Government has taken the Maa community's hospitality in protecting the animals for granted, and it is time things changed.