Uhuru urges regional states to go digital in war on corruption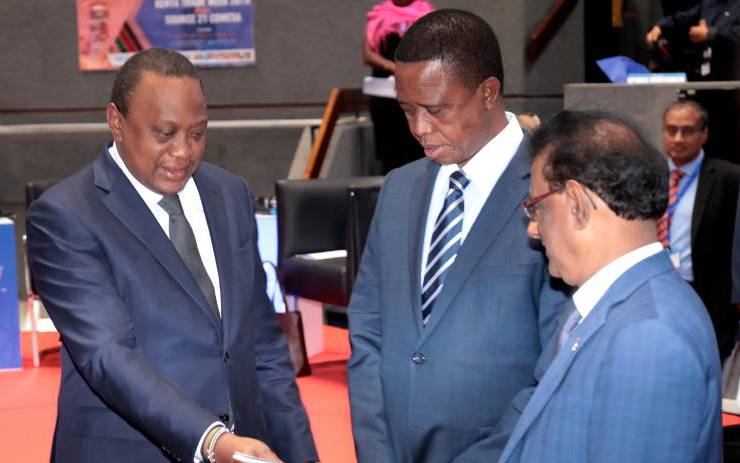 President Uhuru Kenyatta has urged Kenya's neighbours to plug into the country's digital strategy to help stem the free flow of illicit cash in the region.
Speaking yesterday in Nairobi after unveiling the Source 21 Comesa International Trade Fair, the President noted that the adoption of the digital strategy by other regional states would help stem the vice.
"When we digitise, we improve on transparency and accountability and open up the system," Uhuru told participants of the Presidential Public-Private Roundtable in the ongoing Kenya Trade Week.
The other heads of state who participated in the roundtable included Uganda's Yoweri Museveni, Zambia's Edgar Lungu and Pillay Vyapoory, the acting President of the Republic of Mauritius. Under pressure to seal all loopholes of revenue wastage, Kenya has doubled down on technology with the most ambitious initiative being the NIIMS (National Integrated Identity Management System), popularly known as Huduma Namba.
This week, the Government unveiled new excise duty regulations that will, among other things, require manufacturers of beer, juices, bottled water, and cigarettes to automate their production processes in what is aimed at capturing transactions from the acquisition of raw materials to consumption.
Philip Muema, a managing partner at Andersen Tax, said with the new regulations, KRA will almost be able to monitor transactions manually.
The Central Bank of Kenya (CBK) is also said to be in the process of developing digital identification infrastructure that will enable financial service providers to identify their customers electronically with ease.
This, according to CBK, is expected to offer an efficient and credible way for banks and other service providers to identify their customers in comparison to the current manual Know Your Customer (KYC) process that is costly and largely dependent on information provided by the customer.
In his Budget Statement, National Treasury Cabinet Secretary said he would streamline the roll-out of the integrated customs management system and regional electronic tracking to detect cargo diversion.
To enhance revenue collection and seal revenue loopholes, Rotich said a number of initiatives were being implemented, including Revenue Enhancement Initiatives (REI), which target "implementation of a Regional Electronic Cargo Tracking system to tackle transit diversion."
Yesterday, Uhuru said digital linkage in the region would make it easier for people from different countries to share data on different products.
"There is no reason why Kenyan supermarkets cannot buy products from Zambia," he said.
President Museveni called for the removal of bottlenecks, including market integration, cost of doing business, poor human resource and politics of identity, which he said had hampered the growth of Africa's economy.