Wrong export prices reveal foul play in donkey slaughter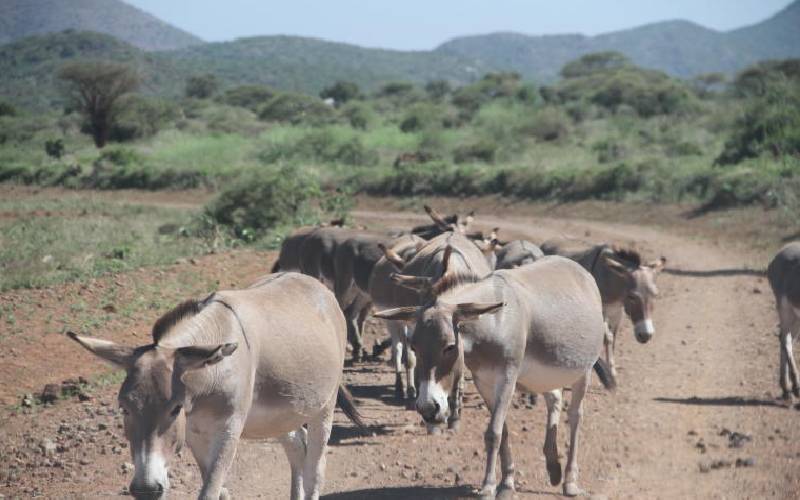 A report on donkey slaughterhouses has revealed inconsistencies with export records.
The report released on June 5, and compiled by Kenya Agricultural Livestock and Research Organisation (KALRO) indicates that prices declared by donkey slaughterhouses at export points were understated.
The report indicates that the prices were understated to make the business appear less profitable, leading to underestimation of income to investors in donkey meat business.
Data from the Kenya National Bureau of Statistics and the Kenya Revenue Authority indicate that slaughterhouses cumulatively exported 16,543 tonnes of donkey meat between 2016 and 2018.
However, slaughterhouses declared that they exported 15,849 tonnes in the same period.
The total value of donkey meat exported in the three years was Sh1.72 billion, with the highest income being Sh901.5 million in 2018 and the lowest being Sh128 million in 2016.
In the records, slaughterhouses declared they were exporting a kilogramme of de-boned donkey meat at Sh109.50, prices deemed too low for the export market.
"This figure does not make business sense. A live donkey bought by the abattoir at an average price of Sh9,000 produced an average of 33kg of de-boned meat. With each kilogramme sold at Sh109.50 to the export market, each donkey would only be valued at Sh3,613, which is way below the buying price," the report states.
A total of 2,209 tonnes of donkey skin was exported in the three years, fetching Sh108.85 million, which, again the report states was understated.
"Just like the meat, the average cost per kilogram of donkey skin exported was declared as Sh49 per kilogramme. At an average cost of Sh49 per kilogramme, a full donkey skin would cost Sh343 considering the average weight of a dry donkey skin," states the report.
The report also detailed gaps in the number of bullets sourced by slaughterhouses for stunning the animals before slaughter against the number of donkeys slaughtered. The number of donkeys slaughtered was more than five times the number of bullets sourced as part of a humane way of handling donkeys for slaughter.