Tussle: MPs okay slashing of funds to counties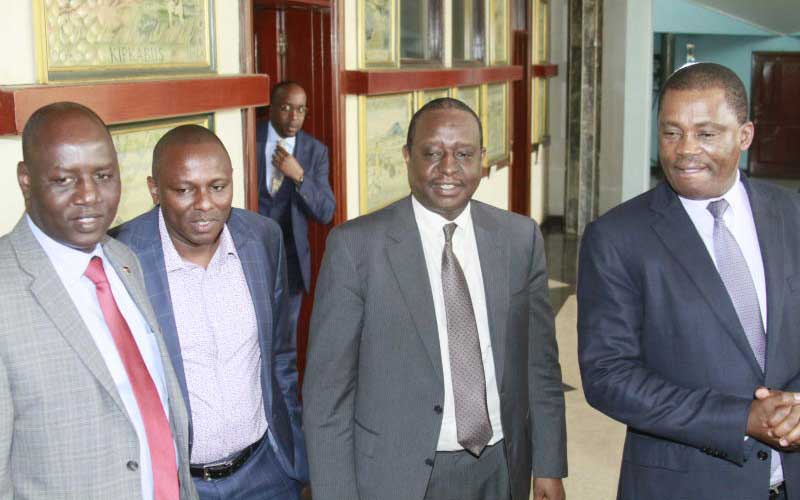 MPs have concurred with National Treasury's decision to slash allocation to counties. The proposal could put them in a collision course with county chiefs and Senators.
The Budget and Appropriations Committee (BAC) has recommended that allocation to county governments for the Financial Year (FY) 2019/20 be retained at Sh310 billion as had been proposed by Treasury.
BAC's recommendation contradicts that of the Commission on Revenue Allocation (CRA) which had allocated Sh335.7 billion to counties, that included an additional Sh21.7 billion to help them adjust to inflation. CRA had recommended the slashing of National Government's share of revenues by Sh40 billion to Sh1.52 trillion - from Sh1.56 trillion proposed by Treasury.
But the Budget Committee, chaired by Kikuyu MP Kimani Ichung'wa, while denying more allocation to the 47 devolved units, left untouched what Treasury had allocated to ministries.
The report on the Division of Revenue Bill, 2019 by BAC will now be read for the second time in the National Assembly, with a vote on the general outlines of the bill being taken before it is sent back to the Committee again.
President Uhuru Kenyatta's Government has proposed to read a budget of Sh2.7 trillion for the Financial Year between July 2019 to June 2020, with a huge chunk of the budget being financed from taxes and as well receipts by State agencies amounting to Sh2.1 trillion.
More than 60 per cent of the budget – Sh1.7 trillion - will be used to pay civil servants' wages, advertising costs, printing, foreign and domestic trips.
In what is an indicator of the things to come, Treasury proposed to overhaul the income tax, leaving employers and employees open to increased taxation.
"In addition, the government will implement various measures to boost revenue mobilisation. These measures will include a complete overhaul of the current Income Tax Act, strengthening tax administration and expansion of the tax base," reads the BPS.
The deficit of 623.8 billion (excluding grants from donors) will be plugged through borrowing both from domestic and external sources to fund development activities.
With the inclusion of grants, the fiscal deficit will decline to Sh572.2 billion.
They will be financed through net external financing of Sh306.5 billion, Sh271.4 billion net domestic borrowing and other net domestic receipts of Sh5.7 billion.
BAC also rejected a Sh5 billion proposal by counties to build two referral cancer centres, dealing a blow to their efforts to combat the killer disease. Also turned down is the proposal by CRA to grant Sh5 billion for the financing and upgrading of five cities - Nairobi, Mombasa, Kisumu, Nakuru, and Eldoret.
The team was concerned with reports of misappropriation of funds by counties calling for enhanced oversight role by the National Assembly.
"Indeed, the Auditor General reports indicate fiduciary risk at the counties is high in most counties ranging approximately between 50 per cent and 80 per cent," said BAC.