Detectives grill Rotich for 12 hours over dams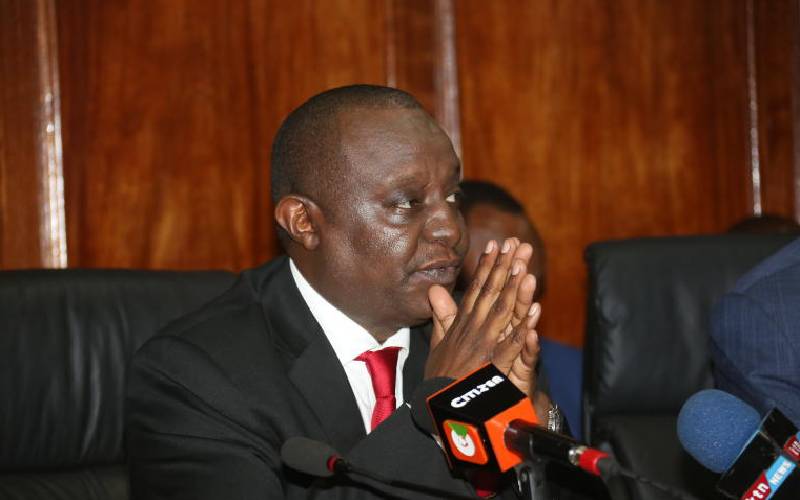 Treasury Cabinet Secretary Henry Rotich spent the entire day answering questions in the ongoing investigation into the dam projects in Elgeyo Marakwet County.
This was the second time that Mr Rotich was appearing before detectives at the Directorate of Criminal Investigations (DCI) headquarters to explain what he knew about the controversy-ridden Arror and Kimwarer dam projects.
Rotich is said to have ordered his lunch from a restaurant in the city centre after it emerged that he would take longer than expected at the DCI offices.
The CS' questioning came as President Uhuru Kenyatta reiterated that no one, including himself, would be spared in the ongoing war against corruption. The President told the devolution conference in Kirinyaga that if anyone had any evidence that he was corrupt, they should hand it to the DCI promptly.
Highest ranking
Rotich is hitherto the highest ranking official to be questioned over the dams' saga.
The CS is said to have arrived at the DCI headquarters on Kiambu Road at about 5.40am accompanied by his lawyer Katwa Kigen to respond to the questions that had already been prepared for him. By 6.30pm detectives were said to have only gone halfway with their questioning.
At around 7.30pm, with the session still ongoing, his lawyer requested that the grilling be postponed until today. He was allowed to leave a few minutes to 8pm but was directed to report back this morning.
The protracted questioning forced the CS to miss the National Development Implementation and Communication Cabinet Committee meeting, which was held at Harambee House yesterday morning.
According to insiders, the CS was cautioned that whatever he said in his statement could be used against him. He responded to many questions that saw him record statements of more than a dozen pages.
On February 18, Rotich appeared at the DCI over the dams' probe. At the time, he recorded a statement over the matter and it was not clear if he was being questioned as a witness or he himself was under investigation.
Sources say among the issues investigators were seeking clarity on yesterday was why Treasury released money without designs and Bill of Quantity. There were also questions on whether due diligence was done on the projects.
The contractors had told the investigators they used the Itare Dam project as their due diligence and another dam in South Africa to kick off the now controversial Arror and Kimwarer projects. A team was sent to South Africa last Thursday to establish the claims. It returned on Saturday, but we could not establish what they found out.
There are also claims that Treasury wrote to Kenya Forest Service (KFS) and National Land Commission (NLC) to facilitate land settlement for the dam projects. Officials from both KFS and NLC have been questioned, with the former declining to surrender their land.
Kickbacks
The Arror and Kimwarer projects are being undertaken by the Kerio Valley Development Authority (KVDA), a body established in 1979 to plan, coordinate and implement integrated river-based development programmes in the Kerio Valley basin. When completed, Arror Dam is expected to produce more than 60 megawatts while Kimwarer will produce 20 megawatts.
Last week, KVDA Managing Director David Kimosop and several board members of the State corporation were questioned by the DCI. KVDA, which contracted Italian companies CMC Di Ravenna and Itinera for the projects, is at the centre of investigations into allegations of payment of kickbacks to officials.
KVDA procurement boss William Maina Kiprotich, and the authority's engineer Paul Serem were also questioned.
The authority has maintained that only Sh7.8 billion was paid for the project while DCI says their probe shows up to Sh20.5 billion has been released for the dam projects so far.
This includes Sh6.3 billion mobilisation funds. Investigators believe Sh4 billion of the amount was used to pay kickbacks to various parties.
100 people
Detectives have questioned about 100 people so far. Treasury Principal Secretary Kamau Thugge is among those already questioned.
Yesterday, officials said the CS was asked to explain how the monies were released to the Italian firm even before the projects commenced.
Rotich was also asked why Treasury went against the advice of the Attorney General and signed a deal with a company that is now grappling with financial difficulties.
DCI George Kinoti said the investigation was ongoing and that all those mentioned would get a fair chance to explain their roles.
"We will talk to all those mentioned," he said.
Arror Dam was set to cost Sh38.5 billion while Kimwarer had a Sh28 billion budget.
The projects were to be a joint venture between KVDA, CMC Di Ravena and Itinera of Italy.
CMC Di Ravena is said to have filed for bankruptcy in Italy.
A part from boosting food security, the dams were expected to provide clean water to households in the county and neighbouring Uasin Gishu.