Blue economy forum another feather on Kenya's cap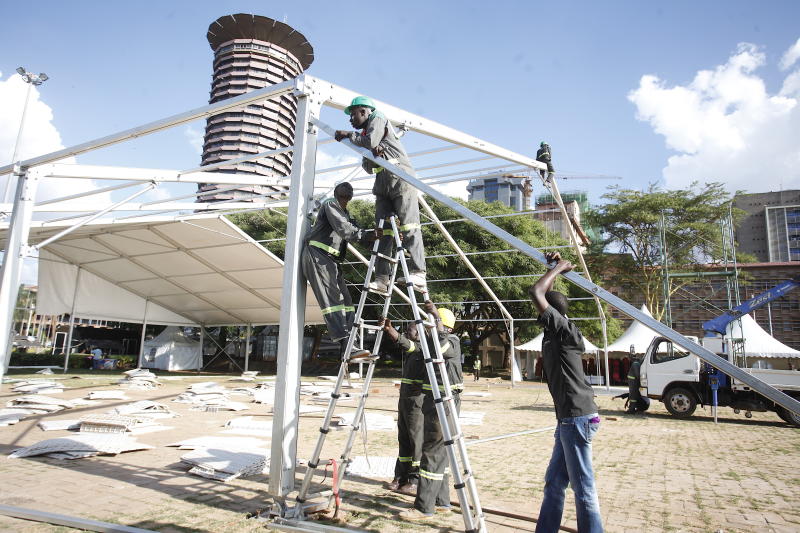 The Government is this week the proud convenor of the first global Sustainable Blue Economy Conference (SBEC).
Canada and Japan embraced this bold initiative by an upcoming African nation. The two are our dependable co-hosts of the conference.
Great ideas are sure to attract the imagination of many, including the generous financial support that SBEC has managed to secure from so many co-sponsors, even at the national level.
The gates to the conference will open at the Kenyatta International Convention Centre (KICC) tomorrow.
Unlike many other global conferences ever held in Kenya in recent years, SBEC, as a matter of fact, is nearly 10 conferences in one.
These are all spread across the City of Nairobi and include a historic, Leadership Commitments segment, a Business and Private Sector forum, a Governors and Mayors convention and a truly, "star-studded" Science and Research Symposium segment to be hosted at the premier, University of Nairobi.
There shall also be signature thematic sessions devoted to deliberations on the key productivity and sustainability pillars of the Blue Economy.
Other key segments of SBEC include a Civil Society Forum and an International Diaspora side event as well as a Youth side event.
And there is more: A Business and Technology exhibition, a national museum and blue economy archaeology exhibition, a Blue economy film and photography festival that will be coordinated and managed under the auspices of the Kenya Film Classification Board.
At the time of penning this piece, at least 10 heads of state and government, governors and mayors of various global cities and heads of international organisations, plus close to 17,000 participants representing some 185 countries had registered for the conference.
Close to 5,000 representatives of the private sector and investors of all shades had also expressed interest.
But perhaps the big question on many people's lips is: What really, is a Blue Economy and how does it differ from other economies that we traditionally know of?
Moroever, it's been asked of us: "Will the Blue Economy make life any different and more tolerable for ordinary people in Kenya, Africa and some of the small island developing states such as Seychelles, Samoa and Fiji?
It is this particular question that probably sums up what Kenya's own umbrella body for the Private Sector (Kepsa) also posed to us recently and we have tried to grapple with it.
In a nutshell, oceans, lakes, seas and rivers contribute to poverty eradication by creating sustainable livelihoods and decent work.
Traditional industries
They provide food and minerals, generate oxygen, absorb greenhouse gases and mitigate the impacts of climate change.
They determine weather patterns and temperatures and they also serve as highways for seaborne international trade.
Moroever, the Blue Economy is a concept derived from all these and seeks to promote economic growth, encourage social inclusion, improve livelihoods while also ensuring environmental sustainability". That was our rehashed attempt at unpacking the Blue Economy.
We have also tried to explain that there are diverse components, to the concept, including established traditional ocean industries such as fisheries, tourism and maritime transport and ship building but also new and emerging activities such offshore renewable energy, aquaculture, seabed extractive activities and marine biotechnology.
All these facets of the Blue Economy can of course be expressed differently. There are directly implicated industries such as sea-food harvesting (fishing and aquaculture) and pharmaceutical products while others are fresh water generation and extraction of energy sources, minerals from deep sea and river mining as well as industries associated with waste disposal for land-based industries.
Those in climate change also know about the role of these resources in carbon sequestration that reduces Green House Gas emission into the atmosphere; itself a key issue in global Climate Change discussions today.
In brief, the Nairobi Conference is an opportunity for nations to work together for the future of mankind.
The key agenda is to work together in formulating solutions that keep marine and aquatic resources safe from harm.
There is a need to forge collaborative partnerships and alliances that will lead to new regulations, policies as well as scientific research that contribute to new knowledges about the Blue Economy.
It is my hope and prayer that SBEC 2018 will trigger the critical leadership commitments that will truly transform Kenya and the global community for generations to come. The clarion call is for a "prosperous and inclusive society."
In hosting the conference, Kenya will have played its part in providing an opportunity to re-energise the world around the potential of the Blue Economy.
Ambassador Macharia Kamau is the Principal Secretary Ministry of Foreign Affairs which is charged with the responsibility of coordinating the preparations and Hosting of the Blue Economy Conference.
Cash for elderly to be paid to banks
About 710,000 senior citizens who are beneficiaries of a State-sponsored social welfare initiative will now get their monthly stipend through their ba