Faster internet promises growth in Somali's e-business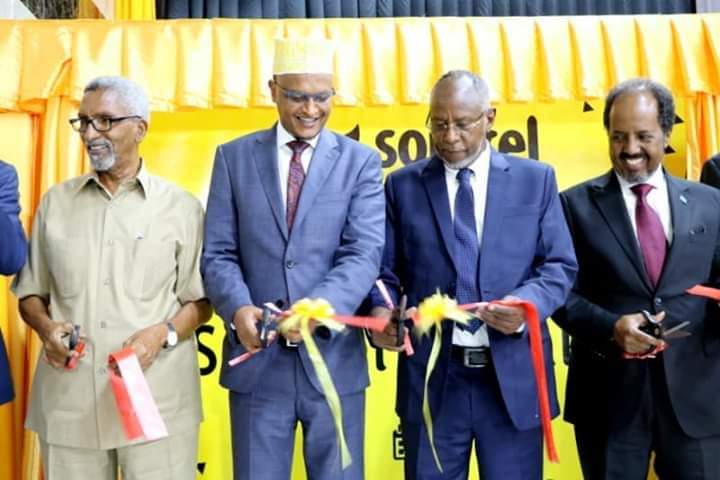 Guests and representatives of Somtel at the launch of faster internet and mobile payment services.
Somali's e-business sector has received a boost following introduction of faster internet and a mobile payment service by Somtel communications.
The 3G\4G mobile and internet network, and eDahab mobile payment services is important developments expected to keep the country at par with others in the region's e-business sector.
The new services will provide fast internet, voice and data services, and mobile payment systems to large cities, smaller towns and rural areas, including several areas where Somtel and other providers were not previously set.
The eDahab facility will provide financial services through the mobile phone. This will enable those in the unbanked community to access such a service for the first time.
Dahabshiil Group founder and chairman Mohammed Said Duale said the introduction of the Somtel services in Somalia was part of their wider plan to expand its reach beyond the horn of Africa.
"Somtel will bring new and vital services to customers in Mogadishu and other places including the latest voice and data services, and fibre optic technology which provides the fastest internet in the region, all at competitive rates," said Said Duale.
He added: "Crucially, eDahab mobile payments and Dahabshiil Bank, which are fully compliant with local and international laws and regulations, will provide customers with access to banking and financial services. Customers, including those who have never before had access to the internet or banking, will gain access to new and better services."
The event was attended by the Deputy Prime Minister of Somalia Mohammed Guled, former president Hassan Sheikh, Minister for Commerce and Industry Abdi Hayir Maareye, deputy Senate speaker Abdi Hanshi, Mogadishu Mayor Abdulrahman Omar , government ministers, members of parliament, prominent citizens, business leaders, members of the International community and representatives from civil society organisations, the religious community and women's groups.
Officials who spoke noted the importance of fibre-optic technology and innovative telecommunication services which will contribute to the development of the region and its inhabitants. It will generate new employment opportunities which will contribute to Somali stability and growth.
The officials said Somtel's share offering will provide exciting investment opportunities to a wide range of people.
According to mobile body the GSMA, there will be 725 million unique mobile subscribers on the African continent by 2020.
And Somalia is benefiting from this improved connectivity.
In 2013, fibre optic firm Liquid Telecom connected the East African country to its network of cables, which now spreads 50,000km (31,000 miles) across 11 other African countries.