Brand Kenya ink partnership to drive up the growth of the local fashion industry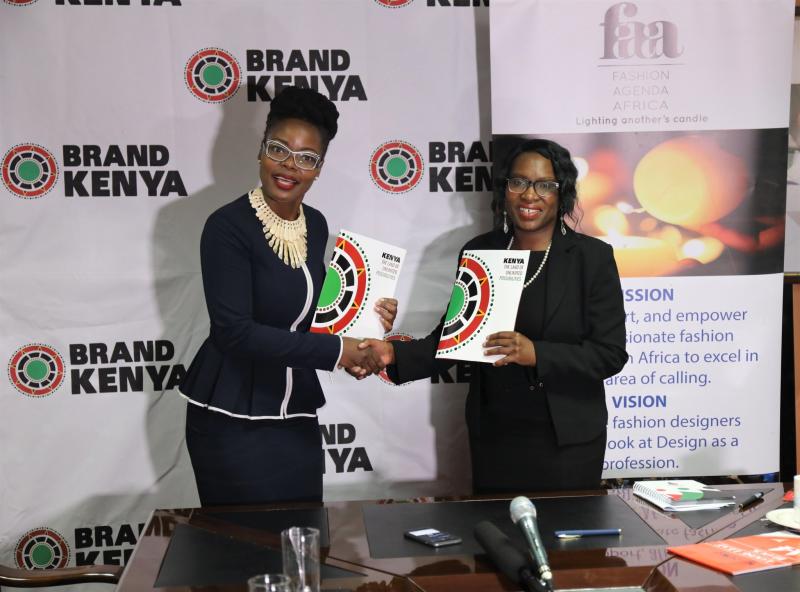 Brand Kenya Board on Monday inked a one-year partnership deal with Fashion Agenda Africa (FAA) to boost growth of the local fashion industry and enhance meaningful conversation between government and the industry.
The partnership will see the two parties engage in an effort to create awareness and encourage the habit among Kenyans to purchase and wear made in Kenya fashion brands within the local and international market.
Kenya's untapped fashion industry has the potential of creating over 300,000 jobs, according to a recent study by Hivos East Africa, Equity Bank Kenya, and the Association of Fashion Designers of Kenya (AFAD).
The labour-intensive textiles and apparels sector has been mapped out as a priority sector under manufacturing pillar of the Big 4 national development blueprint as well as the Kenya Industrial Transformation Program.
Kenya is currently the largest exporter of apparels under the African Growth and Opportunity Act (AGOA) with about Sh35 billion worth of exports as of 2017.
With the changes in the global apparels sourcing supply chain in the world, the sector is likely to get a significant boost.
"The Human Development Index Report 2017 places Kenya's unemployment rate at 39.1 per cent. The textile and apparels sector, if well invested in across the value chain, has the ability to create numerous jobs, given that it is labour intensive. Brand Kenya Board is happy to be part of transforming and making this multi-billion industry more profitable to Kenyans," said Brand Kenya Board's Ag. CEO Ms. Floice Mukabana.
Ms. Akinyi E. Odongo, FAA's Founder and fashion icon said FAA will present the best platform for fashion luminaries to be able to effectively pass the baton and make the industry sustainable.
"A revolution in the fashion industry is here and I am happy to be part of this change. Through FAA, we literally 'pass on the baton' and 'light another person's candle' as our slogan says" said Ms Odongo.