Swazuri, Railways boss arrested over SGR land compensation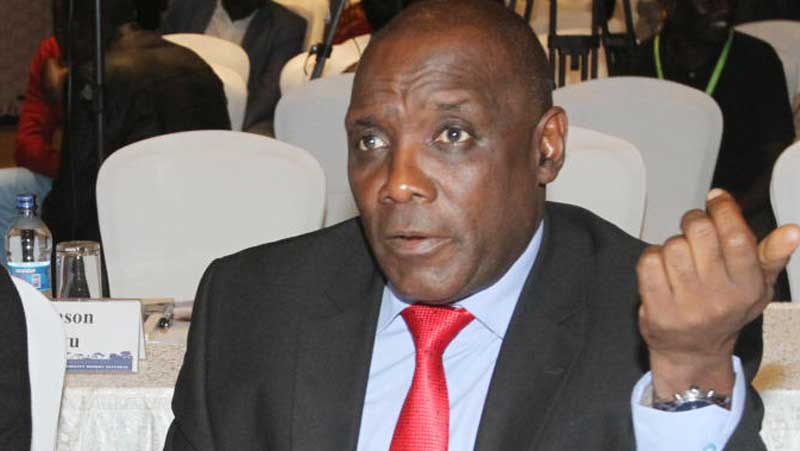 The anti-graft war claimed another batch of culprits as top officials at the National Land Commission (NLC) and the Kenya Railways Corporation (KRC) were arrested in the wee hours yesterday morning over corruption allegations touching on the Standard Gauge Railway.
NLC chairperson Mohamed Swazuri and KRC Managing Director Atanas Maina were whisked off from the privacy of their plush homes in high drama before being locked away at Integrity Centre to record statements over the accusations leveled against them.
After months of media campaigns, murmurs and questions about how suspect land acquisition payments for the SGR were done, the Director of Public Prosecutions (DPP) Noordin Hajji finally wielded his axe yesterday.
Fraudulent acquisition
By nightfall, top eight officials at the NLC and KRC were cooling their heels at Integrity Centre waiting for a date with the judge tomorrow.
Together with nine others, Swazuri and Maina will answer to charges of facilitating fraudulent acquisition of public property in Embakasi and "other related corrupt activities."
"The EACC established that the Ministry of Landsirregularly allocated and registered parcels of landsituated on a railway reserve," said the DPP.
"Further, NLC officials fully cognizant of the fact proceeded to irregularly and illegally award and compensate the entities and persons in whose favour the fraudulent registration had been done," he explained.
The five parcels of land in question are located in Embakasi. It is alleged that Swazuri disregarded resolutions by fellow NLC commissioners and authorised payments amounting to Sh314 million to individuals with fake land documents for the SGR.
The commissioners had agreed that the properties did not qualify for compensation since they belonged to Kenya Railways.
Following Swazuri's insistence Kenya Railways paid Sh825 million to NLC out of which Sh314 million was paid to Keibukwo Investments, Dasahe Investments and Olmotit Estates.
The directors of the three companies are still being sought by the police. However, Tom Chavangi the chief executive NLC, Salome Munubi (Director Evaluation), Francis Mugo (Director Finance), Gladys Mwikali (Principal Land Registration Officer, Ministry of Lands), Caroline Kituyi (Registrar of Titles, Ministry of Lands) and Obadiah Mbugua (a private surveyor) will spend their second night in custody.
The DPP pushed for the arrests of the top officials in a manner that has become his modus operandi. All of them were arrested before dawn on Saturday when everyone is off-guard. Then a statement was released after day break when key targets had already been picked.
Bundled into car
Maina and Swazuri were first to be picked up from their houses in Lavington, Nairobi.
The Kenya Railways boss who was alone in the house as his wife is in India for a business trip was woken up by a multi-agency team led by EACC detectives and bundled into a waiting car for the 10-minute drive to Integrity Centre.
Swazuri was already awake and was preparing to go to the airport for an early morning flight to Kwale having arrived in Nairobi late Friday night from official duty in Nakuru.
Members of his family, driving in a white Mercedes Benz car, brought him food from a Nairobi coffee house at Integrity Centre as his lawyer Tom Ojienda tried to get a grasp of the situation.
Third to be picked up was Chavangi, who is currently on leave, from his house on Ngong Road while Kituyi was apprehended in Diani, Kwale, from the annual Law Society of Kenya (LSK) conference which she was attending.
It is alleged that she was detained while she had her four-month-old baby, a claim that raised a furore in some quarters.
"What is so difficult about giving a free bond so that one can appear in court on Monday?" posed lawyer Omwanza Ombati.
"The actions of debasing and dehumanising suspects in front of their children and families serve no interest other than to humiliate and create fanfare of the arrests and seem like one is working," he said.
EACC however said that it was a lie. "The suspect (Kituyi) does not have an infant as claimed by her colleagues and if she does we challenge her to produce a birth certificate," EACC spokesman Yasin Amwaro told the Sunday Standard while accusing some lawyers of trying to whip up emotions of their clients.
At Integrity Centre vehicles belonging to detectives sped in and out for a better part of yesterday. Politicians, family members and lawyers milled around EACC hoping to gain access to the suspects but with little success.
At some point, the DPP showed up at Integrity Centre, went in through the revolving doors and stayed in the building for close to an hour.
He then left through the back door to avoid talking to the press and left EACC chief executive Halakhe Waqo to issue a statement.
Warrants of arrest
"We are talking about hundreds of millions of shillings," declared Waqo. "Of course you will see what we will produce in court but we urge the rest of the suspects to present themselves for processing before we apply for warrants of arrest."
By the time of going to press, those who are still at large included Victor Wahome, Elijah Nyamu, John Mwangi, Peter Nganga, David Some and Esther Chebet.