Kenya Railways in new strategy to boost freight industry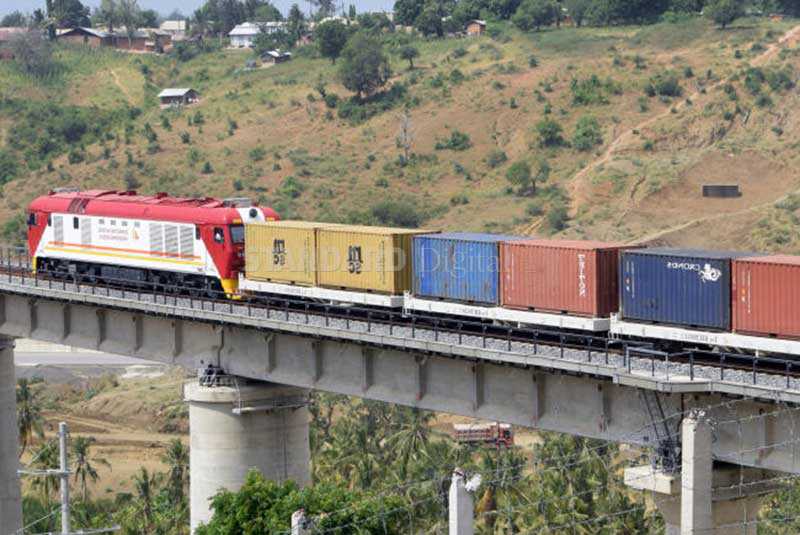 MOMBASA, KENYA: A private firm is expected to start handling empty containers transported by the Standard Gauge Railway (SGR), Kenya Railway (KR) has said.
This is one of the measures that KR and Kenya Ports Authority (KPA) will unveil on May 1 to streamline services at the Inland Container Deport in Embakasi (ICD-E).
Kenya Railway business commercial team leader James Siele told cargo intervenors in Mombasa that the private firm will solve the interchange challenges currently experienced.
"The container handling services provider will be unveiled on May 1. It will address the challenges currently being experienced," said Siele in Mombasa on Friday.
Kenya Railway says it has also dedicated trains to transport the empties from the Inland Container Deport (ICD) in Nairobi to designated shipping deports in Mombasa.
Shippers, Ships and custom agents say that confusion, delays related costs of transporting empties from Nairobi was eroding the SGR gains making it expensive.
Importers deposit Sh20, 000 and Sh40, 000 for the 20-foot and 40-foot containers respectively that is refunded once the container is returned.
According to shipping experts, there was a backlog of over 400 empty containers yet to be returned to the shipping lines after delivering goods to the hinterlands.
"These delays and other teething problems need to be solved to enable the importers to fully benefit from this SGR service," said Maritime services consultant, David Oruya.
Mr. Oruya said cost of transporting empty containers back to designated shipping lines yards in Mombasa has been watering down gains for importers using the SGR subsidised freight rates.
Kenya Ports Authority (KPA) new storage tariffs at the Embakasi ICD is expected to be effected on May 1, in a move it say is aimed at making the facility more competitive.
KPA and KR managers say the new tariffs will dissuade importers from using the ICD-E as a storage area, leading to a backlog of hundreds of uncollected units.
Under the new tariff, domestic import container will pay Sh2, 000 and Sh30, 000 for a 20-foot container and 40-foot container respectively in storage fee after four days.
"KPA has proposed a minor tariff amendment with a view to optimizing use of container storage capacity at the ICD-E to make it more competitive and user friendly," KPA said in a statement.
KPA will charge Sh1, 500 and Sh2, 200 for a 20-foot and a 40-foot empty container respectively in storage fee after the seven-day free storage period until they are removed.
Cargo interveners in Mombasa say poor management of empty containers especially lack of effective container interchange inspection has led to increased costs.
Other measures, according to the KR managers, include signing of bulk cargo transportation pacts with the global shipping lines to offer block haulage of their cargo to the ICD.
Last week, KR signed contract with Singapore-based Pacific International Lines (PIL) barely a week after entering a similar deal with French container transportation liner CMA – CGM.
KR) Managing Director, Mr. Atanas Maina said that the contract signing is among sustained efforts by Kenya Railways to draw in key players in the freight industry on a global scale.
He said the block transportation deal facilitates the two liners to charter trains to exclusively transport their clients' cargo from Mombasa to Nairobi at lower rates.
KR MD say these are some of the efforts to draw in key players in the freight industry on a global scale as it bolsters the SGR services and making it even more efficient.
"We expect huge volumes of cargo to be nominated to the ICD and the move will facilitate faster clearance of cargo at the ICD," PIL-K Assistant Manager PIL (Kenya) Mr. Inukolu Sivakumar.
After the signing ceremony, the first block train chartered by PIL Kenya was due to leave Mombasa Port carrying 108 Twenty Foot Equivalent (Teus) units to ICD Embakasi, Nairobi.
Meanwhile, Kenya Railways has also announced that it will unveil 12 daily freight services operate on the Mombasa - Nairobi line by the end of the year.
"We are on course to introducing a fifth freight train May and add more in subsequent months. By December, we shall be having a total of 12 freight trains daily to Nairobi,'' said Maina.