Newly built Sh3.5 billion ocean patrol ship arrives in Mombasa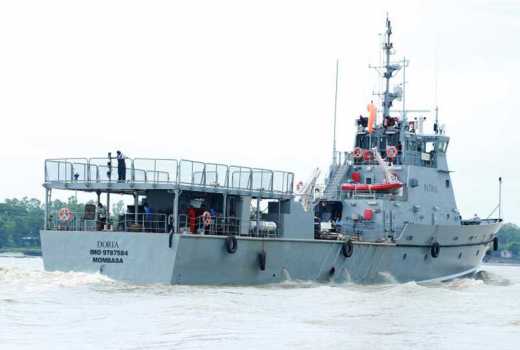 The national government has acquired a Sh3.5 billion ship to help fight illegal offshore fishing in the Indian Ocean.
Fisheries experts say illegal fishing by foreign trawlers and ships in Kenya's 200 nautical miles Economic Exclusive Zone (EEZ) in the Indian Ocean robs the country of Sh10 billion annually.
Kenya's Indian Ocean waters have the potential to produce 300,000 tonnes of fish annually valued at about Sh75 billion.
Fisheries department officials say this vast potential has been threatened by illegal offshore fishing activities.
The vessel, christened Doria (Kiswahili for patrol) was procured by the Ministry of Agriculture, Livestock and Fisheries last September to help monitor offshore fishing activities.
It is moored at Mkunguni Naval Base in Mtongwe awaiting commissioning.
"We have received the ship. We are awaiting further instructions from the ministry headquarters in Nairobi for its official commissioning," said Mwaka Barabara from the State Department of Fisheries in Mombasa.
Already, the Government has recruited more than 30 former Kenya Navy personnel to sail the vessel.
The 54-metre-long vessel will cover more than 1,500 nautical miles in the Indian Ocean off the East African coast.
It was designed and built by JGH Marine A/S of Bangladesh and can cruise at maximum speeds of 35 knots carrying 35 personnel.
It was procured under former Agriculture, Livestock and Fisheries Cabinet Secretary Willy Bett's tenure.
Mr Bett, now named for the post of Kenyan High Commissioner to India, said the ship was part of Government efforts to tap into fishing by monitoring activity in the EEZ.