Uchumi cuts losses by 40.8 per cent to Sh1.7 billion on closure of branches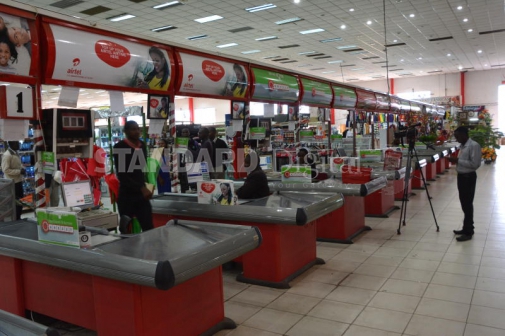 Uchumi Supermarkets has cut its full-year losses by 40.8 per cent to Sh1.68 billion for the financial year ended June 30, 2017, supported by closure of some branches.
The improved result is credited to limited exposure of the group following the closure of key subsidiaries that are not factored in the current results.
The cash-strapped retailer posted a loss of Sh2.84 billion in the previous financial year, but saw its net sales dip by 60 per cent to Sh2.59 billion from last year's Sh6.42 billion. The drop in sales had been affected by closure of some branches and reduced stocks.
Despite the current gloomy picture, Uchumi CEO Julius Kipngetich is hopeful that an anticipated capital injection from the Government and a strategic investor will lift the fortunes of the supermarket chain.
However, its results have been given a qualified opinion by independent auditor KPMG, saying asset write-offs and loss of control of subsidiaries in Uganda and Tanzania last year makes it hard for the results to be compared.
"The auditors have given a qualified opinion due to the possible effect on the comparability of corresponding and current year figures for the consolidated and separate financial performance and cash flows," said the company in a statement accompanying results.
In accounting terms, comparability is one of the key qualities that accounting information must possess to enable investors to make informed decisions.
The information is said to be comparable when accounting standards and policies are applied consistently from one period to another. In the case of Uchumi, the closure of Uganda and Tanzania business means that the 2017 results could not be prepared using rules of consolidation as was the case in 2016.
The retailer closed four branches in Tanzania and six in Uganda, leaving over 900 workers in the cold as well as a Sh600 million debt for suppliers in the two countries. In Kenya, it also closed five outlets.
In the financial year under review, Uchumi sold goods worth Sh2.14 billion - 61 per cent lower than the cost of sales worth Sh5.45 billion in the previous financial year.
With about 15 branches closed, the retailer managed to reduce expenses by 42 per cent or Sh1.53 billion to Sh2.1 billion.
However, its potential difficulty in servicing short-term obligations got worse during the year under review. Working capital, a difference of current assets and current liabilities, fell further into a negative position to stand at Sh6.2 billion. Last year, it was Sh4.8 billion.
Going forward, Dr Kipngetich said, discussions are ongoing with a strategic investor and a government shareholder loan is imminent. The firm expects Sh700 million from the State.
"New fund deployment plans are being established to restock stores, secure locations of all our 20 branches," he said.