Bidco Africa opens new detergent factory in Thika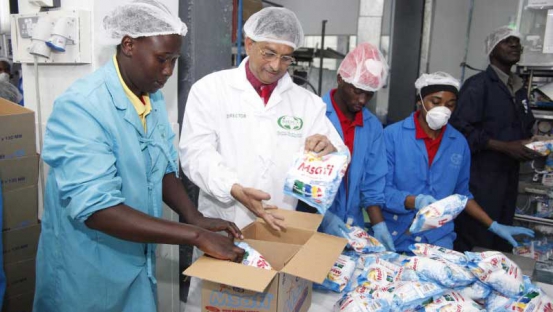 Bidco Africa has launched a new detergent factory as the company moves to stamp its authority in the market.
The consumer goods manufacturer also launched a new washing powder, Msafi, as it seeks seeks to intensify the war for control of the detergent market dominated by Unilever.
Speaking during the launch of a new plant at the company headquarters in Thika, Chief Executive Thiagarajan Ramamurthy said the new facility has been designed to meet growing demand for powdered detergents across the country and in the region.
"We are excited to launch Msafi washing powder, which is a quality affordable product that is now available in Kenya. We are coming into the market in a big way with new products and strong distribution," he said.
He said the plant was put up at a cost of Sh2 billion and will initially produce 3,000 tonnes of detergents per month.
Product categories
"Detergent is a crucial product in Kenyan homes and it is an area we believe we can compete and offer fantastic value to the consumer," he said.
Mr Ramamurthy said the investment is part of Bidco's Sh20 billion expansion plan that will see the company enter new product categories.
The plan will see four new factories built at the new Bidco Industrial Park in Ruiru.
The first phase will include an initial Sh5 billion with the second phase spread over the next four years.
Bidco Chairman Vimal Shah earlier in the year said they are seeking to increase their competitive advantage as they diversify their products.
The products will entail juices, water, cosmetics and other fast-moving goods such as food products.
"With the expansion, we are seeking to raise our annual turnover from the current Sh40 billion to Sh100 billion annually. We are hoping to start production of some of the products by the end of this year," Shah said.
The new washing powder will retail at between Sh5 and Sh140.