How State can block you from Internet during election period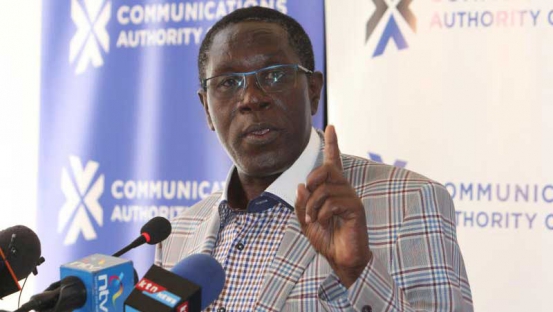 The sky was overcast on the Thursday morning of February 18, 2016 when Ugandan journalist Caroline Ariba woke up and did what many of us do; she reached for her phone to check her social media feed.
This day was of particular importance to her and millions of other Ugandan citizens preparing to cast their vote in the country's hotly-contested General Election.
"I just got an error message when I tried loading my Facebook page and I thought it was a technical issue, or I was out of data or something," said Ms Ariba.
However, she encountered the same problem on Twitter and WhatsApp, and it slowly dawned on her that it was not just an ordinary technical issue.
A statement from the Uganda Communication Commission (UCC) later in the day confirmed the journalist's suspicions. The Government had directed telecommunication service providers to cut off Internet access to Facebook, Twitter and WhatsApp sites.
With Kenya barely three weeks away from its own General Election, Internet users are growing apprehensive about the possibility of waking up to a partial or full shutdown.
This fear is fuelled by the Government's failure to give Kenyans a full commitment, or a unified position, on the issue.
ICT Cabinet Secretary Joe Mucheru has in the past several weeks found himself on the defensive in public appearances where the question of an impending Internet shutdown is constantly brought up.
"Shutting down the Internet is not a primary objective and is not something that has come up," he told an open forum last week.
He, however, added a caveat. "This has been one of the most peaceful campaigns we have had without cases of violence or deaths forcing the Government to resort to extremes, and we do not see things changing. But if the country is burning and if we get to a situation that is crazy...then it could happen," said Mr Mucheru.
Communications Authority of Kenya Director General Francis Wangusi has in the past hinted that shutting down the Internet is at the regulator's discretion.
"We do not believe that it is our intention to deter people from communication," he said when asked where the authority stands on the matter.
"If the tension gets too high the Government might decide to take action to protect Kenyans from any adverse effects that may come from those who want to cause trouble."
Authorities have several means through which they can ensure the Internet is inaccessible to users.
A popular method and one used in Uganda last year is ordering large Internet Service Providers to block access to specific servers in the country that connect users to the sites the authorities do not want.
This means that users who try to access the sites encounter a digital roadblock of sorts and gaining access requires the user to take a different route (another ISP) or go round the block (through a virtual private network, VPN).
Andrew Alston, lead technology strategist at Internet Service Provider Liquid Telecom, says the success of this method depends largely on the technical capabilities of ISPs to distinguish between the various data packets travelling through.
"There can be an attempt to order the shutdown of social media but it depends on which providers have the facility to differentiate social media from other Internet content," he explains.
"In the case of mobile providers, this differentiation capability may well exist and it could be a fairly simple process but in the case of a wholesale provider who is indifferent to the packets and does not get involved in their content, it becomes a very different story."
Licence cancellation
In the first case, the Government can easily implement a social media blockade either through a court order or through coercion. A report by Privacy International published earlier this year said that mobile service providers are often threatened with licence cancellations or delays if they do not cooperate with state security agencies.
Mr Alston, however, says the second case is much more difficult to implement and would come down to a choice between blocking access to all traffic or no traffic.
"Shutting down everything could be very risky because it may well have international implications on traffic flowing through the country rather than traffic just in the country," he says.
Another tool that has been used by the Chinese and Ethiopian governments to block Internet access is a "middle box"; a device that is installed in the network that acts as an intelligence sieve rerouting traffic to or from selected sites.
Middle boxes vary in functionality and often Internet users are unaware such a device exists until they experience impairments in accessing certain websites or pages.
Aside from a complete shutdown of the network, service providers can resort to the deliberate slowing down of bandwidth — a process known as bandwidth throttling. This makes the Internet connection very slow and what the user frequently sees is that their connection request has timed out or dropped.
One or more of these methods can be used to carry out a mass Internet shutdown but the success depends on the clientele of each affected ISP and their access to tools that can subvert the shutdown.
Downloading and installing VPNs, for example, is a fairly easy process and there is a wide spectrum of software available online either free or by subscription.
However, the negative cost of a blockade of any nature to the general economy is often greater than any benefits that would be anticipated.
Uganda's blockade last year affected several mobile service providers including MTN, Airtel, Smile, Vodafone and Africel for about four days, with President Yoweri Museveni justifying it as a "security measure to avert lies... intended to incite violence and illegal declaration of election results."
Election observers led by a delegation from the European Union, however, criticised the move and faulted the UCC for being used by the State.
"Such justification falls short of ICCPR Art 19 and proves the need to change the legal framework, aiming to establish a genuinely impartial and independent regulatory body," said a report compiled by the observers.
Another report from the Commonwealth Election Observers Group said the communications' block was "ill-advised and unwarranted" and "restricted freedom of speech and the ability of the media to report on the election."
During the shutdown, two other presidential candidates running against Mr Museveni including opposition frontrunner Kizza Besigye were placed under house arrest.
Observers further noted that the communications blockade caused extreme inconvenience to the poor who largely rely on mobile money transfers and caused confusion and anxiety among voters over the election results.
Stakeholders in Kenya's ICT sector are now pushing for the adoption of a policy brief on the economic, political and social implications of shutting down the Internet.
The Kenya ICT Action Network, (KICTANet) has prepared a brief seeking to draw the rules of engagement between Internet users and the State during the campaign season.
The document published last week contains submissions from ICT policy experts and leading ISPs who caution the Government against carrying out such a major decision as ordering a shutdown without involving all stakeholders that will be affected.
"A commitment by the Executive, the regulator as well as mobile network operators not to interfere with the Internet and communication systems would demonstrate adherence to the Constitution and help to reduce tension around the highly-contested elections," it says.