Kenya in new austerity plan as KRA fails to meet targets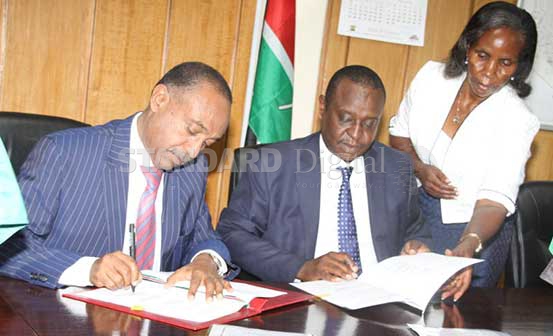 NAIROBI: Treasury has warned that ministries and agencies that have not utilised their budgets might have their amounts reallocated. Treasury Cabinet Secretary Henry Rotich said the supplementary budget to be presented next week when Parliament resumes will aim at cutting expenditure and reallocating what would not have been used.
"The supplementary budget will be a cut in net terms. If a project has not started at this time, seven months into the year, then it is highly unlikely that this money will be fully absorbed in the next five or so months," Rotich said. He, however, did not name any projects that the Government will be looking at.
"We will be looking at moving some of these funds into the next financial year but we are still working on the figures and the actual amounts will be known when Parliament resumes its sittings," he said. This comes at at time when the Kenya Revenue Authority continues to struggle to meet its revenue collection targets. In the first six months of this financial year, the taxman failed to meet targets by over Sh67.7 billion.
Rotich was speaking at a function where he signed a Sh6.2 billion loan from the Africa Development Bank (AfDB) that would benefit eleven counties in food security.
The deal was signed by the AfDB Regional Director Gabriel Negatu. Rotich said Sh4 billion will be a loan and the remaining Sh2.3 billion will be grant.
The loan will attract 2 per cent interest rate and will be repayable in 25 years. The funding will be geared towards Small Scale Irrigation and Value Addition Project (SIVAP), a food security initiative.
"SIVAP, which marks AfDB's third funded project aims at addressing fundamental challenges such as food security and poverty for select 11 counties within arid and mostly semi-arid lands, namely Kitui, Makueni, Machakos, Tana River, Bomet, Meru, Tharaka Nithi, Nyandarua, Murang'a, Kajiado and Nyeri Counties," the statement reads in part.
SIVAP is an initiative that aims to support the objective of achieving Africa's first Millennium Development Goal on hunger and poverty eradication.
"The project to be executed by the Ministry of Agriculture, Livestock and Fisheries (MoALF) also highlights other major benefits including improved irrigation infrastructure, improved access to markets, enhanced agro-processing, storage and post-harvest handling technologies, nutrition and institutional and human capacity building."
The loan that was approved last year in Abidjan will fund initiatives to scale up the successful Small Scale Horticulture Development Project, which raised incomes to as high as Sh1.8 million $18,000 per hectare.
Jobs at stake as Portland Cement land tussle escalates
More than 1,500 employees of East Africa Portland Cement Company (EAPCC) risk losing their jobs. The cement maker is entangled in a protracted struggle for 13,000 acres of land in Mavoko, Machakos County, with squatters who are said to have purchased EAPCC's land from shadowy cartels.