Equity completes acquisition of DRC-based ProCredit Bank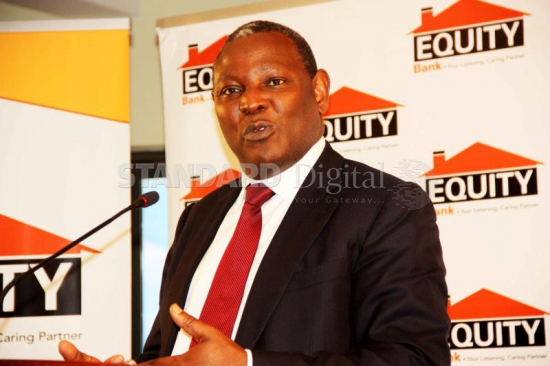 Equity has completed acquisition of ProCredit Bank of the Democratic Republic of Congo after receiving regulatory approval from Kenya and DRC.
Making the announcement, Equity Group CEO James Mwangi said the transaction to acquire 79 per cent stake of ProCredit Holding issued shares was complete. ProCredit is an SME focused bank in the DRC.
Addressing an investor briefing in Nairobi, Mwangi said the acquisition provides Equity Group with a great platform to further the group's growth objectives while extending its mission of financial inclusion across Africa.
"We are excited about our entry into Sub-Saharan Africa's third most populous country through the investment in a fast growing, well established and highly regarded bank," he said.
Phillip Sigwart, former chairman of ProCredit's board of directors, now assumes the position of chief executive of the group's new subsidiary in DRC. Sigwart welcomed the merger.
"This exciting news will pave way for ProCredit to leverage on the expertise of Equity Group in enhancing financial inclusion in the unbanked DRC population," Sigwart said.
ProCredit has among its shareholders the German Development Bank KfW (KfW) and the International Finance Corporation (IFC) which currently hold 12 per cent and nine per cent of the bank's issued share capital respectively.
Mwangi said the new acquisition offered Equity Group a platform to further the group's growth objectives, while extending its mission of financial inclusion across Africa.
Mwangi at the same time announced that over 8.6 million transactions were transacted through Equity Bank's mobile banking platform last month.
He said that his bank was not specifically interested in offering mobile telephony services, and therefore not in competition with anyone – contrary to public opinion.
Growth of the mobile-based transactions also meant that the bank had a platform that it would push loans to customers without additional need for staff to handle the appraisals and buildings to house the physical branches, effectively ensuring a near zero expansion costs.
"Equitel is an innovation to support digitisation and not a telco offering," Mr Mwangi said, adding that the money transfer service was complementing the agents by helping them deal with the new problem of handling too much cash paid in as deposits, technically referred to as excess liquidity.
The bank reported that the average customer did 19 transactions last month, while the majority of the loans sought and disbursed from the mobile phone to overtake those processed through the branches.
Equity has 20,000 agents across the country, which handled 4.27 million transactions last month, 100,000 lower than in July. The drop in the number of transactions being handled by agents showed that a new balance had been achieved between the bank branches, agents and Equitel.
Mwangi also spoke about the end of the 7-year partnership with Helios Partners, with the National Social Security Fund buying out the last portion of 5.58 per cent stake announced early last month.
"Helios was a closed fund with a lifetime of seven years which was to expire in December this year (2015)," Mwangi said on why the bank's stratgic investor had to be leaving.
The funds invested by Helios needed to be given back to the investors in the private equity fund, including the CDC and the International Finance Corporation. Among the other new shareholders who bought out Helios are NSSF Uganda and a joint venture of Norwegian funds, Norfund and Norfinance.
Helios exit began in January when it sold half of its stock to the Norwegian joint venture in a multi-billion shilling transaction for the 12.2 per cent stake.
NSSF Uganda and Kenya's national pension scheme manager acquired what was left of Helios' shares.
High transport costs curtail regional trade
Many hours spent at weighbridges and checkpoints, port inefficiencies and over-use of road networks continue to impede on regional trade by increasing the costs of transport.