Calls for reconciliation dominate National Prayer breakfast meeting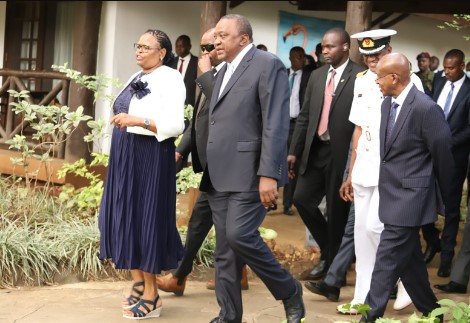 Leaders and clergy congregated at the Safari Park hotel for the 19th National Prayer Breakfast meeting on Thursday unanimously called for reconciliation ahead of the August polls.
Chief Justice Martha Koome, in her speech, appealed for a safe and peaceful electioneering period as campaigns hit fever pitch.
"We pray that no Kenyan will incite another to violence. No one has a right to rob another of their peace and dignity," Koome said.
The CJ noted that the Judiciary may have fallen short of its expectations and was slow in delivering justice to Kenyans.
"We confess that we have delayed justice. We have let murderers and other criminals go scot free," the CJ said.
Senate Speaker Kenneth Lusaka reiterated her comments, while also asking for forgiveness from those he may have wronged.
"I apologise to those I may have offended and forgives those who may have wronged me," Lusaka stated.
The speaker urged all political aspirants to observe peace and "not go overboard in their quest for positions."
President Uhuru Kenyatta led the country in marking the 19th National Prayer breakfast meeting today at the Safari Park hotel.
It was the first fully physical meeting since the onset of the Covid-19 pandemic in 2020.
Several leaders including Speakers of both Houses (Justin Muturi-National Assembly), (Kenneth Lusaka-Senate), Chief Justice Martha Koome, international guests from Tanzania and DRC, members of the diplomatic corps, Cabinet Secretaries, and various legislators were in attendance.