Alarm raised over worrying state of sanitation across 47 counties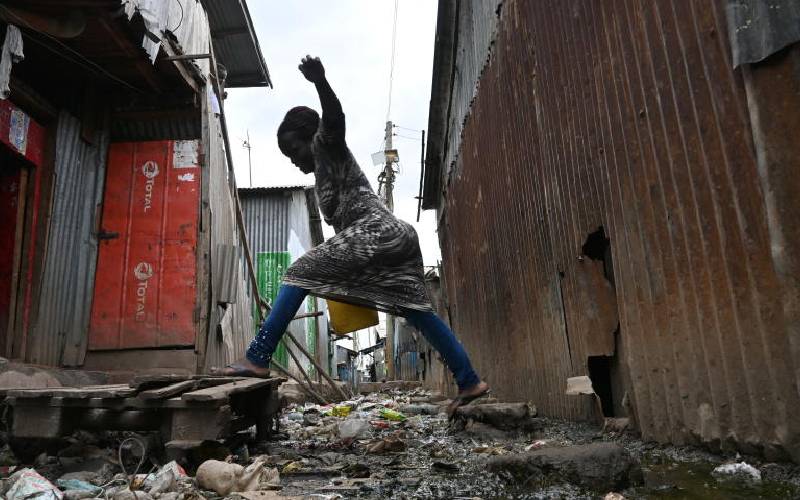 Officials from the Ministry of Water and Sanitation have raised a red flag over millions of Kenyans in 47 counties still practising open defecation, sparking fears of another waterborne disease outbreak.
Water and Sanitation Chief Administrative Secretary (CAS) Dr Andrew Tuimur said most of the 47 counties were alarmingly off-track on the delivery of safe sanitation.
"We are behind on sanitation. Overall in the country, we are at 26 per cent," he said, adding that this puts the country at the risk of another outbreak of waterborne disease during the heavy rains.
An analysis of data from the 2019 national census shows that over 4.3 million people in the country answer to their call of nature in open places.
The 2019 national census report shows that Kwale County was the worst hit at the Coast with 291,387 people, or 31.7 per cent of the population, lacking either a latrine or toilet.
Turkana has the highest number, 642,666 or 68.1 per cent of its population, answering the call of nature in open fields, according to the report.
Samburu had 203,336 people, Tana River 154,628, Marsabit had 222,424, Wajir 347,256, West Pokot 262,145 Mandera 342,312 and Garissa 323,252.
But Nyeri, Nyandarua, Kirinyaga, Nairobi, Muranga, Kirinyaga and Embu had the least number of the people that relieve themselves in the open fields.
Open defecation is the disposal of human faeces in fields, forests, bushes, open bodies of water like the ocean, beaches and other open places or with solid waste.
The Director of Sanitation Management in the ministry, Eng Fidelis Kyengo, said Kwale was among the top ten counties with the highest percentage of households that practice open defecation.
He said eight in 25 households in Kwale County still practice open defecation. Kyengo said Samburu, Lunga Lunga and Kingango sub-counties have the lowest sanitation coverage
"The situation (sanitation and hygiene) is still dire. It has affected learning in some schools where girls have dropped out of school. A lot needs to be done," said Kyengo in an interview.
But Kwale executive committee in charge of water and satiation Mr Martin Kuya said "things have greatly improved since 2019" but decried delays in the implementation of water projects.
"I'm aware of the report about the level of sanitation in Kwale but things are not as bad as they used to be. The biggest problem is water coverage because latrines must have water," said Kuya.
He said through the household sanitation support under (UBSUP) and Water Sanitation and Trust Fund (WSTF) several latrines have been constructed in schools and other public areas.
Coast Water Works Development Agency (CWWDA) Chief Executive Officer Eng Martin Tsuma said the implementation of the Kwale Town Water Supplies Rehabilitation and Expansion Project which has been delayed for six months will be revived soon.
"We know the issue of sanitation in Kwale is bad but all stakeholders will meet to unlock the project by addressing the issues that have caused this delay," said Eng Tsuma.
In Mombasa, the Ministry of Water was also rehabilitating the Kipevu Wastewater Treatment Plant and re-pooling in Mombasa west mainland at a cost of about Sh280 million.
"We expect the project to be complete by November this year. Once completed, it will serve about 17,000 residents of Kipevu," said Dr Andrew Tuimur.
Tuimur said that sanitation was a big issue not only at the Coast but the entire country at large. "We are a bit behind on the issue of sanitation," he said.