How Charles Njonjo frustrated peasants from owning a ranch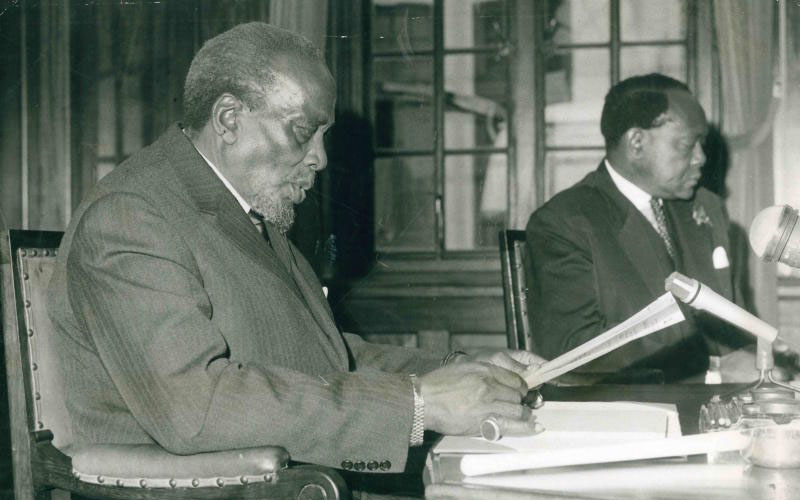 As plumes of smoke billowed out of the Kariokor crematorium on Monday and dissipated above the city's skyline, some dwellers of Majengo slums in Nairobi watched their dreams go up in smoke.
It was the end of a dream they had nurtured for almost half a century when their patriarch, John Mwangi Mjumbe, met President Jomo Kenyatta, his Attorney General Charles Njonjo and Lands Minister Jackson Angaine on March 10, 1973.
Mjumbe had gone to State House, Nakuru, and secured ownership documents for a 60,000-acre piece of land in Solio.
With Njonjo's death this week, the fate of Mjumbe's descendants as well as 3,000 other peasants who have been praying for decades that the former AG would give them back their land was sealed.
Mjumbe had formed Gucokaniriria Kihato Farmers and Traders Company with an office in Nairobi's Cross Road, where members sent their contributions for many years until they raised enough funds to secure the deposit required.
However, as soon as they got the documents, Mjumbe was arrested at the gate of State House and locked up.
His office in Nairobi was raided by CID officers who took documents, among them the letter of allotment to the land spread across Laikipia and Nyeri.
For the next ten years, the company's leadership went underground and only emerged after Njonjo was ousted as Constitutional Affairs minister. They sued the government demanding return of their company property and land.
The case dragged on for more than two decades but was finally decided on June 23, 2006 by High Court Judge Joyce Aluoch. She directed the government to return the stolen documents and issue fresh land documents to Gucokaniriria Farmers Company.
Njonjo and other directors of Solio Ranch protested the move, complaining that they had been condemned unheard. They filed fresh applications which led Alouch to reverse her own orders.
By the time of Njonjo's death, his battle with the peasants who were claiming the ranch he had once served as a director of had not been settled.
The former Attorney General has joined his foes, Mjumbe and Mathu Kirianyoni, and a host of ex-freedom fighters who had sojourned in Majengo slum waiting for a resolution of the dispute surrounding their ranch.
The truth of what really happened at the gates of State House, Nakuru, in March 1973 may never be known. The last man who held the key is gone. Gone too are the dreams of Gucokaniriria Kihato members.