Matatu operators strike cripple public transport in Kasarani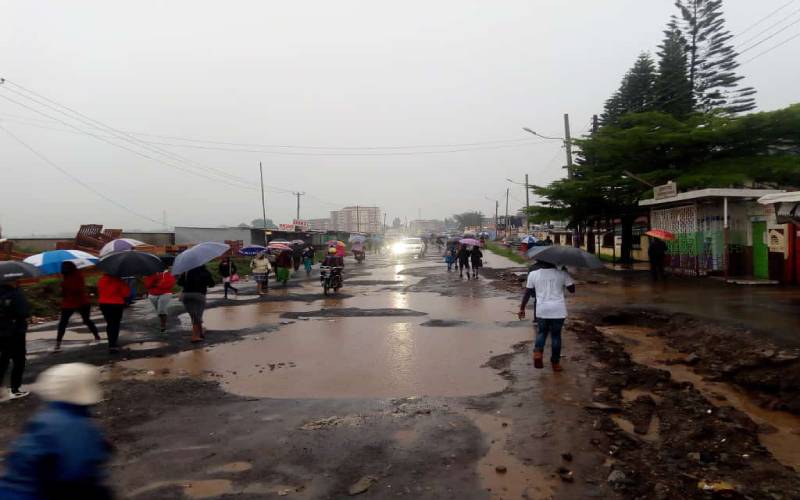 A section of matatu operators staged a morning protest on Monday along Mwiki-Kasarani road paralysing public transport in the area.
Irked by the poor state of the roads, they expressed their displeasure by barricading the route at Sunton using stones and burning tires.
Commuters, among them school children were forced to walk for around 5 kilometres to Thika road in a chilly and rainy morning after Public Service Vehicles reportedly blocked every entry and exit of the route.
Photos seen by the Standard Digital depict a visibly plaguing road with holes that vary in size and shape.
The potholes are filled with water as a result of the morning rain.
The protesters have attributed the traffic snarl-ups along Mwiki-Kasarani route to the dilapidated road.
They also note that the road is impassable during rainy seasons since it is muddy.
"A distance of 3 kilometres we are spending more than two hours. So we have to wake up at 5 am to be in town," said Jams Irungu, a resident of Sunton.
Sunton residents have blamed leaders in the area for the poor state of the road stating that the leaders have neglected them.
Francis Nyaga, a resident said that they have been pushing for the construction of the road since 2012. According to him, former Kasarani MP John Njoroge pressed the government and funds were released.
Njoroge, however, could not oversee the repair after he failed to be reelected.
As for the incumbent MP Mercy Gakuya, residents say she refused to listen to their plea because they did not vote for her.
"We thought she will proceed with what his predecessor had started but now the MP says she was not elected by residents from this area except for those in Ruai," said Nyaga.
He added: "Madam Mercy you cannot trash us yet you need 80,000 votes o be re-elected. We are aking you to press the national government to repair this road."
Peter Nyamweya, a bodaboda operator said that poor state of the road has made him incur losses since he has to visit a mechanic periodically to repair his motorcycle.
Kasarani mwiki road closed at sunton. It's a walking nation to thika road. @citizentvkenya @KenyanTraffic pic.twitter.com/7TS1C0UedS — John Mbau (@JohnyMbau) January 13, 2020
Kasarani Mwiki Road this morning. The state of roads within Nairobi is getting alarmingly terrible. Potholes, uneven surface, cracks. Flooding and poor drainage issues are in the mix too. pic.twitter.com/HyGHwbNxOt — Ahmed Mohamed ((ASMALi)) (@Asmali77) January 13, 2020
Kasarani Mwiki Road & its feeder roads are in a very poor state leading to its closure this morning. Passengers including school children had to walk all the way to Thika Road. pic.twitter.com/H9wMMyILZy via @AOsindi254 — Road Alerts. || ???????? (@RoadAlertsKE) January 13, 2020
Kasarani Mwiki Psvs have blocked every entry and exit to the road. Only bodas and legs can move. The road has been very poor from Maji to maternity pic.twitter.com/i0BNBAaotl — Maclas (@carlsyintu) January 13, 2020