Pilots dismiss KQ plan to fire workers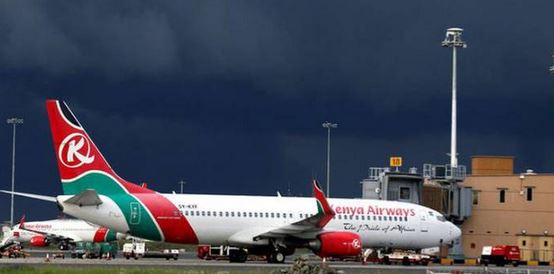 The Kenya Airline Pilots Association (KALPA) has poked holes into the planned sacking of Kenya Airways staff terming it a waste of resources.
In a statement the association questions the thinking behind the plan when plans to nationalize the airline are at advanced stage and forecast points to quick recovery of the entire aviation sector in the next two years.
"It is highly inadvisable and inconsiderate to give staff a three-day notice of unpaid leave, the same workforce having been on 35 per cent pay for the last three months," said Murithi Nyagah, General Secretary and Ceo KAPA.
"This is against government wish to employers to protect jobs as much as possible," he said.
Since the cessation of flights in March, KALPA members together with other KQ staff, agreed to a 75 per cent reduction in salary to cushion the airline from declined revenue streams which were mostly dependent on cargo operations and repatriation flights.
As per KQ letter to the association, KALPA says the airline indicated that it will be able to cover the airline cost fully, including the already reduced salaries, and such would want a majority of staff to proceed on unpaid leave.
"How is it that an organization which has been struggling to cover direct costs, including reduced salaries since April, now claim to be planning an expensive and costly staff rationalization exercise?" questions Nyagah.
The government is amid an initiative to nationalize the airline and this envisions not only retention but the creation of employment of opportunities. Your trajectory works against this endeavor."
Kenya Airways (KQ) is set to lay off a substantial number of its employees as the effect of the coronavirus continues to bite.

The carrier on Friday wrote to its employees informing them that the company would over the coming months undertake a "rightsizing exercise" to enable it to steer through the tough times.
In a communication to employees, Chief Executive Officer Allan Kilavuka said the airline has started a rationalisation process that it expects to complete by September 30 this year.

He added that some employees would be required to proceed on unpaid leave. It will however retain workers who will continue operating cargo flights as well as domestic flights, which it expects to restart operating soon.

"While we have all put in a tremendous amount of work to keep our business afloat, it has become increasingly challenging to fulfill our obligations and maintain operations," said Mr Kilavuka.

Our short and medium-term projections indicate that we must inevitably reduce our operations before we begin to scale up again."

He continued: "With the suppressed demand for air transport, a large part of our fleet will remain grounded. We will also operate a reduced network when we resume our services as we anticipate that it will take some time before the industry starts to rebound."

On Monday, President Uhuru Kenyatta came to the aid of the aviation sector opening domestic travel for airlines beginning July 15.

International air travel will begin on August 1 offering another opportunity for airlines to rescue their businesses battered by the Corona Virus pandemic.
Airlines grounded their passenger flights early this year following restriction measures including inter-states border closures to tame the spread of coronavirus globally.