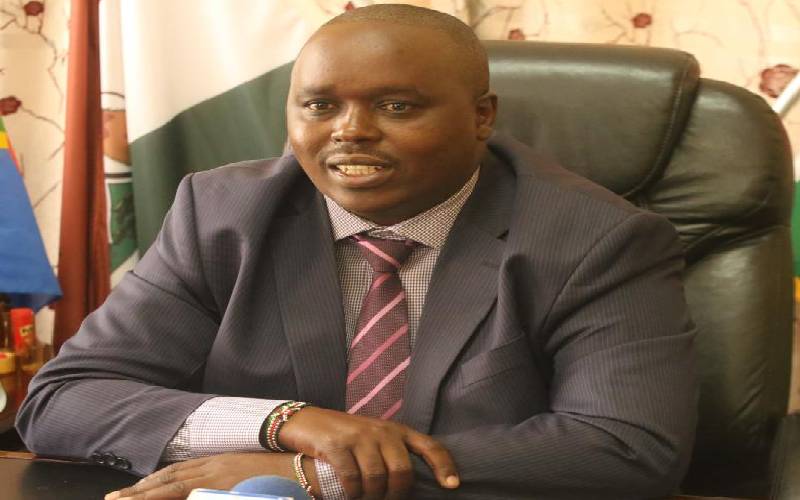 A stand-off looms in Elgeyo Marakwet county after Governor Alex Tolgos declined to assent to the county's 2019-20 appropriation bill.
This means development projects within the devolved unit will be in limbo indefinitely since without Tolgos's signature, no money from the county's coffers can be directed to them.
Tolgos has now sent a memorandum to the assembly detailing reasons why he declined to sign into law the bill that allows the county to spend Sh5.7 billion in the 2019-20 financial year.
His main grievance is that the assembly failed to allocate money for his employee's allowances, and more for staff recruitment.
"Following the analysis of the 2019-20 budget estimates as approved by the county Assembly on June, 26 2019, I hereby decline to assent to the approved budget's Appropriation Bill as passed by the Assembly on June, 27 2019," Tolgos said in a memorandum seen by The Standard.
Read More
According to the governor, the assembly failed to set aside Sh70.2 million for what he termed as the "full personal emoluments for the county Executive staff".
He also said he declined to append his signature on the appropriations bill because there was no enough provision for the county staff medical insurance scheme.
"The cost of the medical scheme had been provided for in the submitted 2019-20 County Fiscal Strategy Paper, but was not approved by the county Assembly," the county boss said.
He further noted that the assembly shelved allocations for recruitment of additional staff in crucial departments of the county.
"Vital positions such as nurses, engineers, livestock officers, veterinary doctors and agricultural officers among others have fallen vacant over the last three years occasioned by retirements, deaths, an other unavoidable situations without replacements, owing to the provisions not being approved in past budgets," Tolgos said.
He added that there were no long-term solutions to staff replacements and internship programs in the budget passed by the assembly three weeks ago.
Tolgos claimed that he had written three memoranda letters to the county assembly, calling for allocation of cash in April, May and June, but the requests were ignored in the budget-making process.
"In striving to conform to the global and national human resource best-practices, and in complying with the rights of our employees, I hereby refer back the approved budget for reconsideration," said Tolgos.
The governor yesterday said he has constituted a team from the executive arm of the county to initiate discussions with the assembly to quickly address the impasse.
The assembly's Budget and Appropriation Committee chairman John Yator said the committee and the executive is yet to agree on ways to address the deadlock.
"We are holding talks with the executive, we don't see a reason for more money. We are yet to receive a staff audit ordered in 2017 so that we appropriate more funds to the executive," said Mr Yator.