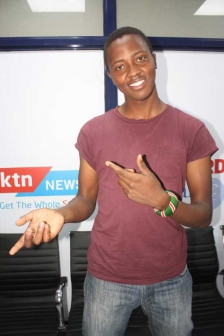 When Malachi Wanyoike, 24, pitched the idea to his parents, they didn't see a business case. Ten friends also downplayed the idea.
Barely three years later, Malachi, who found business chemistry with his 21-year-old former classmate Cindy Wanyoike (not related), is getting a fortune from grilling and serving meat at social gatherings.
When Hustle caught up with the two for an interview, they said they do not dream of getting employed again.
In 2015, Malachi, a holder of a Higher Diploma in Culinary Arts from International Hotel and Tourism institution at Kileleshwa, Nairobi, decided to try his hands on what he loved best – cooking.
"As a starter, I was a residential chef. Guys started asking if I could cook food at their events. They would get ingredients and I would cook for them in events such as birthdays," he says.
Read More
This was at a small fee. When a friend invited him to cook for 20 people, he had to hire cutlery and serving dishes. He spent Sh20,000 and made a profit of Sh10,000 that day.
Malachi felt motivated but also kept in mind that many people were already into the catering business. To beat off competition, he decided to specialise in barbecue in mid-2015. He opted to specialise in a movable grill.
In 2012, he had worked at his aunt's company, Bellar Tents, which used to supply tents as well as cook at events. This hooked him to cooking and eventually led to the culinary course where he met Cindy.
His first job was at Hemingways Brasserie restaurant in Karen but he was not keen on settling in employment. It was the same place Cindy worked as an intern. Malachi decided to share his idea with her.
"I didn't know much about the idea so I first took it as a joke. But after thinking about it for days, I thought I would be an idiot not to join him," says Cindy, who was not earning anything at the time.
She had fears about failure but was willing to take a risk.
Key things
The business needed two key things - the grill and a van to move it to where events were happening. When Malachi approached an expert to construct the grill, his spirits fell. He needed at least Sh300,000.
However, he struck a deal with George Mang'eli, an engineer who had a metal fabrication workshop. Mang'eli agreed to construct the grill in bits.
That meant sacrificing half of his salary every month to pay for the work. Cindy had welcomed the idea but her financial position could not help.
"But I appreciated that I met someone who believed in the idea. Over 10 friends that I had pitched the idea to shot it down. They thought I was crazy and my mother didn't understand it," recalls Malachi.
After about 11 months, the grill was completed. Cindy came up with the idea of looking for a Volkswagen van to haul it to event venues. She also proposed building a mobile bar in the van since many nyama choma lovers tend to complement it with alcohol.
But they had no money. Cindy was still an intern and Malachi had quit full-time job to become a home-based chef, only getting jobs from friends' events.
Only late last year did they finally buy the van. "That was when my mother got curious about our idea for the first time. She took a Sh300,000 loan for the van, but on condition that we were the ones to repay it," says Malachi.
Picked up
This added fuel to their task. Cindy started baking cakes to supplement Malachi's income to repay the loan. Luckily, the barbecue business started picking up.
The first breakthrough came through Malachi's cousin who had a wedding.
"That was our first gig. We served about 1,500 people. The grill on wheels became a hit. Guys got dazed about it," says Cindy.
More people started warming up to them. The grill on wheels and their roast meat became their identity. They marketed the idea on social media and word of mouth.
Today, their company, The Chef's Grind, continues to gain popularity riding on their youthful age and the pool of friends who are synonymous with events such as birthday parties and concerts.
Malachi and Cindy can now afford to hire temporary staff from a pool of chefs they have interacted with before from some of the top hotels around town.
When Hustle asks how much they make, Cindy smiles: "It is good, we can't complain," she says.
"In our first job, we got in a day what I used to earn in a month. That was when I said to myself that never ever was I going to get employed again," says Malachi.
The Chef's Grind charges a minimum of Sh25,000 for the barbecue services when the client provides the meat and people to help in serving the guests.
Their prices depend on the client's tastes, whether or not they provide the ingredients, the location and the number of people to be entertained. They go as far as Naivasha.
Passion
On a good month, they get business every weekend. During the week, Cindy bakes her queen cakes while Malachi runs a small restaurant.
"All these, we do and get a return because of passion, knowing what we do and being specific about what we want," says Malachi.
For a good job, Cindy says that a notice of about one to two weeks is usually enough to plan even though sometimes they work on short notice.
They are now planning to actualise Cindy's idea of a mobile bar in the van by January next year.