Sanchez's comments put Henry under fire
FOOTBALL
By Daily Mail | Jan 25th 2018 | 2 min read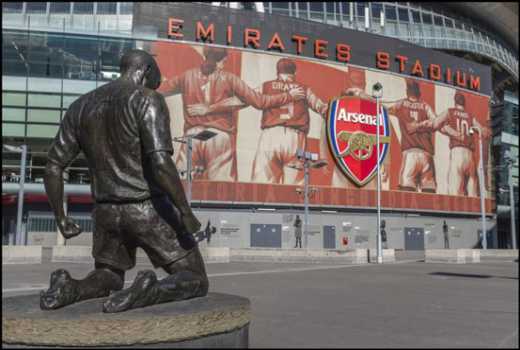 Thierry Henry has denied the claim from Alexis Sanchez that he advised him to leave north London following claims from an Arsenal fan that his Emirates Stadium statue should be removed.
Having completed his move to Manchester United, Sanchez mentioned Henry's name in a clumsily translated goodbye message, suggesting the club's all-time top goalscorer had told him to leave.
The Chilean wrote: "I remember today, a conversation I had with Henry, a historic Arsenal player, who changed club for the same reason and today is my turn."
No idea
But Henry says at no point did he tell Sanchez he would have to leave north London and says he had 'no idea' Sanchez was going to join Arsenal's Premier League rivals until he saw it on the news.
Henry stated: "I know I don't need to explain this to the majority of Arsenal fans but contrary to speculation at no time did I tell Alexis Sanchez to leave Arsenal. I had no idea he was going to sign for Man Utd until I saw it on the news like the rest of you."
Henry's alleged role in Sanchez leaving the club sparked fury among Arsenal supporters on Twitter — with one user labelling him a 'snake' before calling for his statue to be removed.
"I'll never call Thierry Henry an Arsenal legend," Twitter user Jarex2 said. "He's a real snake under the green grass. Somebody bring down that useless statue soon."
Patrick Timmons echoed Jarex2's sentiments, tweeting: "This season alone, Thierry Henry has attempted to motivate (Harry) Kane before the north London derby, given Bournemouth a pep talk before playing us and advised Alexis on leaving the club.
"Regardless of his exceptional playing career, he's really tainting his legacy at the club since."
Henry wept when a statue of himself celebrating a goal was unveiled outside the Emirates Stadium in 2011 to commemorate his role in the history of the club.
The Frenchman was coaching Arsenal's Under 18s before Arsene Wenger forced him to choose between his coaching position and his role as a pundit with Sky.
Henry is currently assistant manager to Roberto Martinez with the Belgium national team, a role he combines with his punditry duties.
Sanchez could make his United debut against Yeovil in the FA Cup on Friday night and will wear the No 7 shirt at Old Trafford.