This man Dande: Rebel on a mission or misunderstood?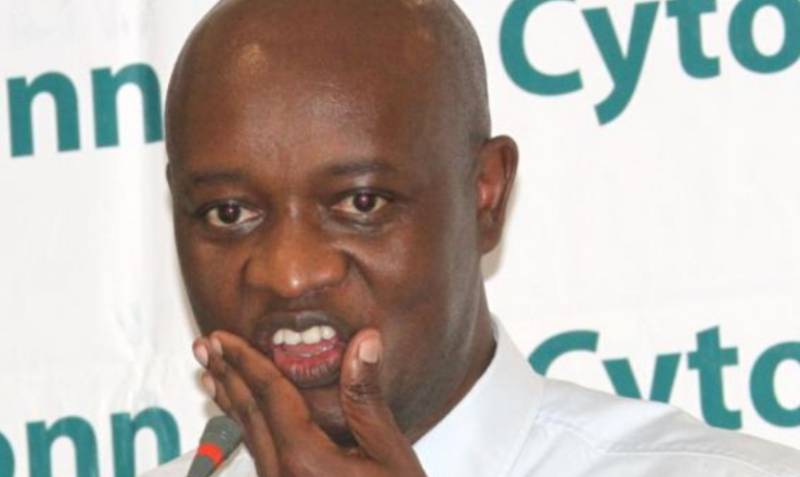 After brief pleasantries, Edwin Dande pulls out his phone and starts recording our conversation.
The Cytonn Investments Chief Executive leaves nothing to chance.
"I just want to make sure that the interview is captured," he said, mistrust hanging in the air as both journalist and subject record each other.
On this day, he is donning a black cap and matching polo shirt, allowing him to blend in with the clientele at the firm's CySuites Apartment Hotels, a multi-million-shilling development in Nairobi's affluent Westlands suburb.
It has been difficult to get a sit-down with Mr Dande, who accuses the media of "not reporting Cytonn right from the onset."
The ex-Wall Street banker, now in charge of an over Sh80 billion asset portfolio, is walking a tightrope, with some investors baying for his blood over what they claim is a breach of contract by the firm.
But what lies beneath Cytonn's world of structured finance? And are the fears by some Cytonnaires (as the investors call themselves) that the management is pulling the wool over their eyes founded?
In a recent wide-ranging interview, Dande opened up to Financial Standard on what he called "the misconceptions" about Cytonn, the infamous walkout from Britam and why he believes that in the "fullness of time" the Cytonn model will be vindicated.
As the most visible pioneer of structured finance, Dande has managed to raise over Sh10 billion from local investors without borrowing from any bank to fund ambitious real estate projects. But with the benefit of hindsight, did Cytonn bite more than it could chew?
"We definitely were ambitious, but I would not ascribe it all to ambition… in the fullness of time we'll be vindicated," he said.
"People will want to live at Cytonn developments. People will look back and say it was just a period of ups and downs. That's the nature of growth and brands have gone through it."
Dande explained that only two of the firm's real estate funds are illiquid as a result of the pandemic and coming on the back of a property slump over the last few years.
"We manage 10 funds, but you won't hear noises around eight; you'll hear noises only around two, which are connected to real estate," he said.
Citing Covid-19 last year, the company invoked a force majeure, extending the maturity date of two of its real estate funds – the Cytonn High Yield Solutions (CHYS) and the Cytonn Project Notes (CPN) – to June this year.
A force majeure refers to a clause that is included in contracts to remove liability for natural and unavoidable catastrophes that interrupt the expected course of events and prevent participants from fulfilling obligations.
The move didn't sit well with about 50 investors, leading to the acrimony that now threatens to dent the Cytonn brand.
The souring relations between the firm and the investors have seen liquidation proceedings against Cytonn in the High Court and complaints raised to authorities such as the Capital Markets Authority and the Directorate of Criminal Investigations (DCI).
According to Dande, Cytonn's model is the first in the country and has largely been misunderstood.
"People don't realise that if you invested in real estate you cannot walk in and out as you wish. It is something some investors don't understand; the regulator and media seem to be struggling, but a vast majority of investors understand," he said
Dande said since the firm's model means it borrows from individuals, it also had to ask for a moratorium just like many borrowers did from their banks when the Covid-19 pandemic struck.
"People don't quite understand structured finance. In the developed world, it's so ordinary... of course, we have to pay for being a pioneer. There's no other person who borrows directly from individuals," he said.
Britam four
In the extension framework, Cytonn proposed three options for investors, including the conversion of investment into real estate units or entering a standstill agreement where no withdrawals are made for two years and with a one-off renegotiation fee.
But a section of investors refused any of the options and have since been fighting to withdraw their money unsuccessfully.
To understand Cytonn, the suave Dande, who previously had stints in Wall Street firms such as Lehman Brothers and Bank of America, takes Financial Standard back to the firm's founding.
Dande was the CEO of Britam Asset Managers and with four colleagues controversially walked out to form Cytonn Investments, leading to a protracted legal battle with the listed insurer.
"When we started out, our former employer accused us of theft. You know that brings a cloud over your brand," he reflected on the acrimonious exit.
He noted that after exiting Britam, they would infamously be branded the "Britam four," but according to him, people had little understanding of the issues at play.
For example, Dande noted, there was no non-compete clause in their contracts, and they could walk away with clients.
Of the Britam four that founded Cytonn, only Shiv Arora has left.
The rest - Elizabeth Nkuku and Patricia Wanjama - are still with the firm.
"The exit was amicable. At Cytonn, we have no problem with people exiting because we know we can attract talent," he said of Arora's exit.
He was tapped as the CEO of Superior Homes where Cytonn has a stake. He claimed that the media ignored reporting on the disclosure of the alleged Britam audits, adding that there's a challenge in getting Cytonn stories right.
Dande said they are not done with Britam yet. "We are being patient. We'll go after them at the right time. So based on that perception, people think there's an issue here, but it was started by Britam," he claimed.
Then there's the "envy" aspect. Scrolling through his phone, Dande names the list of all the money market funds, observing that a majority of them are affiliated to influential individuals who control the financial markets.
"I also think there's a bit of envy. If you look at it, which fund manager do you know that has been started by young people?" posed Dande, who is now approaching his mid-forties. "Do we really fit the profile?" he adds.
As of September last year, the Cytonn Money Market Fund controlled assets worth Sh1 billion, a six per cent jump from Sh951 million in June the same year.
Of the top 10 money market funds, Cytonn provides some of the best yields for clients and is in the top two.
As of April 1 this year, it posted an annual rate of 10.59 per cent. Dande, however, observed that he doesn't think there's a wider conspiracy against Cytonn.
He reckons the firm's troubles stem from upsetting the status quo.
"We have come and changed the rules of the game. Nobody has been able to raise Sh20 billion without going to a bank. Do you think the banking sector will like it? It is about interests," said the alumnus of the prestigious Wharton School of the University of Pennsylvania where he got his Finance MBA.
Cytonn recently sued one of its investors for defamation and has also been involved in a long-running court battle with the Capital Markets Authority (CMA).
Dande said they are not "frivolously litigious" but will do anything to protect the brand.
"There's nothing wrong with litigation. When two people in a democracy disagree, they go to a judge and say can you help us? Going to court should not be seen as negative...," he said.
Dande said Cytonn wants to leave a mark in Kenya's capital markets by having current laws changed for the benefit of other players.
The financial services sector, he claimed, is still in the Kanu era and needs opening up.
He noted that one of the issues that need addressing is the instant withdrawals by investors from money market funds at the first sign of trouble.
He said they are open to constructive engagement with the regulator but claimed it is averse to criticism and is appalled by new players challenging its powers.
"In an active democracy, the regulator would review their position, but here they say 'no, I'm the regulator,'" he said.
CMA wanted the Cytonn High Yield Fund to lessen investments into Cytonn-related projects to 10 per cent of the fund's total assets under management. It is Cytonn's only regulated fund.