Tuskys once offered to bail out Nakumatt, now who will save it?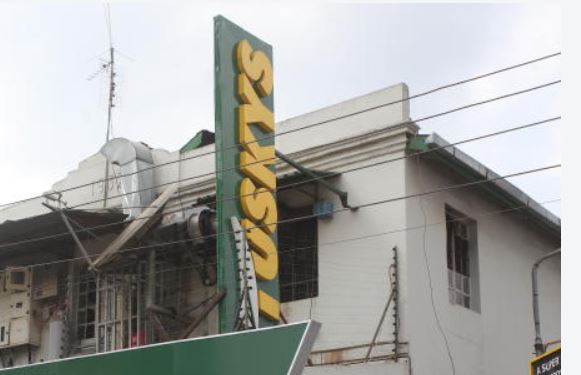 Sometimes in 2017, Tuskys appeared on the deathbed of fellow supermarket Nakumatt dangling a revival dose.
Tuskys pledged to guarantee as much as Sh3 billion of debt and inject Sh650 million short term capital into Nakumatt in a deal that was tipped to be a life-saver for the beleaguered retailer.
But like a scene in a play that the audience had hardly anticipated, Tuskys suddenly retreated from the deal and quietly watched Nakumatt draw its last breath from a safe distance.
Kenya's top supermarkets - Tuskys, Nakumatt, Naivas and Quick Mart - all rose from humble family-run shops in Nakuru County.
Tuskys ended up loaning Nakumatt a paltry Sh50 million, which was only 1.2 per cent of the Sh4.1 billion cash inflows recorded by the time the retailer was liquidated in January this year.
The Competition Authority of Kenya (CAK) had also rejected a proposed merger between the two supermarkets on grounds that it had not been filed properly.
It was not the first time Tuskys had breached anti-trust laws. In 2014, the retailer and Ukwala supermarkets were fined Sh5.3 million for engaging in anti-competitive practices.
This was after Tuskys entered into an agreement in 2013 seeking to acquire three branches of Ukwala Supermarkets.?
Had it extended the Sh650 million to Nakumatt, perhaps the besieged retailer would have used the money to pay suppliers and procure new stock, its court appointed administrator Peter Kahi said.
Nakumatt eventually sank with Sh38 billion owed to creditors including suppliers, banks and landlords. The recent closure of Nakumatt Highridge marked the retailer's final chapter.
Ominously, it seems now is Tuskys' turn to taste the bitter pill of a liquidity crisis. The retailer has found itself in a precarious position; signs of distress are beginning to show.
In February, details emerged that dozens of Tuskys employees were set to lose their jobs after the supermarket announced a restructuring process.
So far, Tuskys has closed four branches including Digo Road (Mombasa), Kitale Mega and Tom Mboya (Nairobi) and Mtwapa Chap Chap.
At least 80 workers from these branches have lost their jobs. Over the weekend, the retailer hinted on more restructuring measures.
Tuskys has also been unable to pay suppliers, placing it under a the watch of the CAK. Customers are complaining of empty shelves. The supermarket's aggressive expansion has ended.
The supermarket had joined the Nairobi Securities Exchange (NSE) Ibuka programme, which is an incubator for firms that want to list in the stock market.
A branch it planned to open along Kamiti Road, in Nairobi's Zimmerman has remained with an "opening soon" banner for months.
Quickmatt, one of its fierce competitors, came and opened a branch there in just under a month. It has now stepped up competition with another one in the Nairobi Central Business District.
Sagaci Research, a provider of African market data and analysis, noted that Tuskys appeared to be in the weakest financial position of any supermarket chain in the country.
Tuskys has, however, been attributing its woes to the global Covid-19 pandemic. However, investigations by CAK on delayed supplier payment revealed that no retailer had presented documents showing their inability to pay was caused by the Covid-19 pandemic.
CAK had requested 25 major retailers across the country to submit their debt portfolios outstanding for over 90 days. Only four were found to have delayed payments for more than 90 days.
A Tuskys insider who spoke to the Financial Standard anonymously said Tuskys problems were caused by pilferage.
The insider alleged that top managers had "vested interests" in the supermarket's operations in both merchandise and service supplies.
"In real sense, Covid-19 has uncovered the top managers' un-business friendly activities," said the source. Tuskys Supermarket, founded by Joram Kamau, has been embroiled in a bitter sibling rivalry that has been blamed for its poor performance.
When Mr Kahi was appointed Nakumatt administrator, he was tasked with engaging with Tuskys, banks and shareholders in the hope of obtaining short term working capital to help Nakumatt turn around.
Kahi had put a lot of faith on the deal with Tuskys. He noted that the pull out by Tuskys was one of the biggest set-backs for Nakumatt's turnaround plan.
He had even introduced Tusker Mattresses -Tuskys mother company- managers to Nakumatt shareholders. The managers were to assist Nakumatt with administrative support.
"Tusker Mattresses Ltd, for reasons best known to them, withdrew their promised support to Nakumatt," said Kahi. The botched deal meant that rental guarantees given to landlords and suppliers were lifted.
"This meant that the rental guarantee given to the landlords was lifted, there were no more supplies from the suppliers as their supplies were premised on the basis and security that Tusker mattresses Limited would pay on behalf of Nakumatt Holdings Limited," said Kahi.
Naivas acquired Nakumatt's assets in six branches for Sh422.5 million, outbidding others including Chandarana and Quick Mart.
However, Nakumatt, which has over 60 stores, outbid Tuskys, Chandarana and Quickmart to scoop up some of the best performing Nakumatt branches.
Kenyan supermarkets' operations are shrouded in secrecy, excelling only in releasing information when they are expanding or engaging in Corporate Social Responsibility activities.
Retail is also a ruthless business; competitive and unforgiving when mistakes are made. It also has low profit margins, hence the aggressive expansion drive by most supermarkets in order to increase sales volumes.
At least three big supermarket brands have exited the Kenyan market in the last five years - Ukwala, Choppies and Ebrahims. Recently, South African retailer Shoprite also closed one its four branches in Kenya.
Recently, a leaked e-mail detailed that Tuskys had announced pay cuts and unpaid leave for staff. Tuskys over the weekend released a statement to counter the claims. It however hinted on organisational changes "given the tough operating environment" aimed at negotiations with employees on cost cutting measures.
"In order to arrive at an optimal solution that is fair to all our employees and the business we are in negotiation with all cadre of employees to reach an amicable solution. This may include but not limited to unpaid leave," said the retailer.
Tuskys' proposed restructuring led to a fight with the Kenya Union of Commercial Food and Allied Workers which went to court seeking orders to restrain the retailer from making workers redundant.
Tuskys has said that it is working "within all relevant labour laws" and is actively following guidance from an agreement inked recently between the Government, the Federation of Kenya Employers and the Central Organisation of Trade Unions, that allows employers to unilaterally review their workers employment terms due to Covid-19 distress.
The agreement should for now worry Tuskys employees since it has been skewed in favour of employers