Japan counters China with Sh2 trillion fund pledge to Africa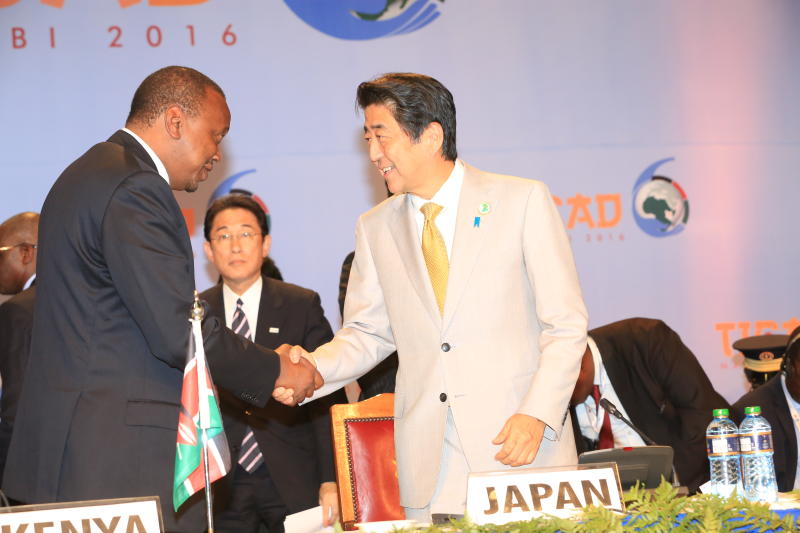 Japanese Prime Minister Shinzo Abe has assured African countries that he will boost the continent's growth and development through sustainable funding.
The premier said his country's debts to Africa were well-intentioned, noting that none of Japan's projects would increase the debt of recipient countries to unsustainable levels.
PM Abe was responding to concerns on pledges made by Japan to boost Africa's development. This was during the just concluded seventh summit of the Tokyo International Conference on African Development (TICAD) held last week in Yokohama.
The premier told TICAD VII conference that huge debts could hurt Africa yet multiple countries are already shouldering the huge debt repayment burden, the majority of it being from foreign aid and investment deals.
During the event, the Japanese government pledged $20 billion (Sh2 trillion) in private investment to be advanced to Africa for over three years.
This will be through initiatives such as the development of quality infrastructure, support in agriculture, industry diversification and the advancement of education and universal healthcare.
The TICAD VII conference brought together participants from more than 50 member states of the African Union, including Kenya, which was represented by a delegation led by President Uhuru Kenyatta.
According to PM Abe, the sustainable development of Africa is important to the Japanese government, which is keen on ensuring that its projects on the continent are not only transparent and economically viable but also promote Africa's debt sustainability - which could response to China's funding and influence.
"Japan is cautious to ensure that its aid to Africa does not come with high costs for the continent," PM Abe remarked.
PM Abe also acknowledged the growing interest in Africa, stating, "China, we understand, is active in providing assistance to Africa and is an important factor for development in the continent. It is not just Japan and China, but several other countries are also involved in Africa".
Nevertheless, PM Abe also clarified that Japan did not feel threatened by the growing presence of other countries in Africa, explaining that the Asian nation has a long history of relations with Africa in terms of infrastructure and capacity building.
"We have been responsible to ensure ownership of Africa. This is the Japanese style of assistance," PM Abe noted, explaining that Japan's initiatives in Africa are based on the development model that places people at the core.
"Going forward, what matters is business," stated Masahiko Kiya, the Ambassador for TICAD, from Japan's Ministry of Foreign Affairs, who noted that Japan was intentional in helping Africa by promoting business, rather than through free aid.
"To achieve over $20 billion private investment, Japan will contribute to the improvement of the business environment in Africa. It will also support economic transformation through the promotion of the Japanese private sector's advancement into Africa and innovation," noted TICAD VII document in part.
"Development can be achieved only when Africa has ownership of the projects. The kind of investment Japan aims to make is where African countries do not incur debt burden and local human resources are utilised," stated TICAD ambassador Masahiko Kiyo
He was reiterating PM Abe's promise of ensuring Africans have ownership of the aid projects and that the continent successfully emerges out of its debt trap.
Debt burden
At the close of the conference, the Japanese government launched three key measures to be implemented in select African countries struggling under a heavy debt burden, as part of it's contributions to Africa's economy under TICAD VII.
They include training on public debt and risk management in 30 countries, dispatching debt management and macroeconomic policy advisors.
Japan will also provide technical assistance in terms of capacity building of recipient countries through new financial contributions to trust funds of the International Monetary Fund and World Bank".
During the summit, PM Abe called on countries giving aid to Africa to be mindful of the continent's debt.
Abe explained that the dialogue on Africa's burgeoning debt was raised at the recently concluded G20 summit held in Osaka, resulting in a declaration by the leaders to push for debt transparency and sustainability in Africa.