Outgoing Budget boss battled to secure taxpayer cash with a smile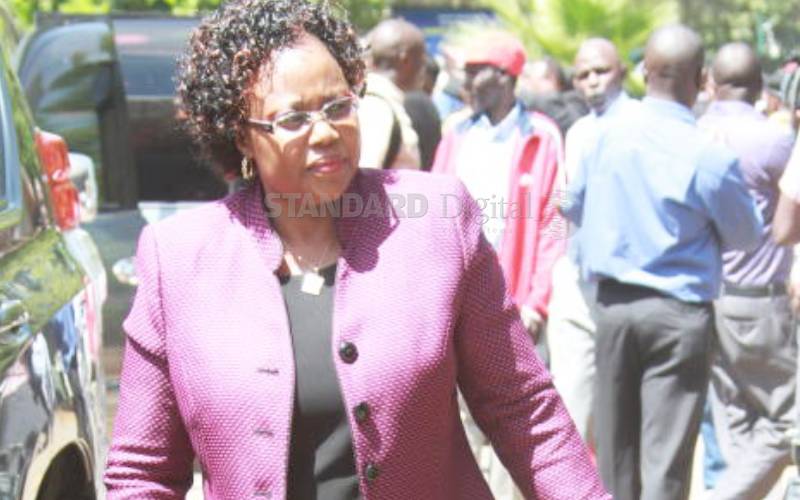 Her motherly smile got brighter with every adulating speech about her.
A stranger could easily have mistaken the occasion for a memorial. But it was the farewell luncheon for Agnes Nangila Odhiambo. Sharply dressed, you could easily tell it was her moment.
Her eight-year, non-renewable term as the Controller of Budget (CoB) was coming to an end. Yet she was forward-looking as she was reflective.
She was happy that the office was unveiling its four-year strategic plan as much as she was pleased that she was finally leaving. Ms Odhiambo was reflecting on her achievements and challenges as the first Controller of Budget under the 2010 Constitution. She was convinced she had done a stellar job.
And the gathering seemed to agree. They showered her with praises, some of which were simply outright flattery.
Most found her adorable and empathising. So much so that her employees composed a praise song for her, describing her fondly as "Mama Odhiambo." Some speakers thought the reason she was so happy was that she was leaving the hot seat unscathed. But in her words, she said she was very happy that she had made her mother proud.
Like Al Capone, the American legendary drug lord in The Godfather, a smile had gotten her through the murky political waters. The American gangster said that a smile and gun got him even further. Dealing with politicians, perhaps she needed both, just as the American gangster.
But she was a God-fearing, humble mother of three who detested short-cuts. In place of a gun, she had the law and the Bible to guide her.
Wherever Mrs Odhiambo went, she never forgot to wear her smile and to carry with her copies of the Constitution and Public Finance Management Act, 2012. She also "walked with God."
It was the Senate Speaker Kenneth Lusaka, a guest at the luncheon held last week, who described her as a "smiling assassin." Of course, the outgoing Controller of Budget is far from being a sadist who smiles at you as they send you to your maker.
But as the money guard, and she guarded trillions, she is said to have sent a lot of senior government officials packing for not having their papers in order with a smile.
Speaker after speaker at the luncheon that was held at Crown Hotel, Nairobi, left little doubt that in her eight-year battle against avarice within both national and county governments, a smile and the law were her most reliable weapons.
"Agnes has a way of disarming you with her smile," Lusaka said. Vihiga County Governor, Wilberforce Otichilo, remembered visiting Odhiambo in his first trip to Nairobi as the county chief. He had come for some money. They had an animated, two-hour chat. But it was not until he had left, feeling somehow satisfied, that he realised he had not gotten what he had come for.
"You had that smiling face, but you were very firm. You had to have your papers right," said Otichilo, praising her interpersonal skills. "She was always willing to listen to everybody," added Otichilo.
She had an "infectious smile," said National Assembly Speaker, Justin Muturi. "Even if you did not get what you wanted, you walked out of her office having been attended to in a professional way. You got out with the right information," said Muturi.
Jane Kiringai, chairperson Commission on Revenue Allocation, talked of Odhiambo's unquestionable grasp of the law. "She always carried in her handbag a Constitution and the PFM Act," she said.
Mrs Odhiambo was sworn in as Kenya's first Controller of Budget on August 27, 2011 at State House, Nairobi. It is exactly eight years today.
She was then accompanied by her family. Her mother, Peris Ochumbo, who single-handedly brought her up after the death of her father while she was still young, was particularly special in this entourage.
Mrs Odhiambo remembered of her mother: "She looked up in the sky as she was greeting the President, Honourable Mwai Kibaki and the former Prime Minister. She looked up as if she was praying." "She (her mother) said she never knew she would step in a place like that; she never knew she would shake the hands of the President, Mwai Kibaki, and the former Prime Minister Raila Odinga. It gave me great joy. And I said to myself: I will work very hard, work diligently, professionally so that I can make that lady proud. And today, after finishing my eight years, I am very proud. I have put in the best that I could have done." Her job description was quite succinct: ensure that the law is followed before any public resources are spent. It is a role that has not been well understood by many. Her husband, a contractor, said he had occasionally been approached by contractors who wanted him to tell his wife to release the funds.
Even MPs, said National Assembly Speaker Muturi, did not appreciate the enormity of her role. Like most people, including the media, her reports were not as popular to the legislators as those of the Auditor General.
"The Controller of Budget is the best office to help the legislature with its legislative role," said Muturi, describing Auditor General's report as "postmortem."
Her role was only to approve the withdrawal of the funds, it was also to advise on budgeting and assist with the implementation of the project. She approved the withdrawal of public funds, as long as the documentation was proper.
For her, as long as the papers were in order, she could approve the withdrawal of the funds in the middle of the night. The National Treasury would then instruct Central Bank of Kenya to release the money from the Consolidated Fund.
In this period, she approved withdrawals of public monies worth over Sh15 trillion for ministries, departments and agencies (MDAs) and the 47 county governments. For each cent of this, Ms Odhiambo has endeavoured to explain why it left the public coffers.
But she was never there to see how some of it was wasted on, for example, Business class air-tickets and per diems for some useless foreign trips; how a Facebook page and wheelbarrows cost millions of shillings and in cases of blatant use of public funds by counties or how bar soaps and pens suddenly cost a fortune.
Nonetheless, she is still concerned with the prudent use of public resources. In the new strategic plan that Mrs Odhiambo has mid-wifed, but will not be around to help actualise, the office's vision is to realise a country in which public funds are neither wasted nor misappropriated.
"Whether I will be 90 years, 80 years or 100 years, if that comes to pass, I will be the happiest person," she said.
Of all the jobs the mother of three has held since she graduated from the University of Nairobi with a first-class honours degree in Bachelor of Commerce, Accounting option, she said this was the one she has enjoyed the most.
This is despite the fact that her phone, according to her husband, Engineer Ezra Odhiambo, couldn't just stop ringing in the last eight years - whether it was very late in the night or they were on holiday out of the country.
Before being appointed the Controller of Budget, she was the CEO of Constituency Development Fund.
From 1981 to 2009 when she was appointed the CDF chief executive, she had held various financial and accounting positions in the private sector. "When we submitted her name to the President, it was without blemish," said Muturi. And without blemish, she finished her term in the office. "It is not easy to work in public office and exit with honour," said Lusaka of Odhiambo.
Not that it was all smooth-sailing. The County Assembly Forum Secretary-General Kipkirui Chepkwony remembered the prevailing mood among his peers.
They felt that Odhiambo's office together with that of Salaries and Remuneration Commission (SRC), then headed by Sarah Serem, were the notorious hindrance to devolution. With the devolved units operational, the country was ecstatic that finally, resources that had for long been centralised in Nairobi would flow freely to the grass-roots. But this woman, it seemed, stood in the way.
They forgot that part of her role was also to ensure that the law was followed in the administration of devolved funds, something that called for the development of proper account reporting procedures.
In the end, according to Chepkwony, the office of the CoB seems to be the institution that has truly tried to, "Punguza Mizigo" according to a clarion call by some activists to ease taxpayers' burden by amending the Constitution and doing away with some administrative units.
She was particularly irked by the extent to which most of the public funds were used by county assemblies and county executives on conferences and salaries.
And besides calling for prompt settling of bills to suppliers, enhanced capacity of county employees, her message to the devolved units as she exits is that they should slash their wage bills.
It was also during her term that she noted of the low absorption of development cash, with the county governments' spend not reaching the Constitutional threshold of 30 per cent of the allocated funds.
But her office, according to Machakos County Governor Alfred Mutua, has also increasingly been centralised with officials from the far-flung counties forced to travel to Nairobi, making the withdrawal of funds a costly affair.
Ms Odhiambo said the process of automating exchequer issues was at an advanced stage. There have been moments that have threatened to wipe the smile from her face.
The receipt and use of funds raised through the issuance of Kenya's debut Sh215 billion Eurobond was one of them.
At some point, it appeared as though Odhiambo had contradicted herself, saying that the country never received the money only to summer-sault in 24 hours.
Opposition leader former Prime Minister Raila Odinga had insisted that the money never got into the country. She thus made it into Odinga's famous list of "persons of interest", with the former premier insisting that she was being used by Treasury to mislead the public on the use of Eurobond money. But she was emphatic.
"I wish to state that there is no contradiction in the statements I made to the Public Accounts Committee of the National Assembly on October 22, and November 2, 2015 on my role in the repayment of the Syndicated Loan. This can be confirmed from the Hansards," she said.
She also came under fire when she authorised payment of Sh1.4 billion to two Anglo Leasing companies. The Anglo Leasing scandal saw the country lose billions of shillings in phantom security printing contracts.
Mrs Odhiambo told a Committee of the National Assembly that the payment was necessary to save the country from incurring more penalties on a Sh52 billion syndicated loan on which it had sought an extension.
Kenya, said Ms Odhiambo, wanted to borrow money from the international market so as to off-set the loan from a syndicate of banks.
However, because a London-based court had ruled against the country in a case in which they had been sued by First Mercantile Securities Corporation and Universal Satspace, they would not go ahead with the issuance of a sovereign bond until the payment was done. A smiling Odhiambo told the Public Accounts Committee that she authorised the payment based on the analysis she carried out as the CoB and second, on the Constitution. "Article 223 is what guided me, supported by the other articles, particularly Article 214 on public debt," she explained.
"We were not in a position to pay, therefore, we sought an extension. By extending repayment of that loan by just three months, we incurred an extension fee of Sh570 million which has already been paid. In addition, for those three months, we are going to pay interest of Sh700 million, already incurred because we have extended up to August 15. We add the two together, Mr Chairman, it gives us Sh1.2 billion, cost already incurred."
And Speaker Muturi's parting shot to her husband: "Ezra, you haven't seen the last. There might still be more calls."