Airlines and oil firms take fight for jet fuel cash to Parliament
FINANCIAL STANDARD
By Lee Mwiti | Nov 20th 2018 | 5 min read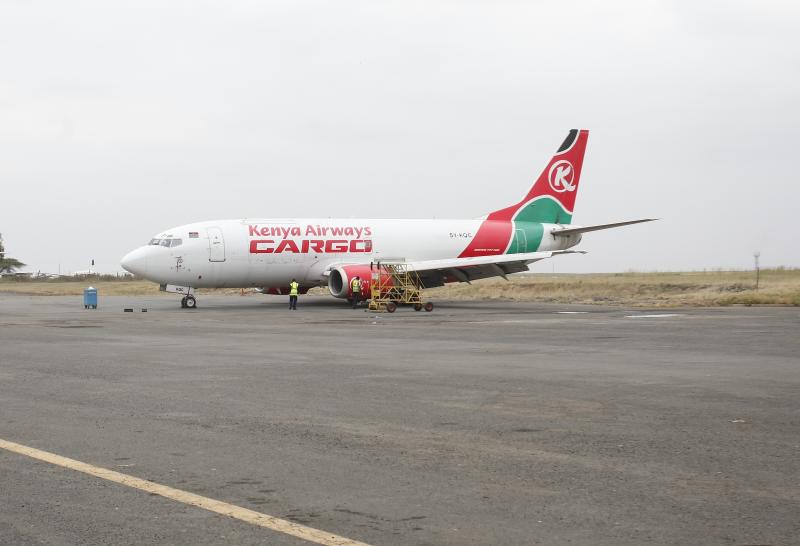 Oil marketing firms have now taken their fight for the aviation industry's billions of shillings to the National Assembly.
The move follows a tussle between Gulf Oil and Kenya Airways over contractual terms and licensing by the regulator.
Gulf Oil had demanded the contract terms for the fuel be changed to have an initial price of a litre of Jetty A 1 fuel it sold to KQ increased by Sh5 due to price increases in the international market.
KQ protested the move. Its Chief Finance Officer Hellen Mwariri, who was appearing before the National Assembly's Committee on Energy last week said they resisted Gulf Oil's "arm-twisting ways."
"The contract we had signed in November was binding for one year, but they decided to increase the price midway which we could not accept," said Ms Mwariri while addressing Committee chaired by David Gikaria.
Gulf Oil made good its threat by withdrawing its services.
The firm had a contract to supply KQ with 35 per cent of its fuel requirements, which would translate to 336 million litres of jet fuel this year.
The KQ management went into a panic mode since such a massive withdrawal would have grounded many of its planes and in turn, led to major losses.
"We hurried to look for a replacement and that's when we landed Oil Libya who was able to provide us with 15 per cent of the volumes and ASM who took up the remaining 20 per cent. We, therefore, decided to cut out future engagements with Gulf Oil after that blackmail," said Ms Mwariri.
It is in light of this that Gulf Oil petitioned Parliament to look into the matter, exposing alleged inappropriate methods that major airlines in the country employ when contracting oil vendors.
For starters, Gulf Oil told Parliament that two oil marketing companies – ASM and Pacific Oil – did not have the requisite clearance from the Energy Regulatory Authority (ERC) and it was, therefore, illegal to do business with the airline.
ASM is one of the oil vendors that has a contract with KQ. The firm, however, doesn't have any major foothold in the country but is hosted by Kenol Kobil through an industry agreement known as "hospitality contract."
Such a contract comes about when an oil marketer that has no major foothold in the country – which could include facilities such as storage tanks or fuel stations.
Thus, when the marketer's clients need more fuel, the smaller marketer gets into an agreement with the larger player that has the requisite infrastructure to help it meet the terms of its agreement with a client while splitting profits with its host.
However, Gulf Oil in its petition claimed that ASM did not have physical offices in Kenya.
The other vendors in the contract with KQ are Total, Hass Petrol, Gulf Oil - whose contract ends this November. The others are Oil Libya and Bakri Oil.
Mr Mwariri in countering the move produced a clearance certificate to ASM by ERC, claiming that Gulf Oil's petition was driven by malice after losing business from the national carrier.
"We are regulated internationally even by the Africa Airlines Association. There is no way we can contract an oil vendor who has not been cleared by ERC. Ours was simply and purely a commercial decision. ASM gave us cheap rates and we took them," said Mwariri.
Gulf Oil also drew into the petition more airlines - Flight540 and SafariLink. It claimed that Flyt540 has a contract with Pacific Oil, a firm that also lacks clearance licence from ERC.
Fly540, however, said it entered into a contract with Pacific purely on commercial considerations and that it was sure that Pacific had a licence from ERC.
Advance credit
Fly 540 Corporate and Industry Affairs Director Nixon Ooko could not, however, produce the licence in Parliament.
"We are a small airline. We have to go for the cheapest rates. We cannot afford the likes of Gulf who cannot even advance us credit. That is why we chose Pacific," said Mr Ooko in an interview.
Besides Pacific, Fly540 has contracts with Oil Libya and Total. Safarilink Chief Executive Officer Alex Avesi said Gulf Oil was bitter about losing business and was using Parliament to settle scores.
But Committee Chairman David Gikaria brushed off the airline's assertions, saying that Gulf Oil had the right to petition when they feel that some firms had an undue advantage.
He also pointed out that the oil firm had invested heavily and got all the regulatory clearances in Kenya.
"Gulf Oil is a vendor that has greatly invested in this country. It is a major player locally and is highly regarded by the ERC. It is very unfair that you can take business from them and take it to briefcase operatives with no recognition locally," said Mr Gikaria.
The Kenya Airports Authority said its role was to licence but does not interfere with the operations of airlines or deals made between airlines and oil marketers.
According to KAA General Manager for Business Development Jimmy Kibati, the regulator has kept a policy where it does not get involved in the commercial agreements.
"Our mandate is to simply license these vendors (to operate within airports). And when licensing, we check first if they have a certificate from ERC, a regulatory insurance cover and a contract with an airline," said Mr Kibati.
"We also have seven vendors who we have allocated space at JKIA. They have offices and equipment there. ASM and Pacific are not among these seven vendors," said Mr Kibati.
"But Gulf Oil is well entrenched both at JKIA and Wilson Airport. All I know is that Pacific Oil and ASM could be getting hosted through hospitality contracts at these airports."