Long day in court for KEBS managers charged with attempted murder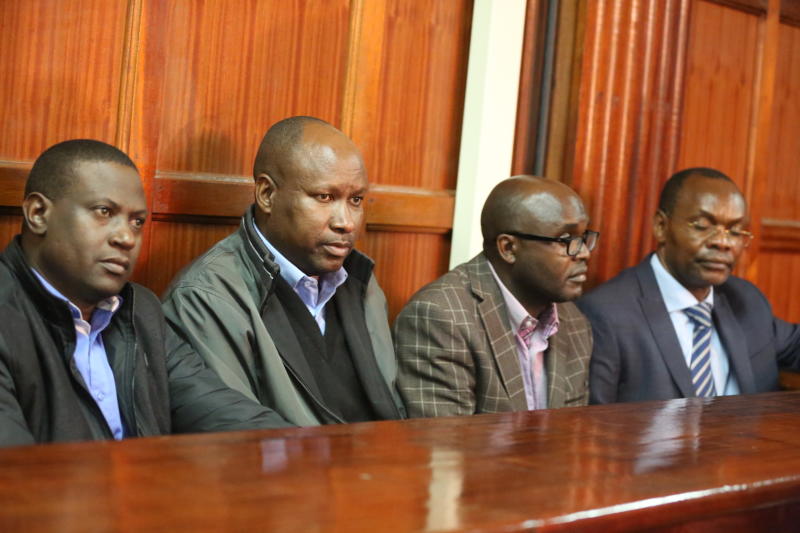 It was steep fall for the men accused of attempting to kill millions of Kenyans from their comfortable offices to cold police cells and the hard benches of Milimani Law Courts.
Kenya Bureau of Standards (Kebs) managing director Charles Ongwae was among the 12 suspects who sat in the dock for many hours yesterday as the Director of Public Prosecutions (DPP) argued with their lawyers over the push to deny them bail until the criminal trial was concluded.
They will face their juniors, whom the prosecution has lined up as witnesses to prove the allegations of attempted murder, abuse of office and conspiracy to defraud Sh882 million.
According to State prosecutors Alexander Muteti and Victor Owiti, the managers' case involved a complex chain of conspiracy that not only endangered public life but also exposed the Government to a fraudulent contract for the supply of quality marks.
"Attempted murder is the fulcrum of this case; they released mercury into the atmosphere which endangered public life. The court should think of the poor woman in the village whose life was put in danger because of consuming food laced with mercury," said Mr Muteti.
The charges were the first of their kind in Kenya, only akin to being charged with genocide or mass murder.
If proved, Mr Ongwae and the other Kebs officials - Eric Kiptoo (quality assurance), Peter Kinyanjui (inspection manager), Martin Nyakiamo (regional manager for Coast) Pole Mwangeni (port health officer), Erick Kirimi (KRA customs supervisor) and Benson Oduor (clearing agent) - could face lengthy spells in prison.
Bail terms
The seriousness of the offences prompted Nairobi Principal Magistrate Kennedy Cheruiyot to issue tough bail terms, with the accused having to spend an additional night in custody as they could not process them in time.
"In the first case, each accused person will be released on a bond of Sh10 million and a surety of Sh3 million plus a cash bail of Sh2 million. In the second case, they will be released on Sh5 million bond and a surety of similar amount in addition to Sh3 million cash bail," ruled Mr Cheruiyot.
The magistrate also ordered that all the accused persons deposit their passports in court and not interfere or come into contact with the witnesses.
In the first case, the 12 were charged with attempted murder, where it was alleged that they released fertilisers laced with mercury to farmers in Narok and Eldoret, thereby putting the lives of thousands of people at risk.
In the alternative, the seven were charged with aiding the commission of a felony by helping OCP (K) Ltd to clear and release the mercury-contaminated fertiliser to farmers.
Abuse of office
Ongwae, Kiptoo, Kinyanjui, Nyakiamo, Mwangeni and Karimi faced charges of abuse of office and breach of trust as they misused their authority to unlawfully release the contaminated fertiliser to farmers.
In the second case Ongwae and Kiptoo were charged alongside Kebs tender committee members with conspiracy to defraud Sh882 million by entering into a fraudulent contract for the supply and delivery of quality marks.