Nairobi's trendy coffee houses become new playgrounds for suave deal makers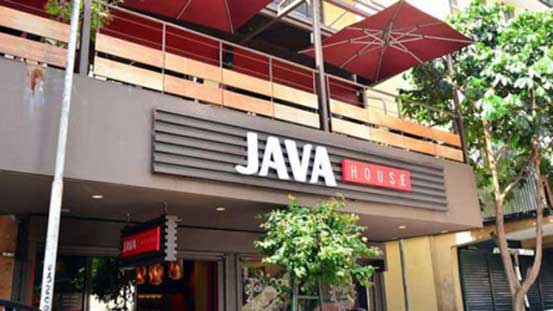 NAIROBI, KENYA: It is six in the evening. Nairobi is cold and the roads are clogged by traffic jams.
A few shillings for some warmth wouldn't leave such a hole in the pockets of a good number of sharply dressed corporate men and women purposely strutting Kenyatta Avenue.
But there is a place that is welcoming. The ambience of Café Deli along Kenyatta Avenue, has been slightly warmed-up by its thematic brown and toned-down yellow on the walls and the black on the floor.
Special light bulbs on the walls and ceiling bath the room in a therapeutic setting of African skyline. It is an inviting aura distinctive of the many coffee-shops that have sprung up along almost every street and alley in Nairobi's Central Business District.
At Café Deli, Java House, Art Café, Kaldis and others, a sizzling sound of coffee as it is crewed and poured diffusing a potent scent, mixes with soft music to make them ideal hideouts to 'waste' away a cold evening.
It is not only the ambience of the inside of these coffee shops that is alluring. It is also their economics.
It is simply costly- and almost foolish- for one to plunge into any of Nairobi's major highways at this time when traffic is crazy.
However, spending on a single, double or triple Cappuccino, Espresso, Café Latte, Vanilla Latte or Mocha from any of these coffee-shops is value for money compared to the time a motorist would spend on traffic on their way back home. Or so it seems.
Moreover, for those who have recently been initiated into the cult of consumerism, it esteems them to dine in such 'high-end' restaurants drinking exotic beverages such as Espresso Con Panna or Macchiato. It is a mark of urbanity for Nairobi's growing aspirational middle class.
Coffee shops, says University of Nairobi lecturer XN Iraki, is a sign of a maturing economy.
A cause for celebration as it means the country is finally weaning itself of the shameful shipping of all its quality coffee overseas even as it leaves behind for her people such low-end quality as Kahawa Number One.
But Nairobi's traffic menace has to be given its fair share of credit for the proliferation of these coffee shops.
Obado Obadoh, the founder of Café Deli, says that in all his three branches in the CBD, customers troop in droves in the evening. "This is because they (customers) are trying to avoid traffic," he says. "Mostly people don't like holding meetings in the morning. So, in the evening, they decide that instead of taking beer, why not have a sober discussion in a coffee shop?" adds Obadoh.
Nonetheless, Obado Obadoh, thinks customers return because they are addicted to coffee.
Iraki concurs with him, noting that Kenyans are slowly but surely getting initiated into the coffee-drinking culture. "It is not about traffic, coffee shops are full during the day time too. It's a lifestyle and a sign that more Kenyans have disposable income. Just check the price!" says Iraki.
Economists assume that every decision a consumer makes is rational. Obado Obadoh's patrons are not avoiding traffic for the sake of it.
Valuable time and money on fuel that would have been wasted in the evening traffic with motorists exposed to marauding thugs who take advantage of the snarl up to snatch mobile phones and cut-away side mirrors would rather be spent in the warmth of a coffee-shop with friends and business partners 'talking over a cup of coffee.'
Of course, Nairobi has not yet won the dubious trophy of the city with the worst traffic congestion- that accolade has been shared among Chinese and Indian cities. However, a 2017 report by Serbia-based website numbeo.com, ranked Nairobi second after Kolkata (formerly Calcutta) in traffic congestion.
According to the Traffic Index, Nairobians spend 62.44 minutes in traffic while Kolkatans spend an average of 68.86.
The traffic gridlock has come with its share of monetary costs.
In 2016, Government released statistics which showed that the time wasted in traffic jams represents a cost of $578,000 (Sh58.4 million) a day in lost productivity. That's more than $210 million (Sh2.1 billion) a year.
Industrial opportunities
Generally, only between 11 and 20 per cent of formal commercial or industrial opportunities in Nairobi can be reached by the average household within an hour on foot, by matatu, or even personal car, according to the World Bank's report, Kenya Urbanisation Review.
So bad is Nairobi's traffic that majority of households, according to the 2016 report on Kenya's state of urbanisation, are ready to "compromise on living conditions to remain within reasonable travel to jobs."
But a good chunk of Nairobi's middle class- those who can afford to come very early in town and fork out Sh740 for a breakfast meal of Homemade Tortilla with steak and egg- have not been ready to compromise on their living conditions.
If anything, most have been moving further away into the suburbs in search of places to build, buy or rent better houses.
They have found homes in areas such as Ongata Rongai in Kajiado County, where their commute to and from work is a two-hour ordeal on traffic.
And so, instead of wasting quality time and cash on traffic jam, they have opted to spend it on a cup of coffee.
They have used this opportunity to have dates, meet friends or discuss business 'over a cup of coffee.'
Although some of the frequenters of these coffee shops in Nairobi also engage in small talk, most of their conversations, done in low-tones, are serious.
Serious business deals - clean or otherwise, are botched and hatched in coffee shops.
For Clifford Ochieng, an insurance sales representative and the chairman of a new association of insurance agents who lives along traffic-prone Ngong Road, 80 per cent of his business have been done in coffee shops in the evening, "because I am not an office person."
Clifford works in an industry where impression matters and the 'cool' appearance of a coffee shop is just one of the ways of shoring up his image.
"When you take a client into a coffee shop, he takes you seriously," says Ochieng.
"Incidentally, coffee shops are less about coffee, they are about meeting, socialising, informal business meetings and standing out of the crowd," says Iraki, noting that it a sort of conspicuous consumption.
If Patrons like Ochieng' spend all their time in a coffee-shop explaining to a prospective client all aspects of an insurance policy, but drinking less coffee in the process, how do people like Obado Obadoh make their money?
Do they overprice a cup of coffee to compensate for the customers that come and leave when they find the place full?
Obado Obadoh says they have a special way of working around this. After all they have to pay rent and other overhead costs such as labour, electricity, and internet.
"Every seat you see here," says Obado Obadoh, "we have given it a price." And so, as much as you will get some people not eating or drinking, there are others who will easily pay for five seats.
Given target
At the heart of this drive is the waiter, who Obado Obadoh says is the engine of this business. "Each waiter is given target of a certain number of seats," explains Obadoh. The waiters are supposed to squeeze as much as possible from a customer to attain their target. And this has been achieved through what Obado calls menu engineering.
When a customer is given a menu, the first thing they see is food not their prices which are written in small prints. "You have come here to eat, not to look at prices," says Obado Obadoh.
Moreover, in the menu there are eye-catching photos of delicious dishes. This is what the restaurant wants you to buy, not necessarily because they are expensive but because it will give them the most margins.
"In fact, you will see a waiter try to prod you into buying certain foods. This is because those are the foods with the most margins," says Obado Obadoh.
But, generally, the profit margin for cup of coffee is just hefty.
In the end, it is a win-win for a customer who finishes his work here at Café Deli using the restaurant's internet and the business which will extract as much as possible from other unsuspecting, uncaring customers.